I compile quarterly reports for DivGro, my portfolio of dividend growth stocks, to summarize the actions I've taken during the preceding quarter and to track portfolio performance.
Each quarterly report provides a summary of dividend income, dividend adjustments, and portfolio performance. I also create charts to review the performance of individual stocks. If stocks start to perform poorly, I want to be aware of that so I can decide if any actions are warranted.
In the third quarter of 2016, I worked hard to prepare DivGro for options trading. I closed several positions to raise cash so I could round out the number of shares of other positions to 100 shares or multiples of 100 shares. This process will continue into the fourth quarter, and I'm hoping to complete this preparation by year's end.
Meanwhile, I've executed several options trades this quarter. While I'm reporting the total options income received in this article, most of these options are still open. This means that I have not yet secured the options income. In my monthly options update articles, I keep a running tally of the total amount received in options income, as well as the total secured so far. See my September 2016 update for the latest tally.
Dividend Income
The following chart illustrates DivGro's dividend income by quarter:
Dividend income in Q3-2016 totaled $2,900, an increase of 5.8% over last quarter's dividends of $2,741. This quarter's dividend total is 68.8% higher than the dividends received in the year ago quarter (Q3-2015).
DivGro's average percentage payback is 9.89%, up from 8.54% at the end of Q2-2016. Percentage payback relates total dividend income to the total amount of capital invested.
Transactions
This quarter I deposited $6,000 in new capital, $1,049 in passive income, and $2,563 in options income.
Most of my actions this quarter were focused on preparing DivGro for options trading. In order to write covered calls, I need positions of 100 shares or multiples of 100 shares each. Consequently, in Q3-2015, I closed several positions and rounded out other positions accordingly.
Here is a summary of my buys this quarter, with one new position highlighted:
To fund these buys, I closed several positions and reduced the number of shares in one position:
DivGro now contains 52 different holdings, including 49 stocks and three closed-end funds (CEFs). These holdings are distributed by sector as follows: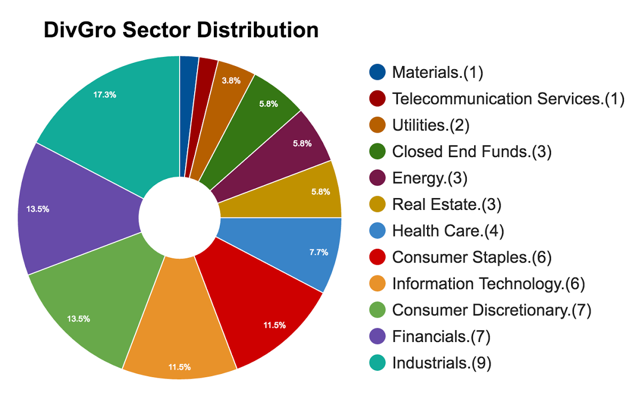 Dividend Adjustments
Last quarter, I reported projected annual dividend income (PADI) of $11,576 on investments totaling $274,380, for a projected annual yield of 4.22%. This quarter, PADI decreased by 2.32% to $11,307 and total investments increased by 2.33% to $280,764. Projected annual yield dropped to 4.03%.
The following table shows the stocks in my DivGro portfolio that announced dividend increases in Q3-2016. I'm including the new annual dividend and yield on cost (YoC).
Company
Ticker
Increase
Annual

Div

New

YoC

Lockheed Martin
LMT
10.30%
$7.28
4.03%
Reynolds American, Inc.
RAI
9.52%
$1.84
6.34%
Microsoft Corporation
MSFT
8.33%
$1.56
4.91%
Altria Group, Inc.
MO
7.96%
$2.44
6.91%
Cummins Inc.
CMI
5.13%
$4.10
3.57%
Walgreens Boots Alliance, Inc.
WBA
4.17%
$1.40
2.64%
Omega Healthcare Investors, Inc.
OHI
3.45%
$2.40
6.42%
Main Street Capital
MAIN
2.78%
$2.22
10.22%
Realty Income Corporation
O
1.25%
$2.42
5.12%
It is really great to see YoC creep up steadily - that's what dividend growth investing is all about! DivGro's average YoC is 4.35%< up a little from the 4.34% reported at the end of Q2-2016.
Unfortunately, 2 of my holdings paid reduced dividends this quarter:
• BHP Billiton plc (BBL)- A reduction of 6.67% to 56¢ annually (YoC: 1.04%)
• Nuveen AMT Free Quality Municipal Income Fund (NEA) - A reduction of 7.64% to 79.8¢ (YoC: 5.76%)
DivGro's PADI increased by $85 due to these dividend changes.
I received dividends from 60 different stocks this month, for a total of $2,900 in dividend income:
Apple Inc. (NASDAQ:AAPL) - $57.00
AbbVie Inc. - $45.60
AFLAC Incorporated (NYSE:AFL) - $20.50
BHP Billiton plc (NYSE:BBL) - $28.00
Caterpillar Inc .(NYSE:CAT) - $46.20
Chubb Limited (NYSE:CB) - $16.56
Cummins Inc. - $45.10
Dominion Resources, Inc. - $70.00
Deere & Company - $18.00
The Walt Disney Company (NYSE:DIS) - $90.17
Dr Pepper Snapple Group, Inc. - $37.10
Eversource Energy (NYSE:ES) - $26.70
Eaton Vance Tax-Managed Global Diversified Equity Income Fund - $149.28
Ford Motor Company (NYSE:F) - $90.00
General Dynamics Corporation (NYSE:GD) - $26.60
Gilead Sciences, Inc. - $47.00
The Gap, Inc. (NYSE:GPS) - $37.95
HCP Inc. - $94.88
Helmerich & Payne Inc. (NYSE:HP) - $49.00
International Business Machines Corporation (NYSE:IBM) - $42.00
Intel Corporation (NASDAQ:INTC) - $57.20
Johnson & Johnson (NYSE:JNJ) - $43.20
Kimberly-Clark Corporation - $25.76
The Coca-Cola Company - $22.75
Lockheed Martin - $23.10
Main Street Capital Corp. - $124.20
McDonald's Corp. (NYSE:MCD) - $24.03
Macquarie Infrastructure Company LLC - $87.50
3M Company (NYSE:MMM) - $17.76
Altria Group Inc. - $42.38
Microsoft Corp. - $28.80
AGIC Equity&Convertible Income Fund (NYSE:NIE) - $112.48
Northrop Grumman Corporation (NYSE:NOC) - $14.40
Nuveen Premium Income Municipal Fund 2 (NPM) - $69.84
Nippon Telegraph and Telephone Corporation - $64.01
Realty Income Corp. - $39.96
Omega Healthcare Investors, Inc. - $84.00
Pfizer Inc. (NYSE:PFE) - $30.00
The Procter & Gamble Company (NYSE:PG) - $21.42
Philip Morris International - $66.30
PennantPark Investment - $60.20
Qualcomm Inc. (NASDAQ:QCOM) - $53.00
Reynolds American, Inc. - $77.70
Raytheon Company (NYSE:RTN) - $17.58
STAG Industrial Inc. (NYSE:STAG) - $83.40
Starwood Property Trust, Inc. - $120.00
AT&T Inc. (NYSE:T) - $72.00
Toronto-Dominion Bank - $25.25
Target Corporation (NYSE:TGT) - $24.00
T. Rowe Price Group, Inc. (NASDAQ:TROW) - $35.10
The Travelers Companies, Inc. (NYSE:TRV) - $19.43
Texas Instruments Inc. - $22.80
Union Pacific Corporation - $30.80
United Parcel Service, Inc. (NYSE:UPS) - $19.50
Valero Energy Corporation (NYSE:VLO) - $43.20
Walgreens Boots Alliance, Inc. - $16.50
Wells Fargo & Co. (NYSE:WFC) - $20.52
Wal-Mart Stores, Inc. (NYSE:WMT) - $34.50
WP Carey Inc. - $39.20
Exxon Mobil Corporation (NYSE:XOM) - $48.75
Portfolio Health
I've started using the analysis and visualization tools available at Simply Wall St., a Sydney-based startup that gives investors access to institutional quality data and analysis reports presented visually.
One really cool tool allows me to visualize various aspects of my DivGro portfolio. The Portfolio Snowflake represents Value, Future, Past, Health and Dividend scores calculated from the weighted average scores of companies in my portfolio: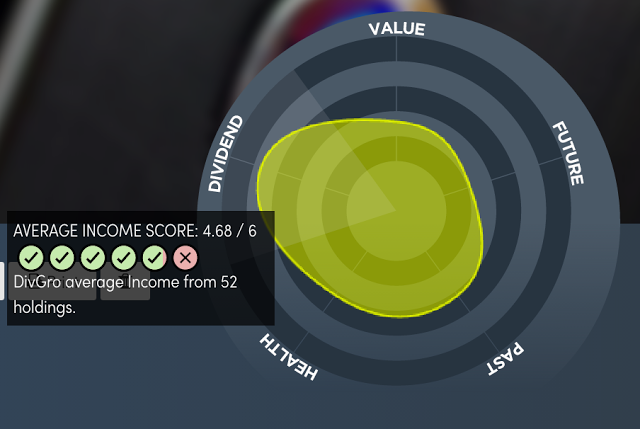 In the screen grab above, I included DivGro's average income score, according to Simply Wall St.'s analysis. Similar scores are calculated for each of the other snowflake axes.
What I like about the snowflake infographic is that it gives an immediate sense of the quality of the underlying portfolio or stock. For example, here are snowflakes of several of my DivGro stocks, sorted by total snowflake scores: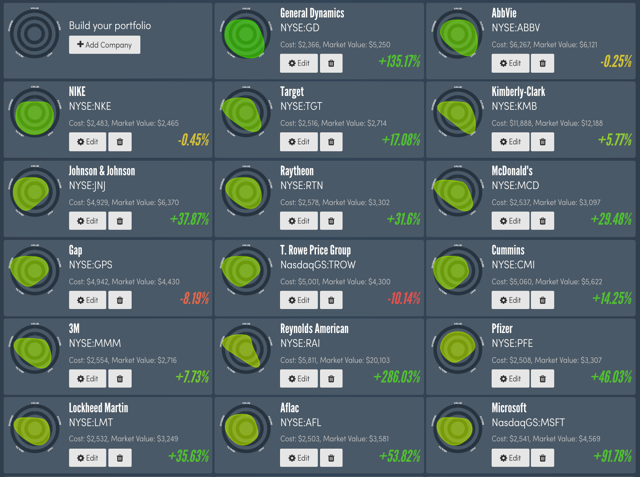 GD, ABBV, NKE, TGT, and KMB top the list. Interestingly (though not shown), the stocks with the lowest scores include BBL, HP, PNNT, and CAT - all stocks that I'm considering removing from my portfolio!
I'll be using these infographics in more of my articles in future.
Long-term Positions
Every quarter, I create charts for stocks I've owned for longer than one year. It is important to monitor the performance of long-term stocks, because changes that could affect the stock's performance can easily "hide" behind solid long-term results. I'd rather not be surprised by such changes.
To compare the performance of long-term stocks, it is appropriate to consider annualized total returns: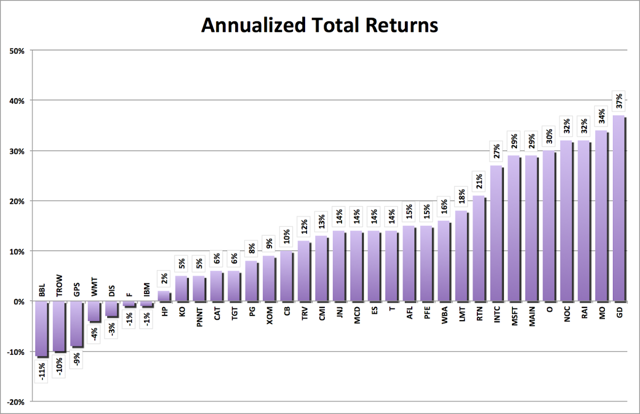 GD, MO, RAI, and NOC have annualized total returns of more than 30%. Not far behind are O, MAIN, MSFT and INTC.
BBL still is my worst performer, although the stock has made up some ground over the last few months. TROW, GPS, WMT, DIS, F, and IBM all have negative annualized total returns.
As mentioned in my previous quarterly report, I'm looking for a suitable exit point for BBL. I'm also considering getting rid of GPS and PNNT. Perhaps I'll do so at the end of December to limit capital gains taxes.
Looking at a similar chart, but this time considering each stock's total returns over the past year, we can see GPS, TGT, DIS, F, and WBA are the worst performers: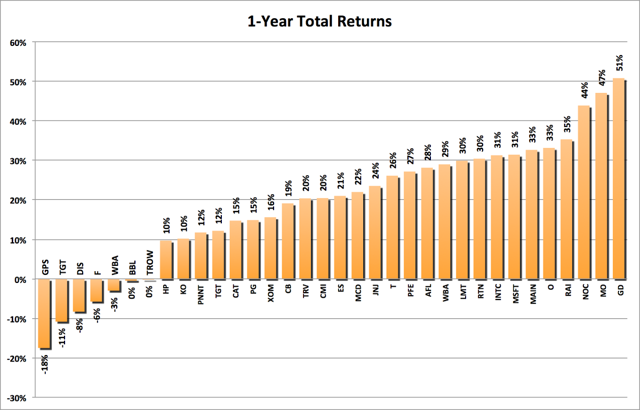 Another exciting chart to study is YoC. Two business development companies continue to top my YoC chart: PNNT and MAIN. In September, MAIN became my sixth home run stock! Unfortunately, PNNT has not performed so well and the company froze its dividend shortly after I bought my shares. In July this year, I bought 785 additional PNNT shares in an attempt to recover losses. So far, the trade has worked out well, but I'm under no illusions that this might still end badly!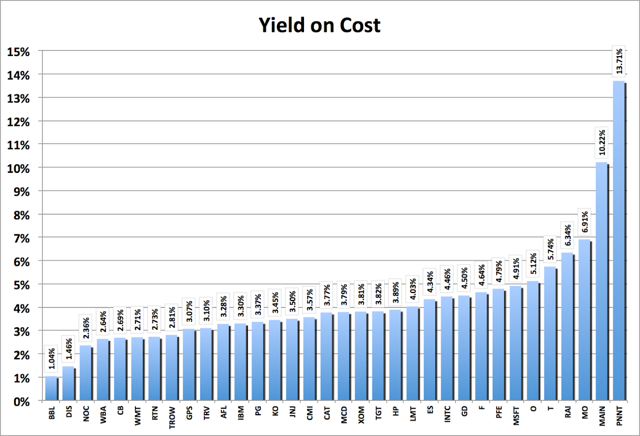 Finally, here is a chart showing the year-over-year dividend increases of my long-term positions. I prefer to see increases of at least 7%, so I'm happy to see that 13 of these long-term positions have experienced increases of more than 7% in the last year: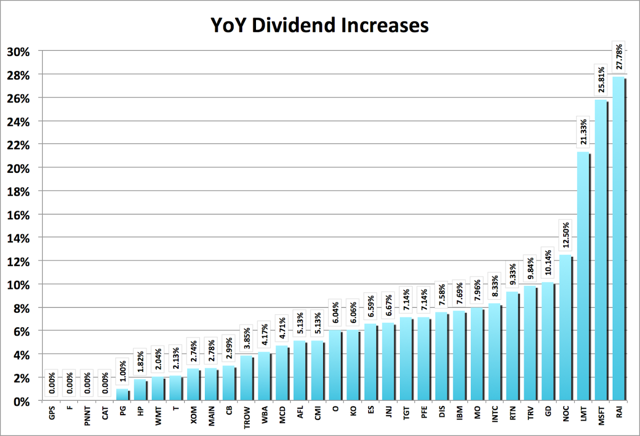 Four companies have not increased their dividend payments in more than a year:
The Gap, Inc.
Ford Motor Company
PennantPark Investment Corporation
Caterpillar Inc.
As a dividend growth investor, I like to see regular dividend increases. GPS and PNNT are already on my "chopping block." I'm hoping that CAT will increase its dividend soon, but I'll need to monitor the stock carefully and take action if the dividend is frozen. My F shares have a YoC of 4.64% and are great for options trading, so I'm happy to retain my F position even if the dividend is frozen.
Outlook For Q4-2016
In Q4-2016, I want to complete the process of preparing DivGro for options trading. The next step will be to transfer several of my DivGro positions to another trading account in which I can trade options. Currently, I hold a fairly large percentage of my portfolio in an account that does not permit options trading. While I do trade options in my Scottrade account, I'm looking for another brokerage offering lower commissions. I'm considering Interactive Brokers.
Thanks for reading and take care everybody!
If you liked this article and would like to read similar articles in future, please click the Follow link at the top of this article.
Disclosure: I am/we are long ALL STOCKS MENTIONED.
I wrote this article myself, and it expresses my own opinions. I am not receiving compensation for it. I have no business relationship with any company whose stock is mentioned in this article.