It's only just over a month since my last article on First Solar (FSLR). Usually I wouldn't bother with an update so soon, but the current set-up here looks really, really good. First Solar looks primed for a big rally.
Back in early September I wasn't so confident. I highlighted $35 as an area price could drop to and reverse from. This was the chart provided at the time, with the end of the blue line the target for a buy: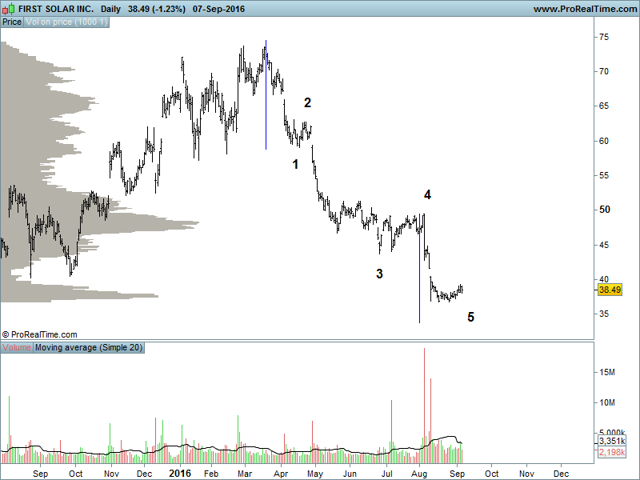 Here is the same chart today: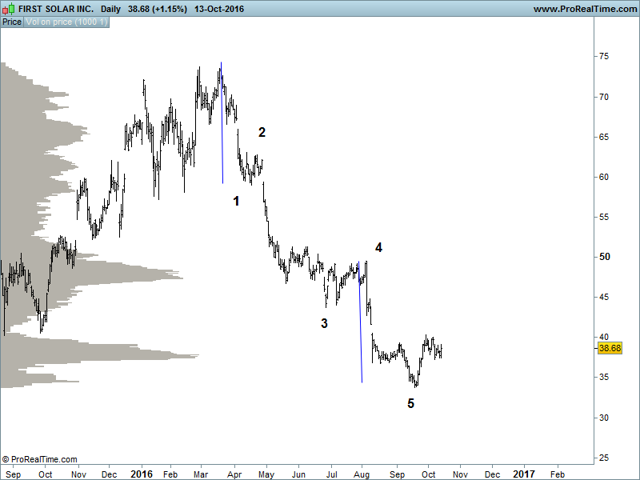 I took a small position at $34.3. As I said, I wasn't hugely confident as at the time First Solar still looked like a falling knife.
I also highlighted $39-$40 as an important level as this was where the stock gapped down below support. This kind of gap down is a good short at the start of a move, say at $66 on 5th April. But late shorts under $39 are asking for trouble. If price gets back above $40 there will be a squeeze and a clear signal that the time for shorts is over.
The initial recovery stopped right on $40. Price is now forming a bull flag below this point. This consolidation buys time for smart money to cover shorts and accumulate.
Note the volume profile histogram on the left of the chart and compare it to the one on the first chart. You'll see that volume has been flooding in around $38. More volume has now traded here than at any other point over the last 12 months. Ask yourself, is this smart money covering shorts and accumulating, or are they shorting more after a 50% decline?
A longer term look at the volume profile was another reason for the $35 reversal. Here is an updated chart from the original article: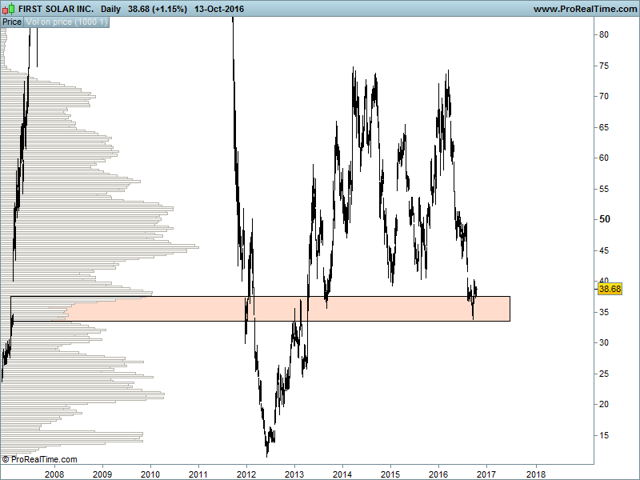 I'll just copy the description,
This chart shows the volume profile as a histogram on the left. I have highlighted an area ($33-$37) where very little volume has traded. Participants do not like to trade here and price often reverses. This supports the idea that $35 could offer support.
The majority of the reasons for the reversal were technical, but there must also have been some fundamental driver as other solar stocks reversed and made a strong rally at the same time.
Canadian Solar (CSIQ) - which for the record also looks ready for a big rally - broke out and has since rallied 30% since mid September.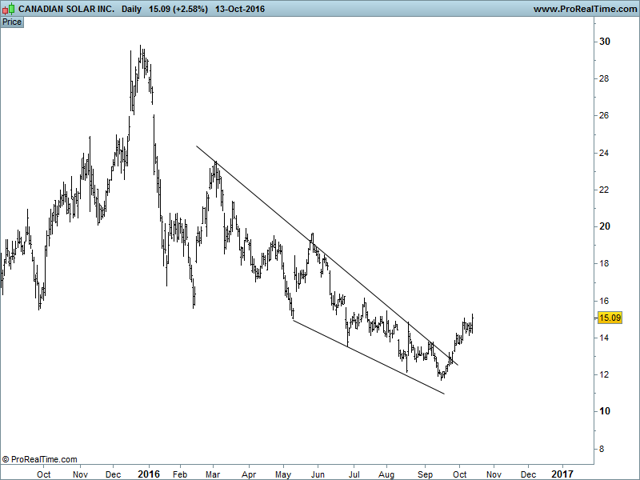 Forgive my ignorance, but I have looked on Seeking Alpha and I can't see the reason for this move. I'm sure some readers will know and will hopefully let us know in the comments section.
I won't profess to be an industry expert, but I do know my way around a chart. And to be clear, this article is intended as a complimentary technical perspective to fundamental focused articles such as this by EnerTuition.
Looking Ahead
Technical analysis - for me - is mostly an analysis of what smart money has done, is doing, and what it is likely to do. There are no certainties. However, when price behaves like expected, probabilities increase.
First Solar is no longer a falling knife. Price reversed as expected and there are signs of accumulation. There is now defined risk against the low of $33.7 and I am adding more longs against this level (with stops just below).
The rally through $40 should be powerful and could get back above $75. There are plenty of potential catalysts.
Firstly, there is a potential for a short squeeze. This was covered earlier in the article and is fairly predictable above $40.
Secondly, there are earnings expected on October 27th. The response is less predictable, but anything remotely positive after a 50% decline should lead to a rally.
Lastly, and perhaps most importantly, is the 2017 guidance. First Solar has been tight lipped on this, and this uncertainty has been a contributing factor to the sell off. Uncertainty leads to surprises, and surprises cause the biggest moves as the market has not had a chance to position for them. We don't know exactly when the guidance will be released (some time later this year), but expect volatility. Again, anything positive should lead to a big upside move.
Conclusions
This is one of the best set-ups I have seen in a long time.
One month ago it was a falling knife and could have really gone anywhere. Now you have defined risk against the lows and plenty evidence it has bottomed.
If you like First Solar I suggest you buy it here and now.
Disclosure: I am/we are long FSLR.
I wrote this article myself, and it expresses my own opinions. I am not receiving compensation for it (other than from Seeking Alpha). I have no business relationship with any company whose stock is mentioned in this article.