Supernus (NASDAQ:SUPN) reported positive phase 2b trial results of SPN-812 ('812 for convenience) in children with ADHD. The results were statistically significant and the effect size, safety, and tolerability could make '812 a non-stimulant market leader in the ADHD market. This articles focuses on '812's market potential and provides an update to my thesis on Supernus.
SPN-812 has the potential to become the non-stimulant market leader
'812 achieved the primary endpoint in the phase 2b study. Change from baseline in ADHD-RS-IV total score was statistically significant in all doses, ranging from 100mg to 400mg.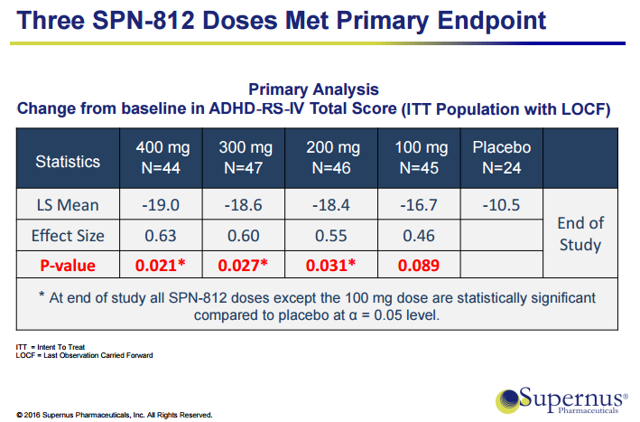 Source: Supernus investor presentation
The effect size was particularly impressive considering the fact that '812 is a non-stimulant. The effect size at higher doses came close to the effect size of stimulants, for which management says are in the 0.6-0.9 range. The 100mg dose was the only one that failed to reach statistical significance (p=0.089), but the patient pool was small, and statistical significant is achievable in a larger phase 3 trial.
The drug was well-tolerated with side effects that are quite usual for a CNS product.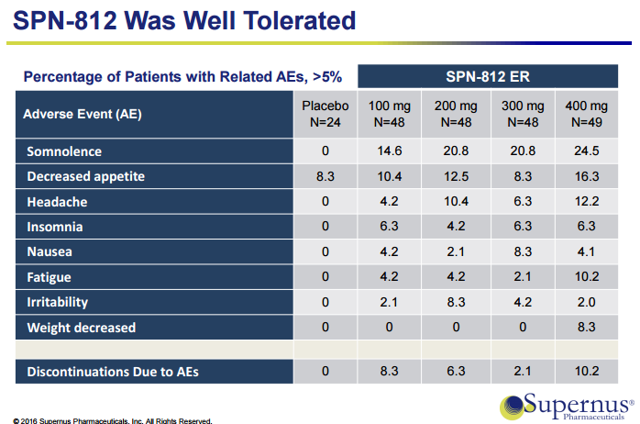 Source: Supernus investor presentation
'812's efficacy and safety in the phase 2b trial were really impressive. The efficacy was very good for a non-stimulant drug and the company believes that they could potentially make '812 a leader in the non-stimulant ADHD market and that '812 could potentially expand the non-stimulant market and take away market share from the much larger stimulant market. Safety and tolerability could be another major selling point for the company. The safety profile compares very favorably to Eli Lilly's Strattera, which is the leading non-stimulant product in the ADHD market with $792 million in net sales in 2015. Strattera has a black-box warning for suicidal ideation and the label also warns about severe liver damage, serious cardiovascular events and effects on blood pressure and heart function. I think that '812 could eventually match or exceed Strattera's annual sales and eventually become the leader in the non-stimulant market.
The company plans to start phase 3 trials in 2017 and '812 could potentially hit the market before the end of this decade. One of the potential problems is the fact that Strattera will go generic before '812 reaches the market, which could result in some pricing pressure. But I think '812 can be differentiated enough to have favorable branded pricing. And while I think that the product could eventually achieve annual sales north of $800 million, I am going to be conservative with a peak sales estimate range of $300 million to $500 million.
Valuation and price target update
My previous article was focused on Supernus' pipeline, which I thought was underappreciated (and I still do). I assigned between $8.5 and $17 to the pipeline based on combined peak sales potential in the $500 million to $1 billion range. In this article, I am going to separate the two candidates.
SPN-810 was covered in the last article. This candidate could tap the underpenetrated impulsive aggression subset of the ADHD market and '810 could be the first FDA-approved product for this condition. The company expects to generate $400 million to $700 million in gross annual sales in impulsive aggression and potentially $400-500 million in gross annual sales in bipolar and autism. My peak net sales estimate for '810 is in the $300-600 million range and the product's net present value is between $5.5 and $12.7 (the model is available to Growth Stock Forum subscribers).
As mentioned above, I assume '812's peak sales in the $300 million to $500 million range and its net present value is between $4.7 and $9.2. The model assumes a 15% discount rate and '812 reaching peak sales in 2025.
The marketed portfolio has progressed nicely since my last update and I am raising my peak sales estimate range from the $400-500 million range to a range of $500 million to $600 million. The estimate is higher due to solid execution and Trokendi receiving tentative approval for the migraine indication (full approval should follow in March 2017). The increase results in an NPV increase of around $5 per share to $25 per share in the conservative case.
The combined value of the marketed portfolio and pipeline products translates to a conservative price target of $35. I am increasing my price target on Supernus from $28 to $35. The upside potential to my base case price target is now more than 50%. Cowen increased its price target on Supernus from $27 to $33 after the positive results.
Conclusion
'812 is now de-risked and has a very good chance to become the market leader in the non-stimulant ADHD market. Supernus has a healthy balance sheet with $128 million in cash, no debt and has become cash flow positive. Management is looking at M&A candidates for quite some time now and we could see an announcement in the following quarters. The company is executing very well on both the commercial and product development fronts and I am reiterating my bullish view and raising my price target from $28 to $35.
Note: Growth Stock Forum subscribers had an early look at this article and have access to regular exclusive updates on every stock I am covering. Readers are invited to take a two-week free trial in the Seeking Alpha Marketplace.
Disclosure: I am/we are long SUPN.
I wrote this article myself, and it expresses my own opinions. I am not receiving compensation for it (other than from Seeking Alpha). I have no business relationship with any company whose stock is mentioned in this article.
Additional disclosure: This article reflects the author's personal opinion and should not be regarded as a buy or sell recommendation or investment advice in any way.