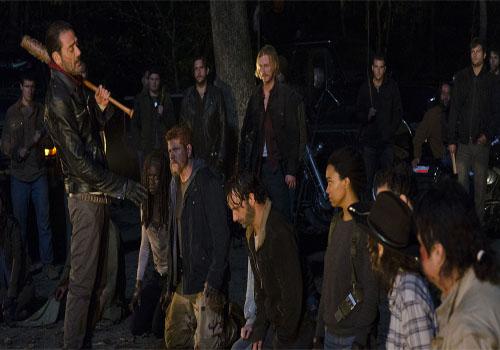 So who was on the wrong side of the barb-wired bat?
Since April 3rd, fans of AMC's (NASDAQ:AMCX) The Walking Dead have been asking themselves that question. That was the season six finale which saw the introduction of new big bad Negan (played by Jeffery Dean Morgan) who immediately made his presence felt. As the show faded to (blood) red fans were left wondering which character was just killed off in truly gruesome fashion.
The move sparked controversy, which as AMC investors are well aware is nothing new. It was a move straight out of The Killing playbook where fans had been all geared up for a big moment, only to have things spin wildly out of control. It would be a seven-month wait for the next new episode and the show's fiercely loyal fan base wasn't taking the news well.
Next Sunday night the show returns and promises to reveal the victim as the series enters its next evolution…which will be even darker than before, if that is even possible. Yet for investors, the identity of the newly dispatched cast member isn't nearly as important as how many people tune in to find out who's leaving the show.
For years AMC has been criticized by analysts for being overly reliant on The Walking Dead franchise. Since it exploded onto the scene in 2010, the show has been a pop culture juggernaut and paired with Mad Men and Breaking Bad made AMC into a dominant force. Of course with Mad Men clocking out and Breaking Bad retired, Walking quickly began shouldering the load alone.
Series after series was launched to try and take some pressure off the zombie drama, but nothing has come close to that level. To be fair there have been some bright spots in martial arts drama Into The Badlands and Bad's brilliant spin-off Better Call Saul. Aside from those though, nothing has caught on in the same way, including Walking spin-off Fear The Walking Dead.
While Fear has just wrapped its second season and was renewed for a third, the prequel version to the drama has never been able to separate itself from the shadow of its big sister sibling series. Of course launching season two a week after Walking's monster non-ending twist didn't help matters, but even before that it was slipping in the ratings.
That brings us back to next Sunday night and the mothership's return. Investors are looking at a potentially dangerous situation here as the show is at a crossroads. If the show returns to record ratings, it's a big win and proves that Walking is more bullet-proof than thought and no matter what the show pulls storyline wise, its ratings will likely hold tight. Now if those numbers aren't strong though, don't be surprised if the stock takes a dip.
Don't believe me? It's happened before.
Specifically last season when the series returned to lower than anticipated numbers, sparking a stock slip. What was so interesting though was that the show's ratings surged when adding in time-shifting numbers (+3 and +7), but the damage from those initial L+SD (live+same day) numbers started a firestorm of fear.
For the first time, The Walking Dead wasn't as rock solid as before. Analysts were coming out of the woodwork to warn about the dangers of AMC Networks. Once again the cable channel has a lot riding on Sunday's premiere as the season six finale was by far the most talked about episode of the show yet.
All summer long the question of "who did Negan kill?" has been floating in the ether. AMC was still able to debut new material at both Comic-Cons (San Diego and New York) as well as various media events without revealing any clues, but the elephant was always in the room. The number of stories in a given week with "theories" on who was killed off was big, even by Walking Dead standard.
For as much as Wall Street insiders were worried about AMC being too reliant on The Walking Dead, it still kept a higher presence than most shows during its extended off-season. Yet all of that means nothing if the show doesn't come roaring back next week.
If it doesn't this will mark the second time a AMC series has toyed with its audiences to the point they began swearing off a program. Now to be clear, I don't expect a Killing scenario here where the majority of Walking fans will just quit on a show that until now has never pulled a stunt on this level.
Though the show did pull a smaller stunt on viewers last season when it left the fate of a main character up in the air for weeks, even going as far as editing their name out of the opening credits. Still a week-to-week guessing game is better than a month-to-month one and the show continued to air in the interim which took some of the sting away.
Now interestingly enough these two twists could tie together and if the same person featured in the first is indeed the victim in the second, that could also set off viewers who will deceived. That's the hard balancing act these shows play every season…once you hook a audience you have to respect them and many felt this cliffhanger was a violation of that trust.
AMC as a network needs that audience now more than ever as its goes about finding that next big thing. In a interview with the Wall Street Journal, CEO Josh Sapan didn't sound as concerned about his network's future, but he did acknowledge it was harder to find a show that was a good fit.
"There's a common notion that price will get it. It's probably a greater challenge to identify the right thing and get the right thing, and money doesn't always help."
The problem is that fit has been copied by a variety of networks, which was as referenced by analysts at Pacific Crest to Business Insider, can impact its success - though they show no signs of changing their strategy.
"Despite increased competition, AMC believes its focus on high-quality serialized dramas remains the best approach for future success."
I understand AMC's logic but every network shifts over time and they may need to start soon. Look at USA, which for years thrived on "blue sky" programming, but now has gone the polar opposite. Even TNT, the self-proclaimed home for drama, has shifted from procedurals to more serialized dramas. In both cases the moves have been very successful.
AMC sees itself as delivering a premium product and as such believes it shouldn't have to change its strategy. To be honest, it's hard to argue with a company that won the Best Drama Emmy six of the last ten years. Though the landscape is vastly different than it was even just a decade ago.
Yet AMC also raised a very good point in that WSJ article. They own nine of their originals, which in turn means that revenue from streaming deals (both domestically and globally) stays in house and that benefits the investors as well.
For now, AMC can ride the Walking wave, but there's going to come a time in the not too distant future where it is going to need another big tentpole… the question is will they be ready?
Image credit: AMC
Disclosure: I/we have no positions in any stocks mentioned, and no plans to initiate any positions within the next 72 hours.
I wrote this article myself, and it expresses my own opinions. I am not receiving compensation for it (other than from Seeking Alpha). I have no business relationship with any company whose stock is mentioned in this article.