Citigroup (NYSE:C) beat the market this morning, delivering earnings of $1.24 per share. The beat of $0.08 is clearly appreciated by Mr. Market and the stock is up strongly in early morning trade.
But what is most impressive about this quarter, is the consistency and quality of Citi's earnings - in fact, in my view, the headline figure understates the real strength of the firm's performance.
Global Consumer Bank (GCB) is in investment mode
The Costco (NASDAQ:COST) acquisition is not earnings accretive primarily due to acquisition accounting that requires a buildup of provisions for the next 12 months. Additionally, the integration costs of Costco (which was far from seamless process!) required Citi to quickly throw in some warm bodies in, drove an increase of 12% in operating expenses for its N.A. consumer division. All of these are one-offs in nature and the earnings benefit of the Costco acquisition (and other global investments) will start showing in the P+L by next year.
The following slide from the earnings deck walks through the year-on-year comparisons for GCB: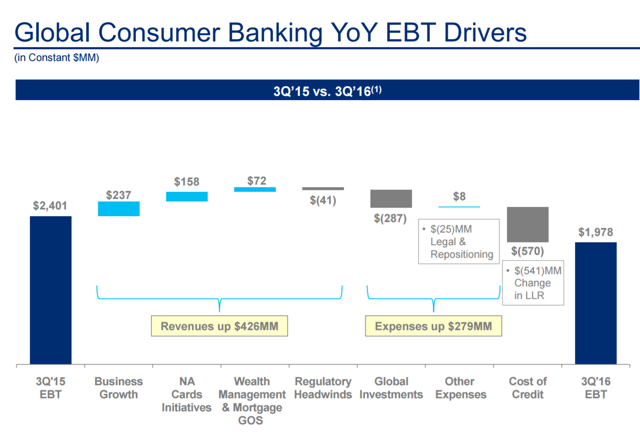 As can be seen from above, the notable items are increased expenses and credit costs (primarily driven by Costco).
Fixed Income Currencies Commodities (FICC) is back
Fixed Income is up 35% year-on-year. The strong performance is across rates and spread products. The drivers include supportive macro settings in the quarter, rise in LIBOR cost, retreat of European banks and divergent monetary policy.
ICG performance as a whole is very credible: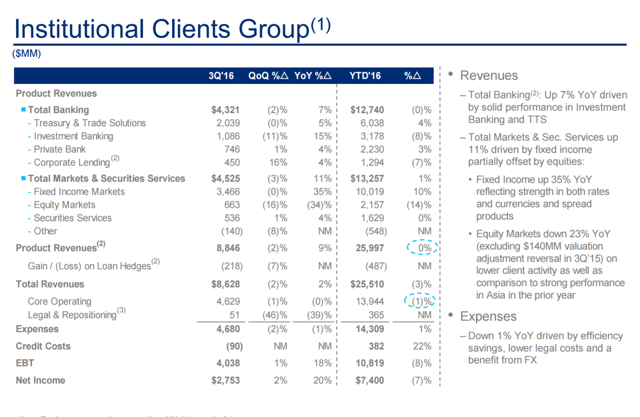 Overall Net Income is up 20% year-on-year with both Banking and Markets performing well.
ICG reported numbers (YTD) are held back by one-offs
This can be clearly seen in the following chart: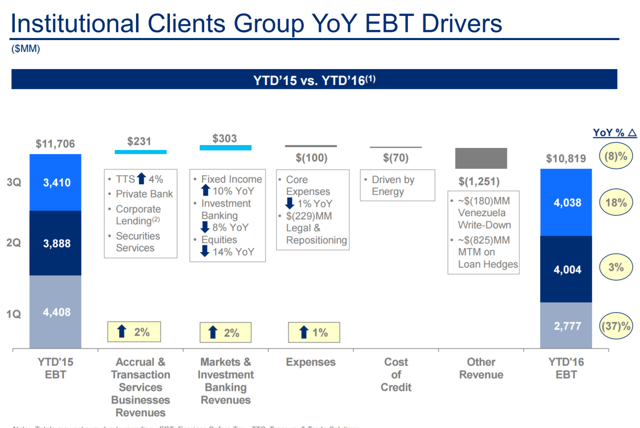 As can be seen, the mark-to-market of loan hedges (driven by Credit spread compression) and Venezuela write-down are very large headwinds - these should be seen as one-offs.
Equities is disappointing
Mr. Corbat has targeted Equities as a growth area for Citigroup - so far the results are disappointing. While Citi has the client network and balance-sheet to win significant market share (especially as some banks retreat). In reality something is not quite working out for Citi in Equities - I expect there will be serious questions raised on this in the earnings call.
Final thoughts
It looks like a very solid quarter for Citi and investors should applaud the credible execution by the management team.
It is worth noting that Citi's earnings are now largely distributable earnings. The firm should arrive at 100% payout ratio in the next 1 to 2 years. The share count is reducing rapidly (56 million shares retired in the 3rd quarter) and its underlying businesses have great momentum.
I will cover the earnings call in the comments section live - so if have any questions, I am happy to answer these.
I provide quality and completely independent research on the large U.S., European, Canadian and Asian banks. I will be continuously updating developments with large U.S. and European banks; if interested in this topic, do subscribe as a "real-time follower" at the top of this article.
Disclosure: I am/we are long C.
I wrote this article myself, and it expresses my own opinions. I am not receiving compensation for it (other than from Seeking Alpha). I have no business relationship with any company whose stock is mentioned in this article.