PricewaterhouseCoopers LLP has been and still is Freddie Mac's (OTCQB:FMCC) auditor while Deloitte is Fannie Mae's (OTCQB:FNMA) auditor. Earlier this month, the United States Department of Justice suggested that this matter was not an issue of state law. Investors in Freddie Mac filed a lawsuit against PricewaterhouseCoopers for accounting fraud while FHFA was in charge of determining what was in Freddie Mac's financial statements. This lawsuit has now been settled. The lawsuit against Deloitte for Fannie Mae's accounting is still outstanding for now.
Investment Thesis: This settlement would seem to suggest that maybe something wrong happened, after all, why else would an accounting firm of this size settle a lawsuit alleging aiding and abetting and negligent misrepresentation? After all, this settlement did come out after the public release of the PricewaterhouseCoopers Implementing Capital Draws for the Senior Preferrred Stock Purchase agreement presentation was made public. This settlement would seem to support the plaintiff's Robinson takeaway
that the Companies' dividend obligations to Treasury "were artificially and permanently inflated" by a series of accounting improprieties perpetrated by FHFA.
The Robinson ruling accepted this as fact and still dismissed the case based on Lamberth's interpretation that the facts do not matter. So now this draws increasing scrutiny to the Lamberth appeal that is now fully briefed on top of Judge Sweeney's order on the Motion To Compel. If the facts matter (discovery) and the accounting matters (PwC and Deloitte lawsuits). As such, this settlement is just another reason to take plaintiff claims in the DC District Court of Appeals more seriously. This bodes well for common shareholders. Considering the companies make $15B/annum, if they are recapitalized and released then the intrinsic value of the common shares would be worth more than they are today where the government takes everything. William Ackman and Richard X. Bove have suggested $20 as a base case valuation on the commons which is more than 10x current prices.
PricewaterhouseCoopers Lawsuit Settled
An order came out denying all motions due to a notice of settlement on Tuesday: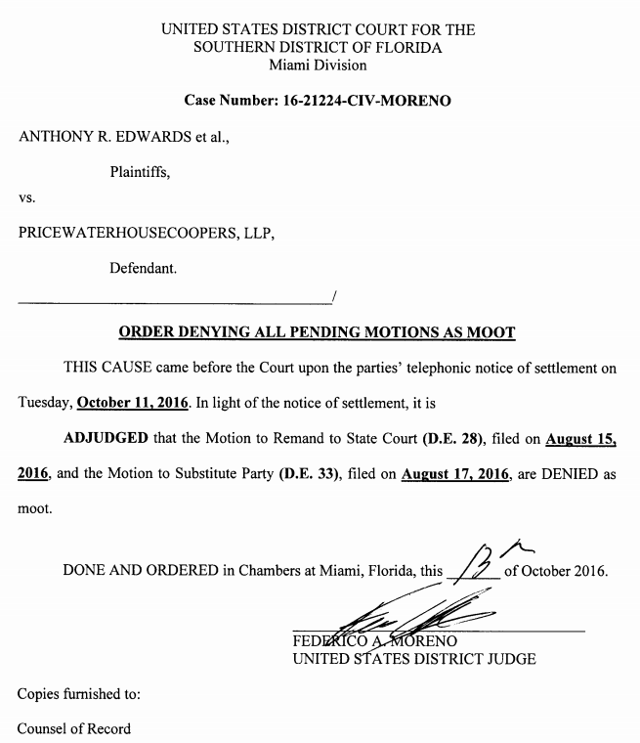 This lawsuit had some pretty serious counts:

PricewaterhouseCoopers was the auditor of the smaller GSE Freddie Mac. Freddie Mac is generally seen as half the size of Fannie Mae. Freddie Mac is based out of Virginia whereas Fannie Mae is based out of Delaware. This settlement may have just settled the second largest accounting fraud in history. We do not have access to the terms of settlement at present and I don't expect we'll ever see them. Note that the Pagliara inspect the books and records lawsuit that was dismissed was the one for Freddie Mac's books.
Anthony R. Edwards V. Deloitte & Touche LLP
There are two new filings here and here. Both are filed by plaintiffs in support of their motion to remand against the defendant's response and FHFA's opposition respectively. For starters FHFA is a non-party:

Plaintiffs argue that the court should continue along with what the court said it was going to do:

This order was a paperless order, which I've bolded a section for your convenience that basically demolishes FHFA's motion to substitute:
The Court grants the Joint Motion to Extend Deadlines. Defendant Deloitte & Touche LLP's response to 23 the Plaintiffs' Motion to Remand is due on or before September 14, 2016. The Plaintiffs' reply is due on or before October 12, 2016. Further, in light of the Federal Housing Authority's Motion to Substitute as Plaintiff, the Court grants the parties' request to extend the answer and meet-and-confer deadlines. Substituting the Federal Housing Authority, if it occurs, could drastically alter this case. Therefore, in order to conserve judicial and party resources, the Defendant's answer to the Complaint is due within thirty days of the Court's order on the motion to substitute. Because this case was removed from state court, the parties must meet-and-confer within 21 days of Court's order on the motion to substitute. The Court notes, however, that it cannot rule on the motion to substitute until the Plaintiffs' attack on the Court's subject matter jurisdiction has been resolved. Therefore, no other extensions of time will be given on the motion to remand absent extraordinary circumstances.
The second legal filing was the one in support of plaintiffs' motion to remand. Plaintiffs leverage HERA and say that Federal Jurisdiction doesn't apply: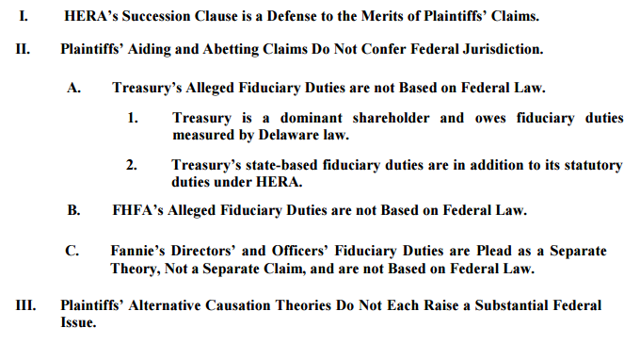 With the PricewaterhouseCoopers lawsuit getting settled, one has to wonder if the Deloitte lawsuit is going to get settled. The result would be that the two largest accounting fraud lawsuits in history would have been settled. As a shareholder, one would expect to see a similar order dismissing the applicable motions in the Deloitte case sometime in the next month if both these lawsuits are getting settled. Either there is a settlement here or there isn't. If there is, we won't see the terms. If there isn't, one would really begin to wonder what is going on. It would suggest that either Deloitte or Plaintiffs are looking for better results.
The problem is that in all probability, FHFA ran Fannie Mae the same way that they ran Freddie Mac, so if PwC settled this early in the legal process it would seem to suggest that they saw some risk to continuing the lawsuits. The original paper that outlined the accounting fraud conspiracy mapped everything out in the Fannie Mae case. Simply due to size, the Deloitte lawsuit is roughly twice the size of the PwC lawsuit. Look for a settlement across the next month or look out for Deloitte because it sure looks like what one should want to do they both should want to do.
Government Wants 31-Days To Respond To Sweeney's Order Regarding Sanctions
Plaintiffs are opposed to the government's motion filed the day before the government's response was due: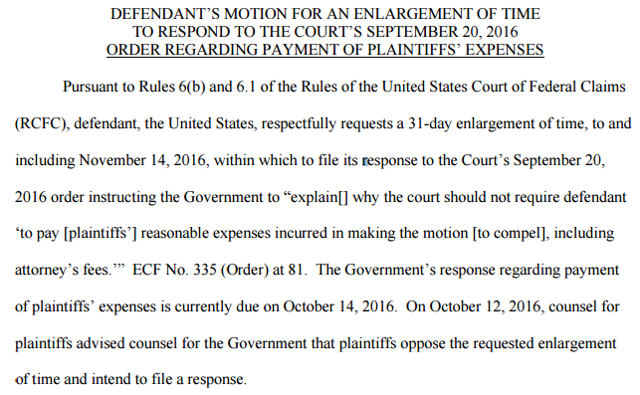 It will be interesting to see how this shakes out. 31 days puts this after the election:

According to the government, the year plus long process of fighting plaintiffs' discovery requests with the pyramid of privilege assertions isn't enough. They need another 31-day enlargement of time. Considering that 100% of the documents that they marked up as privilege that were reviewed in camera were decided to be improperly marked, it will be interesting to see what Sweeney says about this. Remember, they are effectively responding as to why they shouldn't have to pay for improperly asserting privileges: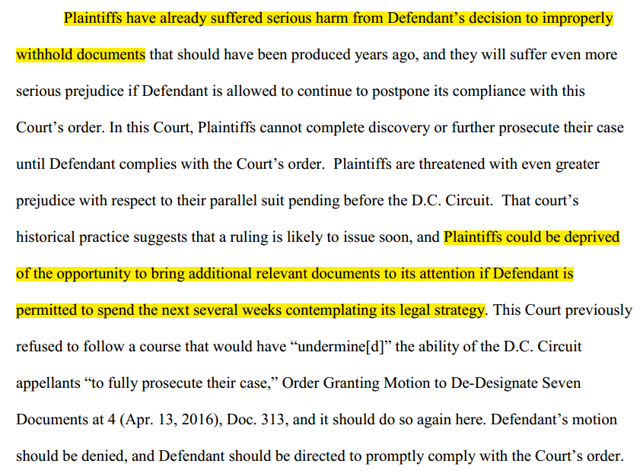 Plaintiffs go as far as to point out that the time the government was allotted to respond was more than the court rules (24 vs 17 days):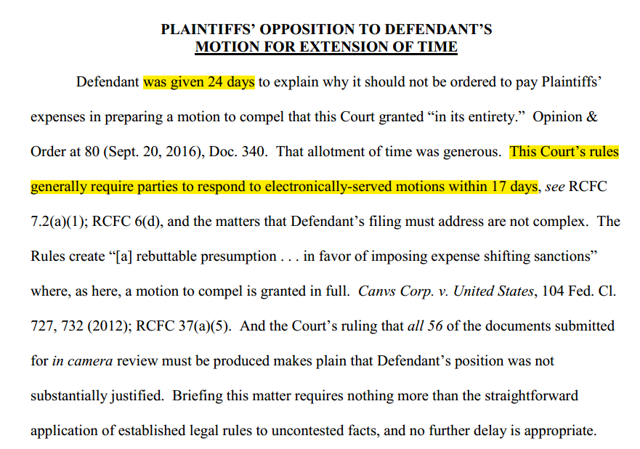 This simply continues to highlight the fact that the government still hasn't produced any of the documents it was ordered to produce.
Jacobs/Hindes Applies For Oral Argument
The government didn't mind them dropping counts but it minded them replacing what they dropped with other counts:

This lawsuit hasn't even gotten past the motion to dismiss. Here's to hoping that this pushes things back till after the Lamberth Appeal ruling comes out.
Summary and Conclusion
The smaller one of two of the accounting fraud lawsuits has been settled. This is the first settlement with regards to all GSE shareholder lawsuits. This marks a victory for GSE shareholders, the first.
The government continues its defense in the Court of Claims that more or less revolves around the world of buying time, this time they're trying to buy time to get past the election.
With regards to the major legal ruling that we are waiting on, the Perry Capital Appeal ruling, letting the government buy time without sanctioning it doesn't seem to help.
I own GSE preferreds and so does Fairholme and Perry Capital. I own mine because I have read the applicable law and I think that FHFA acted ultra vires throughout conservatorship. I don't read the PIK provision on the SPSPA as a penalty as it is clearly not a penalty. I also look to the cash transfers between the GSEs and the government since the commencement of conservatorship and it sure looks like the government was self dealing which supports the accounting fraud thesis and now we have a settlement that supports that notion.
Disclosure: I am/we are long FNMFN,FNMFO,FMCKO,FMCKP,FMCKI,FMCCT,FMCCH,FMCCP.
I wrote this article myself, and it expresses my own opinions. I am not receiving compensation for it (other than from Seeking Alpha). I have no business relationship with any company whose stock is mentioned in this article.
Editor's Note: This article discusses one or more securities that do not trade on a major U.S. exchange. Please be aware of the risks associated with these stocks.