Helen Of Troy (NASDAQ: HELE) is an interesting company that you've probably never heard of. At first glance, it appears to be a beauty/makeup company. This is a fast-growing and intensely competitive sector made up of many companies that are at different stages of their life styles, from the hot-money Ulta (NASDAQ: ULTA) to the terminally declining Avon (NYSE:AVON). Like fashion, this is a hard sector to invest in because it's all about market perception, not necessarily financial metrics. Thus Sally Beauty Holdings (NYSE: SBH) is sporting a 7% decline in 2016 despite solid revenues while e.l.f Beauty (NYSE: ELF) has doubled from its IPO price three weeks ago despite being unprofitable. The reason I mentioned these companies is because part of my research process was attempting to compare Helen of Troy to its competitors.
But it became clear pretty quickly that I was not comparing apples to apples because beauty products comprise less than 25% of Helen of Troy's revenues:

(Source: Latest quarterly report)
Beauty products represent the fastest shrinking business sections and quickest declining margins for this company. But their exposure to this sector is offset by their housewares and health and home divisions, which feature nicely growing revenue and make up more than two thirds of total revenue.
One of their competitors on the beauty front is Revlon (NYSE: REV). This seems to be a good starting point for comparison. Same market cap, same metrics, same capital structure (no dividend) until you realize...Revlon is in Helen of Troy's portfolio of brands. So is Vick's, for that matter. Could this little, no-name company own the ubiquitous purveyor of Vick's Vaporub? Of course not, that's a P&G (NYSE:PG) property! So what does this company really do?
It turns out that Helen of Troy Inc, headquartered officially in Hamilton, Bermuda, for tax purposes but actually in Texas, is a licensor and acquirer of brands. So in their overseas facilities they manufacture a portfolio of brands, some of which they own (like "Caruso's Hair Rollers") and some of which they license from companies you've actually heard of (Dr. Scholls, Honeywell, etc). It's pretty impressive when you think that it all started as a licensing agreement between Vidal Sassoon and a guy with some salons in Texas.
The long-term chart will show you a company that has been around forever, but did not experience a steady upward growth trajectory until after the financial crisis. For example, the price in 2001 was half of what it was in 1998. The stock traded for $27 in 2004 but only $10 in 2009. And so on. The company has never paid a dividend so there is no "total return" story, and in our yield starved environment this is probably why it receives a lot less coverage.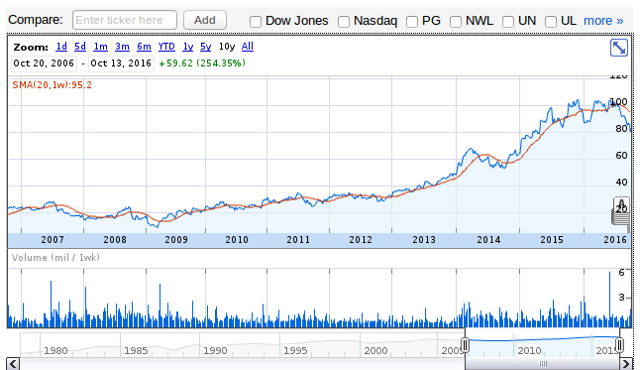 It didn't take much to send the stock on a 66% run over the last two years though. Just look at what happened from 2014 to June of this year. The company spent some time generating 15% ROE rather than its long-term average of about 10, and investors bid up the stock over $100.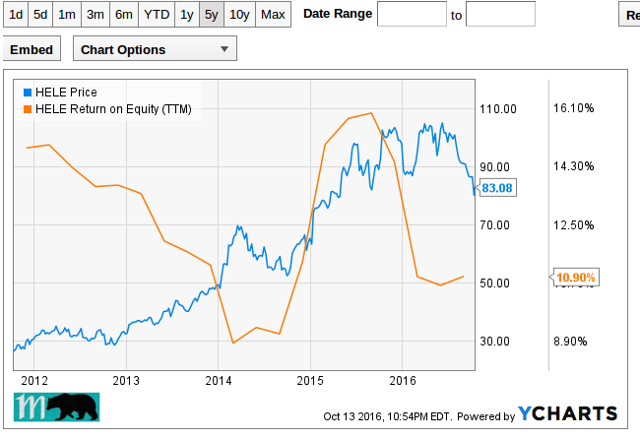 The problem is that the company took on some debt to fund the acquisition of brands it acquired in recent years such as its Hydro Flask water bottles line. That would have been OK if the increased leverage boosted returns on equity, and it did, briefly. But now the company is back to delivering returns in line with its long-term average. This is why the stock has been on a 20%-plus slide since June. You see the ROE peaking briefly and now we are stuck with this much higher debt level: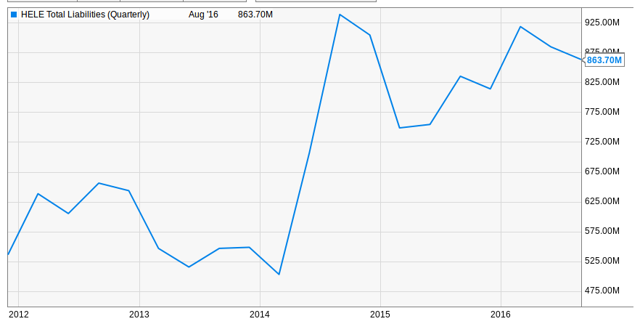 On July 6th an article appeared on Investopedia which invited readers to compare this company with P&G ahead of earnings. At the time they were trading within almost the same metrics but P&G had a P/E of 23 vs. Helen's of 16. The problem with that article is that it made it seem like they are actual competitors when really Proctor & Gamble is roughly 125 times the size of Helen of Troy and its valuation is supported not only by its dividend aristocrat status and the who knows how many millions of retail investors that have crowded into that trade, but also by all of the big institutional money and S&P-based ETFs and mutual funds that own it. Even in the next flash crash, the algos will be trading bottoms on it so fast you may not even see it.
Don't get me wrong, Helen of Troy was a value stock in 2009 when it traded at 1.2 book value and 7x forward earnings. But this is sadly a stock that lends credence to the market being wildly overvalued theory. Since then, book value had tripled to 3.3 (its since come down to 2.6) market cap has increased tenfold, while earnings per share have increased $80, from $1.91 pre-crisis to $3.66 today. Net income went from $61 million in 2008 to $140 million last year but now is back below $100 million. ROE is also in the 10-12% range like it was pre-crisis. EBITDA, shown below, tells the same story. So today, you are essentially paying ten times as much today for the same amount of earnings you were 10 years ago.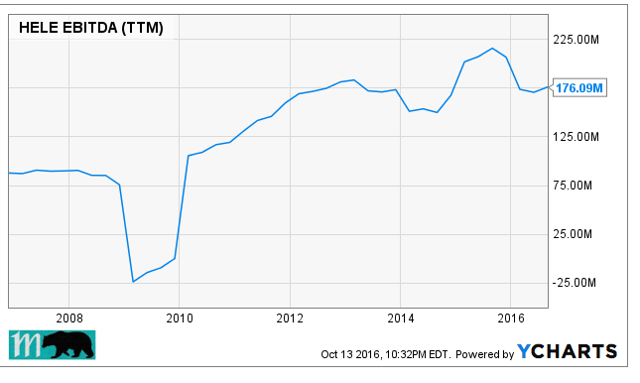 The company is generating free cash flow of about $33 million per quarter on average over the last five years. This works out to about a $1.17 on the 28 million shares outstanding. They could probably afford a dividend of a couple cents per share to get more investors interested. Until then, they will live and die by the sword of Wall Street estimates ever quarter. And when the next market drop hits, unlike P&G, this stock will be twisting in the wind like it has several times in the past.
Bottom line? I think the stock may get bid up to $90 again between now and the next earnings. But another miss - look out. Also remember how old the bull market is. This is the type of company I could see getting taken private at some point (it currently boasts 96% institutional ownership) because it is a good business, but the market has just overvalued this company. Especially considering that future growth ostensibly requires more acquisitions which will require either equity or debt to be issued (there was just $23 million of cash on the balance sheet as of the last corporate filing). This is a good, reliable, not overly cyclical business that you can invest in when things are bad and you know that Brut aftershave and Bed Head hair gel are not the kind of stuff going out of business. But in a market like right now, I think you can find better growth opportunities than Bed Head hair gel and Brut aftershave.
Disclosure: I/we have no positions in any stocks mentioned, and no plans to initiate any positions within the next 72 hours.
I wrote this article myself, and it expresses my own opinions. I am not receiving compensation for it (other than from Seeking Alpha). I have no business relationship with any company whose stock is mentioned in this article.