Prior to the launch of Apple's (NASDAQ:AAPL) iPhone 7, there was concern that Taiwan Semiconductor Manufacturing Company (NYSE:TSM), TSMC for short, would suffer from the media malaise that had engulfed Apple as a result of the iPhone 7's "lack of innovation." The market for "high-end smartphones" was supposedly saturated, and TSMC was too dependent on them, limiting its growth opportunities. These expectations have proven wrong on a number of levels.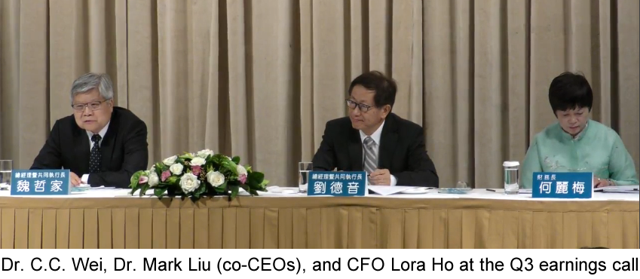 Source: TSMC
Bullish Call
During TSMC's conference call, management repeatedly emphasized that smartphone demand was robust, especially for the "high-end smartphones" that were supposed to be on the wane. Dr. Mark Liu, co-CEO and president, had this to say:
We concluded our third quarter with 17% quarter-to-quarter and 22% year-to-year revenue growth. This strong growth was driven by our major customer's new mobile product launch and a stronger than seasonal growth from our other customers...

High-end smartphone demand today is better than we previously expected. The 4G plus deployment in China and the 4G upgrade in emerging markets also drive end demand.
Note that in SA's transcript, "major customers'" is transcribed as "major customers'" plural. I don't believe this was the intention of the presentation. TSMC didn't have any other major customers launching new mobile products in Q3. In TSMC's presentations, "major customer" is a euphemism for Apple and "high-end smartphone" a euphemism for iPhone, in my opinion. Some may disagree with this interpretation, but TSMC's numbers speak convincingly of a turnaround in "high-end smartphone" demand.
TSMC posted 22% y/y revenue growth to $8.07 billion, with operating profit growth of 35% to $3.29 billion. The Communications market segment accounted for 60% of revenue and grew 24% y/y.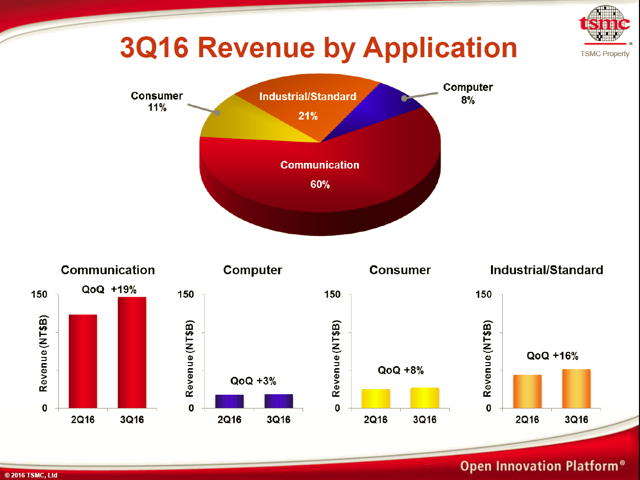 The breakdown by market segment doesn't provide much granularity or insight in Apple-related sales, but TSMC also provides a breakdown by process node.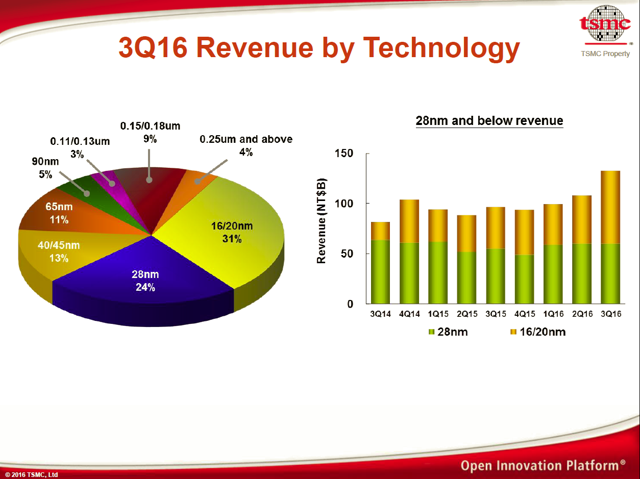 Revenue from the 16/20 nm process node grew by 80% y/y to $2.5 billion. This is significant because the 16/20 nm nodes are the ones Apple has used exclusively at TSMC for its A8, A9 and the current A10 Fusion SOC in the iPhone 7.
In fact, at this time last year, Apple was taking all of TSMC's 16 nm production for the A9. I can be confident of this because TSMC was just ramping production on 16 nm, and didn't have enough production capacity for Apple. It's thought that the A9 production was split 60/40 between TSMC and Samsung (OTC:SSNLF), respectively.
Based on TSMC's earnings, it now appears quite certain that TSMC got all of the production for the A10 and is probably exclusive producer of the A9 for the iPhone 6s and iPhone SE.
If Apple were only going to produce the same number of iPhones as last year, this would indicate a roughly 66% production increase at 16 nm for TSMC, by virtue of taking Samsung's share. The fact that growth was at 80% in Q3 suggests, along with management statements, that the iPhone 7 is doing very well indeed.
There is some uncertainty, which for now precludes making quantitative predictions of iPhone 7 sales. This is due to the fact that TSMC has other customers for the 16 nm node including Huawei for some of its Kirin line of custom SOCs and Nvidia (NASDAQ:NVDA) for its Pascal GPUs.
In fact, TSMC management highlighted strength in PC gaming, as well as High Performance Computing applications, as growth drivers. However, unit shipments of Nvidia GPUs are considerably smaller than iPhones. For instance, Jon Peddie Research estimated that in Q2 Nvidia shipped just 6.61 million GPUs for desktop add-in boards. Probably, shipments of Pascal GPUs for HPC and deep learning applications were considerably smaller.
Huawei has become an important supplier of smartphones and was in third place behind Apple and Samsung in market share and shipment volumes in Q2, according to IDC. However, most of Huawei's smartphones do not feature its top of the line Kirin 950, 951 series SOC (fabricated on 16 nm). So it's difficult to tell how big a customer Huawei is for the 16 nm node. Probably Huawei is in roughly the same unit volume as Nvidia.
Foresight
In my article following TSMC's Q1 earnings, I made a number of calls that must have seemed a little reckless at the time and in the intervening months of negative pre-coverage of the iPhone 7. With respect to TSMC's bullish predictions for the second half, I said,
But the timing certainly strongly suggests that Apple will be a major contributor to revenue growth on the 16 nm node since it will need a production ramp of processors in Q3 to support the launch of a new iPhone 7 some time in the September time frame. TSMC looks particularly well positioned to benefit from the new iPhone launch, since I doubt that Apple will split processor production between Samsung and TSMC as it did last year...

TSMC's statements about InFO strongly imply that it's only working with one major customer right now, and that customer is likely to be Apple. So I think chances are very good that InFO technology will be used on the next iPhone. What are the benefits? Potentially, lower cost, higher performance, and thinner design for the iPhone.
I've always assumed that Samsung was on the way out as an Apple supplier: too much bad blood and mistrust. How could Apple assume that its SOC designs would be safe from compromise in the hands of its arch rival? TSMC can offer Apple what neither Samsung nor even Intel (NASDAQ:INTC) could: confidence that its intellectual property will be protected.
It also appears that InFO is indeed being used on the A10 SOC. InFO is a packaging technique pioneered by TSMC that allows combining many discrete silicon chips in a single package and is currently used to package DRAM with the SOC.
Race for the Future
TSMC's expectations for future processing nodes highlights how much innovation has shifted from the traditional semiconductor companies like Intel to the new mobile paradigm of system integrators such as Apple teaming up with foundries such as TSMC. TSMC indicated that it will start production ramp of the 10 nm node in Q4 of this year, with first parts deliveries in 2017 Q1. Moreover, risk reduction begins on 7 nm in Q1 2017, with full production by early 2018.
This blistering pace is driven by the intense competition with Samsung, which also plans to start production ramp of 10 nm by the end of the year. Who says Moore's Law is dead? While Intel tries to regain its biennial tick-tock cadence, the mobile device industry is moving to an annual cadence. TSMC expects to be first to 7 nm, and Apple is very well positioned to benefit from this. Indeed, I think Apple is probably helping defray some capital costs.
Earlier this year, it was speculated that Apple would slow down the pace of iPhone development from the current biennial cadence to an even longer three-year cadence. The annual cadence for the foundries makes this assertion rather absurd, doesn't it? It's the large mobile device companies, Apple and Samsung, that are driving the pace of innovation.
Investor Takeaway
Trying to derive quantitative predictions for iPhone sales based on supplier data has always been problematic. Apple is just so secretive and swears its suppliers to secrecy under penalty of, well, not being an Apple supplier. Even so, one got the impression that TSMC's management could hardly restrain their glee.
And their guidance for Q4 was equally bullish for Apple, with another 25% y/y increase in revenue. Analysts were clearly surprised at this, but I'm not. The December quarter, Apple's fiscal Q1, is looking very strong with record-breaking iPhone unit sales. More importantly, TSMC's guidance suggests that the strength in the iPhone 7 is sustainable into 2017, unlike what happened this year with the iPhone 6s.
The partnership between Apple and TSMC plays to each company's strengths. I expect it to help carry both companies to a commanding lead over their competition in the next few year. I remain long Apple and recommend it as a buy. I also recommend TSMC as a buy.
Disclosure: I am/we are long AAPL, NVDA.
I wrote this article myself, and it expresses my own opinions. I am not receiving compensation for it (other than from Seeking Alpha). I have no business relationship with any company whose stock is mentioned in this article.
Editor's Note: This article discusses one or more securities that do not trade on a major U.S. exchange. Please be aware of the risks associated with these stocks.