I appreciate every single one of my readers. I hope that in some small way the work I have done here on Seeking Alpha has helped a few folks along their investing journey.
I have seen other authors offer glimpses into their personal portfolios. I appreciate the sentiments they have shared; that it is a good thing to offer readers a sense of transparency, the ability to evaluate to what extent the author "practices what they preach."
I agree. And, if you compare what I will share in this article with pretty much any of my published work as ETF Monkey, I think you will find a high level of consistency. For better or worse, you will see that I handle my own portfolio very much along the lines of, say, The ETF Monkey 2016 Model Portfolio. Really, I think the only differences you will find are my inclusion of a select few individual stocks as well as the fact that I maintain and manage a cash balance to give myself the ability to quickly take advantage of what I believe to be good opportunities.
So, whaddya say? Shall we take a peek together? Great. Glad you'll join me. Let's start by taking a look at...
The Big Picture
Here is the summary section from the Excel sheet I use to track my portfolio.
Mechanically, the sheet is fairly easy to build. As a Fidelity brokerage client, I am able to get an Excel-based file dump of my portfolio positions at any time I wish. In my summary sheet, I tag each position with an asset class. For example, I tag my position in the Vanguard Total Stock Market ETF (NYSEARCA:VTI) to Domestic Stocks and my position in the Vanguard Total Bond Market ETF (NASDAQ:BND) to Bonds. From there, it is simply a matter of summing and presenting each asset class, and evaluating its weighting relative to the total portfolio.
Here is how the portfolio stood as of the end of Q3. Have a look, and then I will offer a few comments.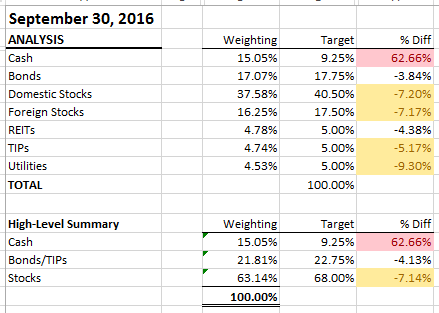 You will immediately notice that I have 'snapshots' at two different levels. You might think of these as "the big picture" and "the really big picture."
The initial summary tracks seven asset classes. In addition to the 'Big 4' (Cash, Bonds, Domestic Stocks and Foreign Stocks), you will notice that I maintain and track a discreet weighting in REITs, TIPs and Utilities. While REITs and Utilities ultimately fall under the broader heading of 'stocks' and TIPs the broader heading of 'bonds,' I view these asset classes as unique enough that I monitor their weighting separately, such that I can rebalance in and out as needed to maintain those target weights.
In the right-hand column you will notice that certain cells are red and yellow in color. This is based on conditional formulas that turn the cell either yellow, red, or green if an asset class is either over or under its target weight by 5% or 10%. So, for example, at a weighting of 37.58%, Domestic Stocks are currently 7.20% below my target weight of 40.50%. I simply use this as a visual aid to let me quickly identify where each asset class stands such that I can ponder the question of whether I want to do anything about it.
As a practical example of how this worked recently, you might note that, as of 9/30, Utilities were 9.30% under their target weight. Early in October, a further decline dropped that number to 10% below. The related cell turned green in color and I quickly made the decision to add enough at that point to bring the asset class in line with its target weight.
Finally, my top-level summary looks at my overall weighting in Cash, Stocks and Bonds. Again, the conditional formatting highlights how the relative weighting of each asset class stacks up at this level.
Using this analysis worksheet, what can you quickly determine about my portfolio as it stood at September 30? Very simply that, given the dramatic run up since February's lows, I believed the market to be a little "expensive" as of that point in time. You will notice that, at 62.66% above my target weight, the cash component of my portfolio was flashing red. In contrast, every other asset class was underweight, some more than others.
In my work as ETF Monkey, for the most part I recommend maintaining your relative weightings in each asset class and letting the market determine when and how you should rebalance. At the same time, I am not opposed to using cash reserves to either reduce or increase your overall exposure depending on whether you perceive the market to be "cheap" or "expensive."
The Devil's In the Details
First off, to create the necessary links and references, here are my positions in alphabetical order.
| Ticker | Stock/ETF |
| --- | --- |
| AAPL | APPLE INC |
| AGG | ISHARES CORE U.S. AGGREGATE BOND ETF |
| BND | VANGUARD TOTAL BOND MARKET ETF |
| BSV | VANGUARD SHORT TERM BOND ETF |
| DIA | SPDR DOW JONES INDL AVERAGE ETF |
| FDRXX | FIDELITY GOVERNMENT CASH RESERVES |
| HDV | ISHARES CORE HIGH DIVIDEND ETF |
| IEFA | ISHARES TRUST CORE MSCI EAFE ETF |
| ITOT | ISHARES CORE S&P TOTAL US STOCK MARKET ETF |
| IXUS | ISHARES TRUST CORE MSCI TOTAL INTL STK ETF |
| JMBA | JAMBA INC |
| SPAXX | FIDELITY GOVERNMENT MONEY MARKET |
| T | AT&T INC |
| TIP | ISHARES TIPS BOND ETF |
| VEU | VANGUARD FTSE ALL-WORLD EX-US INDEX |
| VHT | VANGUARD HEALTH CARE ETF |
| VIG | VANGUARD DIVIDEND APPRECIATION INDEX |
| VNQ | VANGUARD INDEX FDS VANGUARD REIT ETF |
| VPU | VANGUARD UTILITIES ETF |
| VTI | VANGUARD TOTAL STOCK MARKET ETF |
| VWO | VANGUARD FTSE EMERGING MARKETS ETF |
| VYM | VANGUARD WHITEHALL LANE HIGH DIVIDEND YIELD ETF |
| VZ | VERIZON COMMUNICATIONS |
Next, here is the section from my tracking spreadsheet which lists each position in descending order by weight.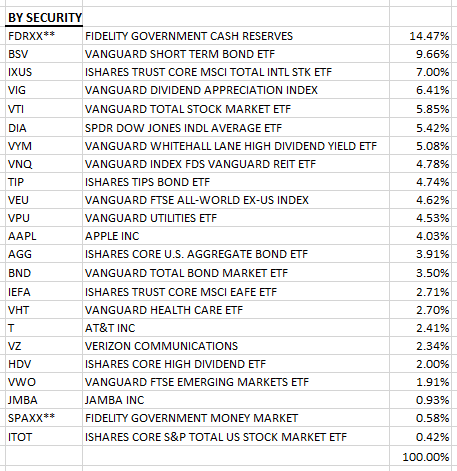 Before I get into the details, I want to offer one big-picture comment. In my experience, a portfolio is always a "work in progress." In some cases, my weightings in certain ETFs may be temporarily out of balance for a reason. Take my current weighting in the iShares Core S&P Total U.S. Stock Market ETF. It is a very odd circumstance indeed that this is the lowest-weighted holding in my entire portfolio, even lower than tiny Jamba Juice! As it turns out, this will likely be a temporary aberration. As I mention elsewhere, due to the sharp rise in domestic stocks from the lows of February, 2016, I desired to trim my weighting in these. Since ITOT both well represents the entire U.S. market and also constitutes, for me, a commission-free trading vehicle, it became my vehicle of choice to do this. Rest assured, it will also be my vehicle of choice when I determine it is time to increase my allocation in domestic stocks.
But now, let's get into the specifics, by asset class.
Total U.S. Stock Market: ITOT / VTI
These are the core, or foundation, of my domestic stock allocation. Their most recent fact sheets show VTI as containing 3,620 stocks and ITOT containing 3,727. Unlike the S&P 500, which focuses on large-cap companies, these ETFs truly encompass the entire U.S. stock market, including small-cap and even micro-cap stocks. In a perfect world, my goal is for between 10-15% of my total portfolio to be in these ETFs. Currently, their combined weighting is only 6.27%. As mentioned above, this is because I chose ITOT as my vehicle to lower my overall weighting in domestic stocks.
Dividend Growth & High-Dividend: DIA / HDV / VIG / VYM
I included these specific ETFs to increase the overall quality of my holdings, as well as my dividend income. Several of these have been stellar performers so far this year. However, my sense is that this area has become somewhat overpriced due to investors chasing yield in a difficult environment. I have already lightened my position in VIG and am pondering selling more of one of these in favor of ITOT to increase my exposure to the broader market, including smaller companies.
For now, though, I will just include the comment that, for my money, dividends form a key component of a good portfolio. In fact, thinking about this section has me pondering writing a separate article specifically addressing this topic.
Specialty Sectors: VHT / VNQ / VPU
I bought a small position in VHT over two years ago and recently added to it. Given U.S. demographics, I decided I wanted a small dedicated exposure to the field of health care. Above, I also mentioned that I track REITs and Utilities separately, and VNQ and VPU are my ETFs of choice. Since I am now in my mid-50s, I wanted an element of stability in the portfolio. I just felt like having a specific allocation dedicated to the actual buildings in which people live, work and shop, as well as the utilities that power such facilities, made sense for me.
Foreign Stocks: IEFA / IXUS / VEU / VWO
Initially, as a big Vanguard fan, I started with VEU and VWO. I later added positions in first IXUS and then IEFA. As a newbie ETF investor several years ago, I actually made a mistake with VEU and VWO. I failed to notice that VEU contained an approximately 19% exposure to emerging markets and bought VWO, thinking that this, and only this, represented my exposure to emerging markets. At one point, I believe somewhere between 40-50% of my overall foreign allocation was in emerging markets, much higher than I had ever intended! Overall, I consider this to have been a profitable mistake, because it taught me the importance of clearly understanding the portfolio composition of any ETF you purchase! Gradually, I unwound this mistake by lowering my weighting in VWO in favor of IEFA.
Bonds & TIPS: AGG / BND / BSV / TIP
If you examine my weightings, you will notice that my position in BSV is roughly the same as AGG, BND and TIP combined. Clearly, my bond holdings are relatively conservative, at the shorter end of the duration scale. Noting that BND had outperformed BSV by some 3% YTD, I recently moved some funds out of BND and into BSV, hoping to lessen my exposure if rates rise. As mentioned earlier, I also maintain a 5% weighting in TIPs just to increase my diversification and provide some small measure of protection against inflation.
Individual Stocks: AAPL / JMBA / T / VZ
Clearly, ETFs form the backbone of my portfolio. Still, I enjoy maintaining a few individual holdings. I wrote this article for Seeking Alpha explaining why AAPL is my largest single-stock holding. And in this article, I explain my thinking with respect to T and VZ (as well as a brief section on AAPL & JMBA).
I have been maintaining my weighting in AAPL somewhere between 4 - 4.5%. Given the fact that AAPL is also a component of some of my ETFs, I figure that this leaves me with no more than 5% total exposure. I try to maintain T & VZ at around 2.5% each and JMBA is a tiny holding, at about 1% of my portfolio.
My Personal Performance vs. My Model Portfolios
So how has my personal portfolio performed through Q3 compared to my model portfolios? As might be expected, quite similarly. Through September 30, my portfolio has generated a YTD return of 8.11%. That compares against a YTD return of 7.95% for The ETF Monkey Vanguard Core Portfolio and an average return of 7.53% for the three implementations of The ETF Monkey 2016 Model Portfolio.
Final Thoughts
When I made the decision to transform my portfolio from being heavily based on individual stocks to ETFs over 3 years ago, Vanguard was my provider of choice. At the time, Vanguard sported by far the greatest selection and diversity of low-cost ETFs. Later, I began to integrate ETFs from BlackRock's iShares family. As a Fidelity brokerage client, I could trade several of these commission-free.
Recently, BlackRock announced yet another fee cut on several of their core offerings. Further, I have been interested to note that the Fidelity implementation of The ETF Monkey 2016 Model Portfolio has outperformed the Vanguard implementation as of my Q3 update. This is a most interesting example of how my work as ETF Monkey causes me to continually evaluate my own portfolio choices. Given the combination of iShares' lower fees, the fact that I can trade them commission-free, and their excellent performance in my model portfolio, I may have to re-evaluate my core holdings.
Until next time, I wish you..
Happy investing!
Authors Note: At the top of this article, next to my name, you will see a "Follow" button. If you like my work, I would be profoundly grateful if you would take a minute to do this, as well as feature my work to friends, colleagues and/or relatives who may be interested in the subject matter. Growing one's readership base is critical to any author and I am no exception. Your support will enable me to continue my efforts.
Disclosure: I am/we are long AAPL, AGG, BND, BSV, DIA, HDV, IEFA, ITOT, IXUS, JMBA, T, TIP, VEU, VHT, VIG, VNQ, VPU, VTI, VWO, VYM, VZ. I wrote this article myself, and it expresses my own opinions. I am not receiving compensation for it (other than from Seeking Alpha). I have no business relationship with any company whose stock is mentioned in this article.
Additional disclosure: I am not a registered investment advisor or broker/dealer. Readers are advised that the material contained herein should be used solely for informational purposes, and to consult with their personal tax or financial advisors as to its applicability to their circumstances. Investing involves risk, including the loss of principal.