I believe there's a great deal of injustice going on with Lockheed Martin (NYSE:LMT) stock. It especially doesn't bode well for those who moved into LMT earlier this year with hopes of profiting off of some capital gains. But at the same time, this latest downward trend has revealed an entry position in LMT for those considering the defense contractor's stock as long-term prospective.

It all starts with the company's ability to generate revenues. Now without dwelling too deep into the numerous lucrative revenue streams Lockheed Martin has at its disposal, and which numerous authors and analysts have covered, I can reassure you they are more than enough to keep its gears running for decades. It should be noted that historically the company has performed well during times of war and rising hostile sentiments across the world, and uncertain geopolitical conditions prevailing across the world today are only going to benefit a company such as Lockheed Martin even more.
A steady revenue stream is crucial for maintaining a healthy free cash flow, which in turn increases a company's ability to return value to shareholders in the form of dividends and share repurchase programs. And through its free cash flow position, Lockheed Martin has been very successful in keeping investors happy. For more than a decade the Bethesda, Maryland-based company has raised dividends by more than 10% per annum, even increasing dividends this year to $1.82 per share for the fourth quarter up from $1.65 per share in the previous quarter.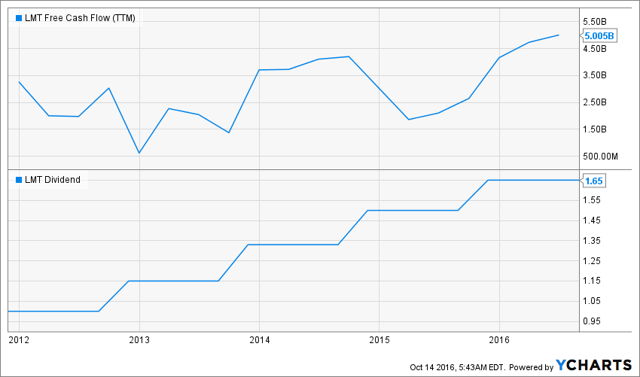 (Source: YChart)
A more detailed analysis of the company's financials also reveals that free cash flows have consistently been at ample levels to continue financing this dividend hike each year. With future prospects from various lucrative program, such as the F-35, we should see Lockheed Martin easily maintain, if not improve, its free cash flows. This in turn shows that the company can easily maintain its dividend-increasing capabilities in the next year, and most likely even in the many years to come.
However, right now, many investors will look at the last few months and argue against investing in a company which has lost more than 10% of its value in the last two months. I have to counter this argument by letting these investors know that this is precisely the right reason why they should be investing in LMT all along. After careful deliberation and from the information I understand, I believe the company stock is currently trading at its fair market value of approximately $232 per share. Now that doesn't mean the stock might not take a dip in the coming days, especially considering that a quarterly report release is on the horizon, but even if it does go below $230, I believe it will rebound back to above $230.
The recent drop has disheartened many investors and that is precisely why the stock might actually dip below the $230 mark. If it does dip below $230 then you might stand a wonderful chance of making some quick gains once the earnings are released later this month on 25th October. What guarantee do you have that the stock might actually rise following the quarterly report release? Well, take a look at this graph.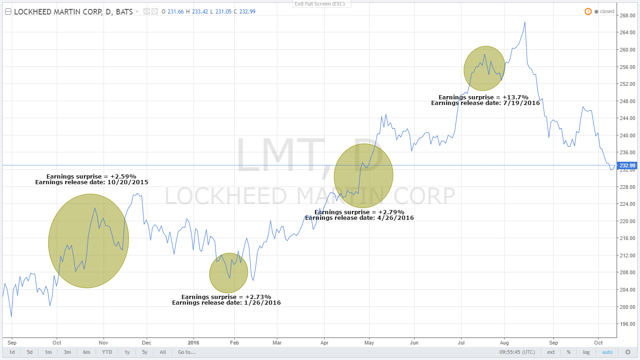 (Source: TradingView.com)
In the past four quarters Lockheed Martin has surpassed consensus earnings estimates and LMT climbed in the days that followed. I believe that the company's earnings trend will continue just like its past record, especially considering how little its business structure has changed during this whole time.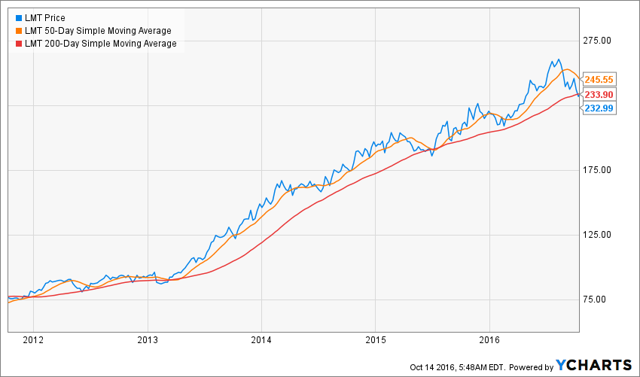 (Source: YChart)
A gander at the 50 and 200-day moving averages indicates that the stock is still in bullish territory and in the coming days will stabilize or rise, floating within the $230-240 per share margin. However, my sincere advice is to consider LMT as a long-term investment. Lockheed Martin stock is tailor-made for those investors who want to buy a stock and sit on it for five to 10 years, because that is where its true potential lies. You might make a quick buck here and there, but you're really missing out on the true benefits of LMT if you don't get into it for the long run.
Disclosure: I/we have no positions in any stocks mentioned, and no plans to initiate any positions within the next 72 hours.
I wrote this article myself, and it expresses my own opinions. I am not receiving compensation for it (other than from Seeking Alpha). I have no business relationship with any company whose stock is mentioned in this article.