Most investors are aware of Freeport-McMoRan (NYSE:FCX) the global copper and gold mining company that made a giant mistake a handful of years ago when it made a poorly timed purchase of oil and gas assets with oil priced over $100 per barrel. Freeport-McMoRan went from a company sitting on a very nice net cash position to an over-leveraged company with dangerous exposure to commodity prices.
At its peak, towards the end of 2015, Freeport-McMoRan had net debt in excess of $20 billion. Its cash from operations was plummeting, having declined by nearly 50% from 2013 to 2015. This was mainly due to the dramatic decline in the price of copper, oil, and natural gas. Coupling the debt burden with the decline in cash flow, the market began pricing in serious doubts about Freeport-McMoRan's ability to survive. In early February, 2016, debt prices on nearly all of Freeport's medium to long-term debt fell to prices in the 50-60 cents on the dollar range, with yields approaching 20%.
Freeport-McMoRan has begun a series of painful steps to correct this problem. It agreed to sell 13% of its Morenci mine in Arizona for $1 billion in cash. It agreed to sell an exploration project in Serbia for $100 million. It sold oil & gas royalties for $100 million, and it agreed to sell its Tenke mine in Africa for $2.65 billion cash. On top of this, Freeport-McMoRan has begun a third "At The Market" equity offering in the amount of $1.5 billion. Previous ATM equity offerings in 2015 brought in $2 billion cash. Freeport has more recently agreed to sell its deepwater Gulf of Mexico assets to Anadarko Petroleum (NYSE:APC) for $2 billion, and its California assets for up to $742 million.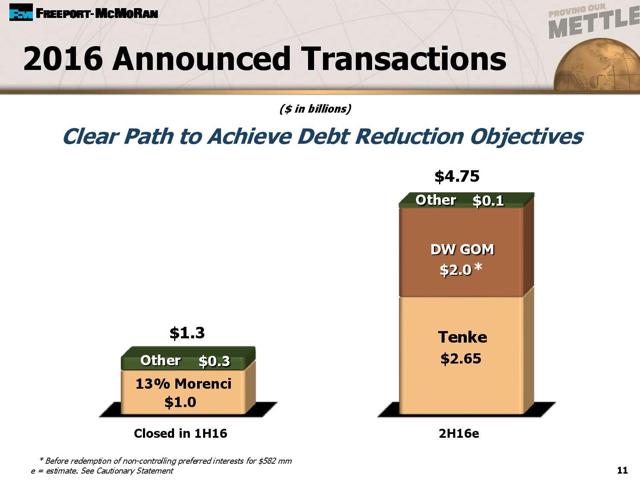 Source: Freeport-McMoRan
To any shareholder who bought and held from years ago, the pain was very real. They were being diluted to pay for the mistakes of the past, plain and simple. The point of this article is not to dwell on the mistakes of the past, but rather to look forward. Freeport-McMoRan has a long history of flooding its shareholders with cash during good times. An investor today has the potential to be greatly rewarded for buying in at this time.
Before I speak of the resumption of a dividend, I will first off say that Freeport is restricted from paying any cash dividend until after Q1 2017. This was agreed to in exchange for a relaxing of debt covenants earlier this year. Since we are in a waiting period, let's look at what can happen in the meantime.
At $2.20 per pound for copper, Freeport-McMoRan is very much free cash flow positive. At the beginning of this year, Freeport predicted a breakeven somewhere around $2.00 copper and $1,100 gold. We are well above those prices and have been above those prices for most of this year. At current commodity prices, Freeport should generate nearly a billion dollars of free cash flow this year, and even more next year as continued cuts in CapEx take place.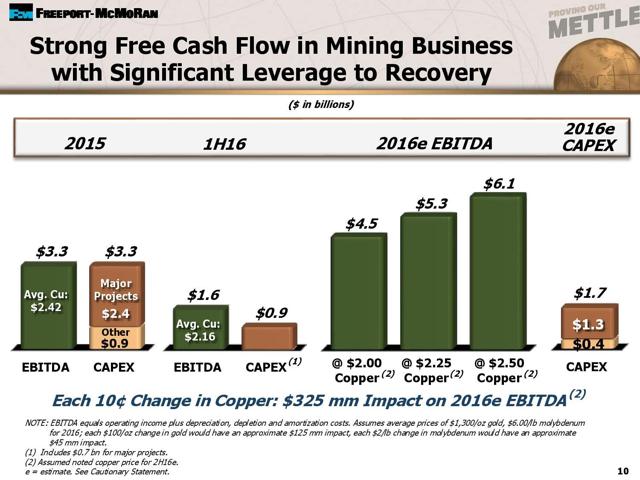 Source: Freeport-McMoRan
Freeport continues to own the majority of the Grasberg mine in Indonesia. It has openly stated that it would consider selling up to 20% of this mine. A few prices have bounced back and forth between the company and the Indonesian government, and currently there is no agreement on price. However, I believe simply based on what has already been tossed around back and forth between Freeport and the government, that a minimum of $2 billion could be had by Freeport should it decide to sell the 20% it is open to selling.
Another possibility that could go far to help Freeport-McMoRan, considering its free cash flow would be the open market repurchase of its medium to long-term debt. These bonds are actively trading as low as 82 cents on the dollar for the 5.40% bonds due in 2034. To use current free cash flow to buy these bonds would not only save on future interest expense, but it would extinguish debt at a discount to what would be required to pay if Freeport simply waited to pay them off at maturity.
Freeport-McMoRan has historically been very generous to shareholders when it could. For example, in 2006, when Freeport was flush with cash and had almost no debt, shareholders received $2.37 per share of regular and supplemental cash dividends. Many readers will immediately mention that Freeport is nowhere near zero debt, but the intention to get back there is very real. Take the comments from CEO Richard Adkerson from the Q2 conference call. He said, "I'm looking forward to the time when Freeport returns again to thinking about increasing dividends and returning cash to shareholders. So we have a future that allows us to look forward to that day, based on the rectification of our balance sheet now that we've got the clear line of sight after dealing with the losses we had from this oil and gas deal."
The time to be all in on Freeport is now. We have passed the point where solvency is an issue. The shareholders of the past have paid the price, but the shareholders of today and tomorrow will be rewarded as the company continues towards the future. Don't wait for the company to begin paying a dividend to buy the stock. The market will begin pricing in the dividend well in advance. Historically, Freeport paid over $1.00 per share annually. There won't be an opportunity to buy at today's prices once it begins paying a dividend.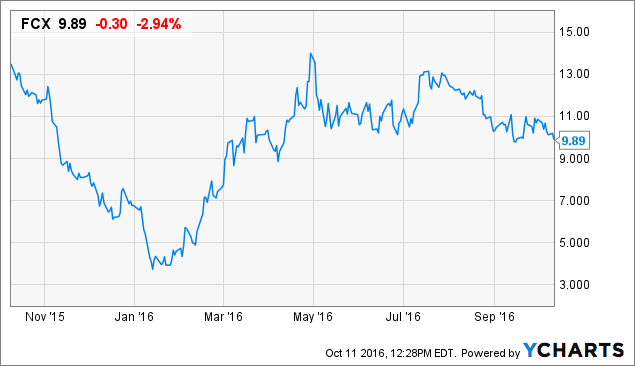 FCX data by YCharts
Disclosure: I am/we are long FCX.
I wrote this article myself, and it expresses my own opinions. I am not receiving compensation for it (other than from Seeking Alpha). I have no business relationship with any company whose stock is mentioned in this article.