Despite calls for its death in mainstream financial media earlier this year, the 60/40 portfolio in stocks and bonds is holding strong. A decrease by about 350 basis points from peak year-to-date return is due to the rise in correlation between the two major asset classes. There are risks but this simple portfolio is far from dead.
Below is a chart with price and daily return correlations of (NYSEARCA:SPY) and the 20-Year Treasuries (NYSEARCA:TLT) performance of the 60/40 portfolio.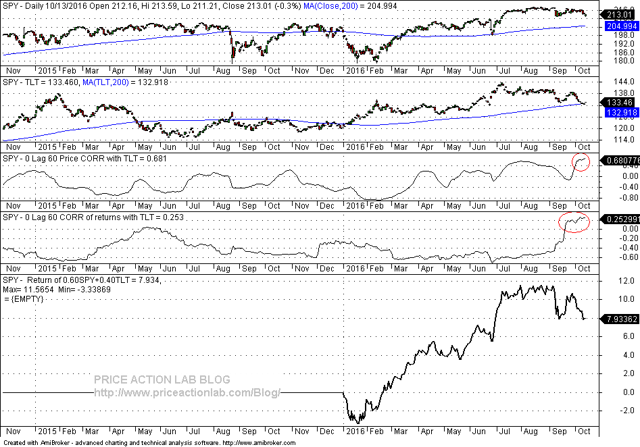 Year-to-date return of the portfolio is 7.93%, off by about 3.5% from a high of 11.56% during last August. The portfolio outperforms the SPY year-to-date return of 6.1% by about 180 basis points. Year-to-date return for TLT is 10.68%.
Going forward, if the high correlation between SPY and TLT persists and there is a correction in both markets, then the performance of the 60/40 portfolio may deteriorate. However, I would not go as far as declaring the 60/40 portfolio dead. Since 2003, the 60/40 portfolio has 0.95 Sharpe versus 0.62 for SPY. This is far from being dead already. Although there are alternative schemes for investors, such as "smart beta" and other fancy portfolios constructed via the use of machine learning algos, the 60/40 portfolio is a "simple" and cheap way out of this hype and any potential risks associated with it.
In comparison, the year-to-date return of the Price Action Lab SPY-TLT-GLD-DBC portfolio with weights 50%-30%-10%-10% is 9.5%, down about 4.5% from the August highs.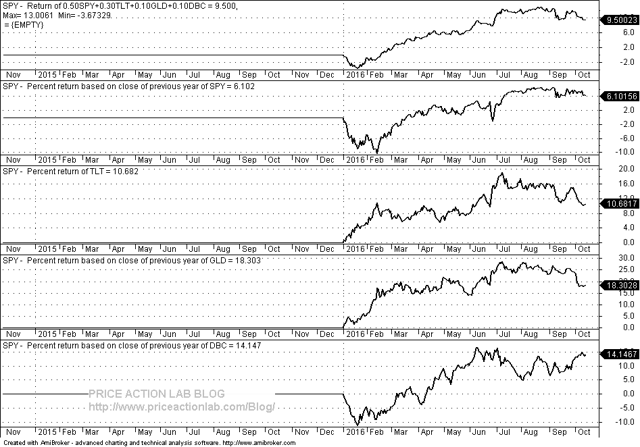 This portfolio reduces equally allocation in stocks and bonds to add gold (NYSEARCA:GLD) and commodities/energy (NYSEARCA:DBC).
Charting program: Amibroker
Disclosure: I/we have no positions in any stocks mentioned, and no plans to initiate any positions within the next 72 hours.
I wrote this article myself, and it expresses my own opinions. I am not receiving compensation for it. I have no business relationship with any company whose stock is mentioned in this article.