Whatever happened to me in the past, I don't even think about that. If you get stuck in the past, you're not going to be able to move on. Whether it is good or bad, you have to find a way to look forward.

-Baltimore Orioles pitcher Ubaldo Jimenez

Bull markets are born on pessimism, grow on skepticism, mature on optimism, and die on euphoria.

-Sir John Templeton

Life and investing are long ballgames.

-Julian Robertson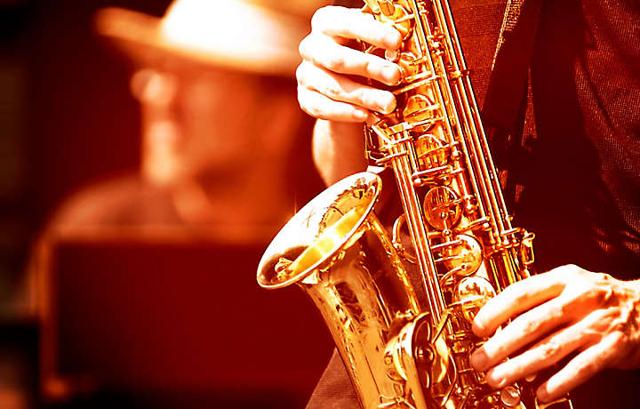 Introduction
Two of my favorite things in life are music and the investment markets.
Music is a universal language, which only a few gifted individuals can truly understand, but many enjoy, perhaps even more, through their participation.
The financial markets are similar, in that only a few market participants are actually making the music, and the bulk of the money, yet many investors, speculators, and traders react to the notes that are played, often to their own detriment.
A whole cottage industry has grown up disseminating market information, and this constant stream of news from Bloomberg, CNBC, and even Seeking Alpha, to name a few of the many sources of market information, is informative, but it can make it difficult to focus on the underlying factors that actually move markets.
As an investor, trader, and speculator, once you can ignore the noise, and even use it to your advantage, a different level of understanding about the markets can be developed. This is particularly relevant today, as there are many cross currents impacting market prices, including historic overvaluations for both the United States stock market and bond market, and the ongoing debate over deflation versus inflation.
Thesis
An overabundance of news is clouding the macroeconomic picture taking investors' attention away from the fundamentals that really matter.
Inflationary Pressures Are Gaining Traction
The predominant theme that emerged from 2011-2015 was a disinflation/deflationary pulse, where global capital flows were recycled back to the United States.
This resulted in a continued series of lower sovereign bond yields, as government bonds, around the world, were viewed as a superior credit, and the ultimate safe-haven.
Lately, this cycle appears to be ending. Sovereign bond yields are now rising, and this is true in the United States, Britain, Germany, and even Japan. This is shown by the 10-Year Treasury Yields of each country.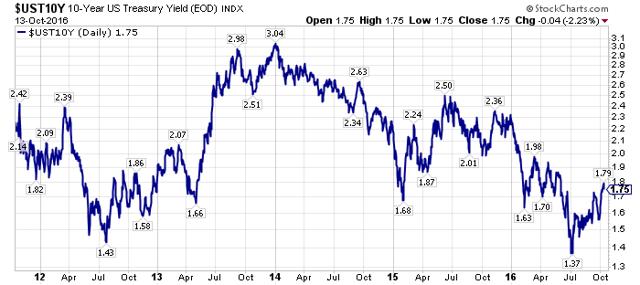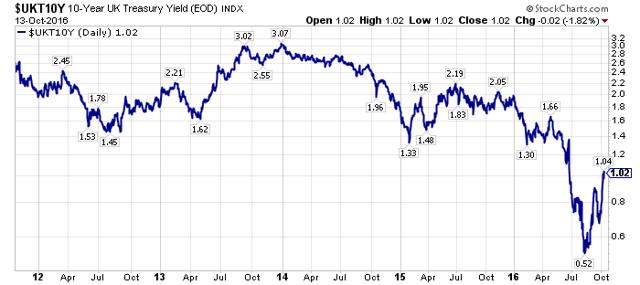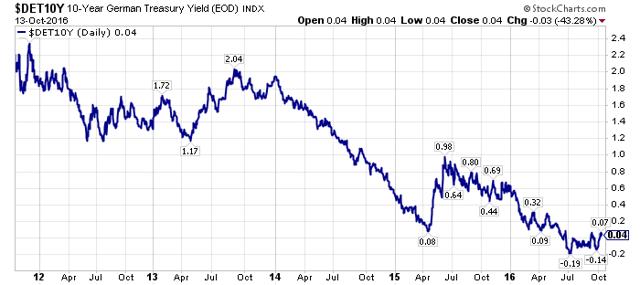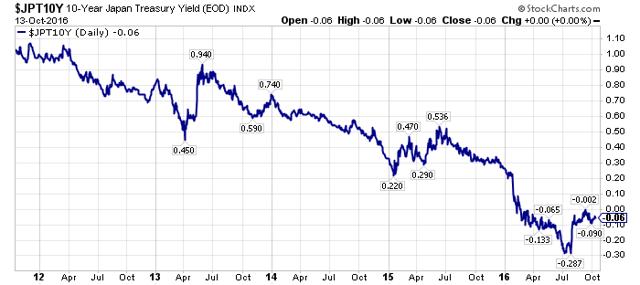 (Source: William Travis Koldus, stockcharts.com)
With sovereign bonds now falling, and corresponding yields rising, the investment environment is distinctly different than the 2011-2015 timeframe.
Commodity Prices Are Showing Relative Strength
For the first time since 2011, commodity prices are showing sustained relative strength versus the stock and bond markets.
Natural gas (UNG, UNL), a long-time contrarian favorite of mine, is the leading price gainer on a percentage basis in 2016, up 42%. Crude oil (NYSEARCA:USO) is next in line, up 36% YTD. Silver, as measured by the iShares Silver Trust (NYSEARCA:SLV), is up 26% this year. And, gold, as measured by the SPDR Gold Shares (NYSEARCA:GLD) is up 18% in 2016.
The performance of all of these commodities is ahead of the SPDR S&P 500 Index ETF (NYSEARCA:SPY), which has returned 13% in 2016, and the iShares 20+ Year Treasury Bond ETF (NYSEARCA:TLT), which is up 13% in 2016, and falling rapidly.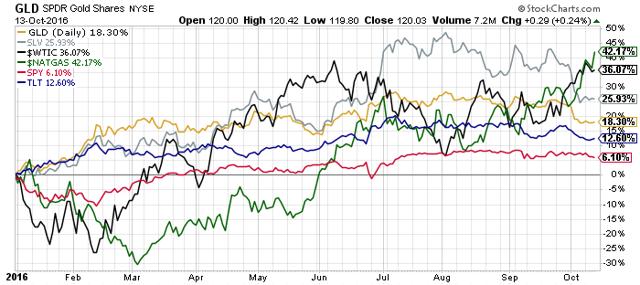 (Source: WTK, stockcharts.com)
To get perspective on the longer-term relative performance of these selected commodities, I have included a five-year performance chart below.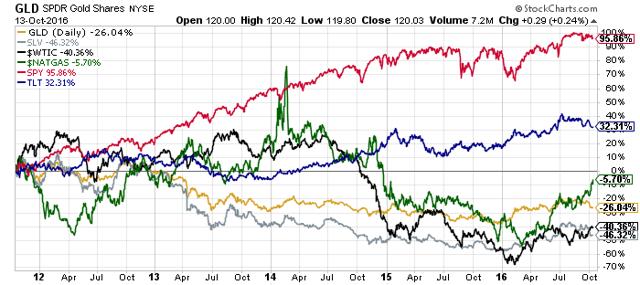 (Source: WTK, stockcharts.com)
As you can see, SPY and TLT have vastly outperformed commodities, implying more upside, in the reversion-to-the-mean trade. This is particularly true, when reflationary assets typically outperform in the last innings of a bull market.
Going further back, the ten-year performance chart paints another, different picture.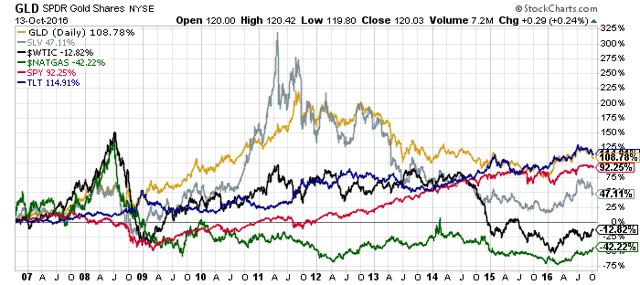 (Source: WTK, stockcharts.com)
TLT is the top performer over the last decade, which encompasses October 13th, 2006 through October 13th, 2016. Unquestionably, this has been an interesting time period, and the outperformance of TLT should have market participants asking a lot of questions.
The China Conundrum
The markets raised a fuss yesterday as Chinese exports declined the most since February, sparking fears of a slowdown in global trading volumes.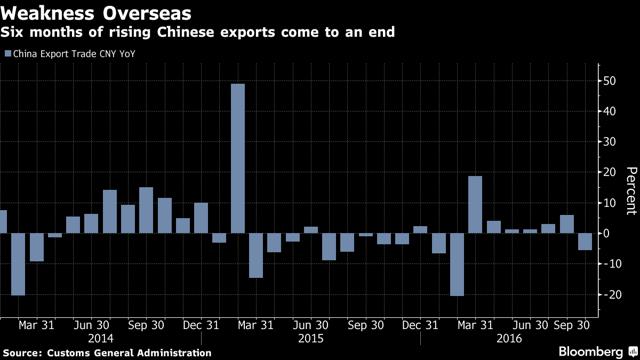 (Source: Bloomberg, Customs General Administration)
Looking at the graph above, it is clear to see that Chinese exports have generally rebounded in 2016, after struggling most of 2015, with the notable outliers being the month of February each year.
While the export picture is murky, the bulk of the objective evidence coming from China continues to indicate that a cyclical recovery is underway.
Both the private sector and official purchasing manager indexes are in expansionary territory.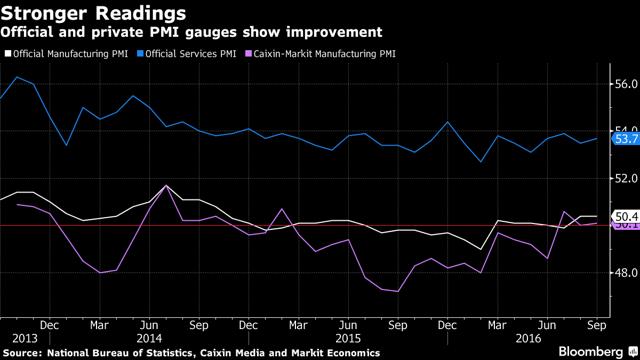 (Source: National Bureau of Statistics, Caixin Media, Markit Economic, and Bloomberg)
Additionally the price of nickel, zinc, steel, thermal coal, and met coal, which I highlighted recently, continues to surge, implying an increase in end demand, which is typical of a growing economy.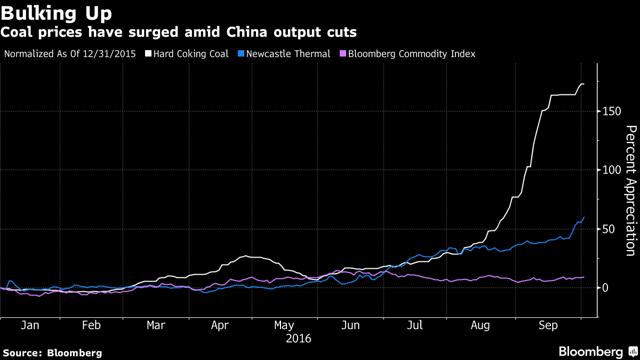 (Source: Bloomberg)
The Chinese stock market, as measured by the iShares China Large-Cap ETF (NYSEARCA:FXI) has started to out-gain SPY in 2016, though FXI still lags behind the performance of the iShares MSCI Emerging Markets ETF (NYSEARCA:EEM), which is up 15% this calendar year.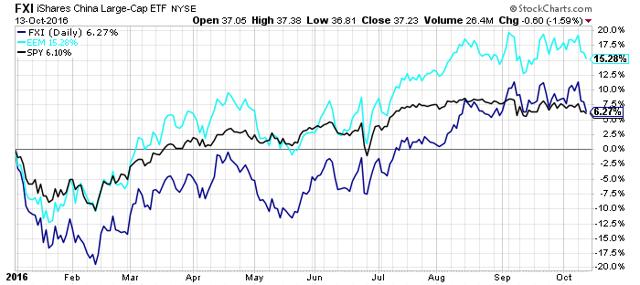 (Source: WTK, stockcharts.com)
Looking at longer-term performance, over the past five years, there has clearly been a sizable gap between the performance of the U.S. stock market, and the emerging markets. This gap could certainly be closed in a reflationary environment.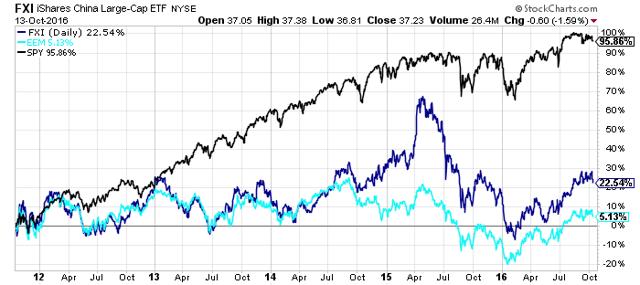 (Source: WTK, stockcharts.com)
There is a lot of noise with regard to China. Taking a step back, the weight of evidence continues to show an ongoing cyclical recovery in China, from my perspective, and this is bullish for reflationary assets, including financial stocks, emerging market equities, and commodity stocks.
Commodity Stocks Continue To Offer Opportunity
The pullback in commodity stocks over the past month has sparked fear. This fear is an opportunity, in my opinion, as the reflationary narrative is still in-tact, and gaining strength.
Thus, pullbacks in precious metal stocks, as shown by the VanEck Vectors Gold Miners ETF (NYSEARCA:GDX), metals and mining companies, as shown by the SPDR S&P Metals and Mining ETF (NYSEARCA:XME), and energy stocks, as shown by the Energy Select Sector SPDR Fund (NYSEARCA:XLE), should be bought, as these stocks and sectors are closer to the beginning of their rebound in relative performance, than the end, in my opinion.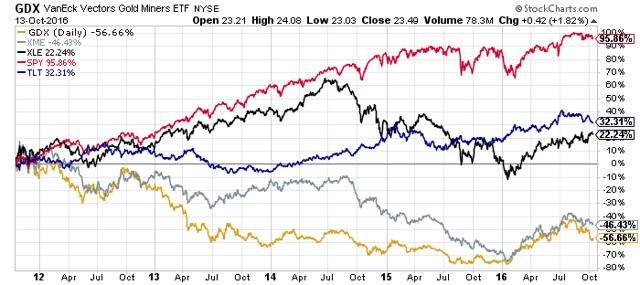 (Source: WTK, www.stockcharts.com)
Digging deeper through the carnage of the last five years, there are a lot of individual opportunities that we are researching for subscribers to my premium research service, similar in scope to my updated take on Chesapeake Energy (NYSE:CHK).
The Takeaway - Ignore The Noise, Buy Reflationary Assets
It is hard to make sweet music in the market. For most investors, and even speculators or traders, passive investments are the way to go, as too much noise causes investors to make investment mistakes and post returns that often lag the passive benchmarks, despite the inherent flaws in the construction of the passive benchmarks.
A current example of this noise is all the commotion over the political environment, in the world in general, including the much-hyped Brexit, and in the United States, specifically. It is easy, and I am speaking from personal experience, to get trapped in the news cycle, and that is understandable.
For an active investor, to achieve long-term outperformance, they have to detach themselves from this day-to-day flood of information.
Discerning the tea leaves to see what has a short-term impact and what has a long-term impact on market prices is naturally harder, and frankly more uninteresting, yet that is where the bulk of an investor's focus should be, in my opinion.
Taking that perspective into account, and translating the current investment environment, from my perspective, involves discounting the fears, and looking to the reflationary narrative that has prevailed for the majority of 2016.
To close, the investment landscape is changing, and if you are interested in joining a unique, growing community of contrarian, value investors, and would like to see all of the historical trades and current positioning of the Bet The Farm and Best Ideas portfolios, please consider signing up for my premium research service, "The Contrarian." To receive my future public articles on Seeking Alpha, please click the "Follow" button above. Thank you for your readership.
Outside Seeking Alpha
Bill Simmons, the outspoken founder of The Ringer, and previously Grantland, who spearheaded ESPN's foray into original third party content, which predated Disney's (NYSE:DIS) purchase of Nate Silver's FiveThirtyEight, has a terrific stable of writers at his new venture, which is gaining digital traction.
On this note, Alan Siegel has published an excellent behind-the-scenes history and narrative of the creation of one of The Simpsons' most iconic characters. Enjoy "The Rise Of Hank Scorpio."
What does this have to do with investments? Roughly twenty years ago - long before the rise of Tesla's (NASDAQ:TSLA) Elon Musk, or the career-defining success of Apple's (NASDAQ:AAPL) Steve Jobs, let alone before the creation of Google (GOOGL, GOOG), which was incorporated on September 4, 1998 - the modern-day eco-friendly CEO was pioneered by some amazing creative talent in their own right.
Disclosure: I am/we are long AAP, CHK, UNL, AND POSITIONS IN "THE CONTRARIAN" PORTFOLIOS.
I wrote this article myself, and it expresses my own opinions. I am not receiving compensation for it (other than from Seeking Alpha). I have no business relationship with any company whose stock is mentioned in this article.
Additional disclosure: Every investor's situation is different. Positions can change at any time without warning. Please do your own due diligence and consult with your financial advisor, if you have one, before making any investment decisions. The author is not acting in an investment adviser capacity. The author's opinions expressed herein address only select aspects of potential investment in securities of the companies mentioned and cannot be a substitute for comprehensive investment analysis. The author recommends that potential and existing investors conduct thorough investment research of their own, including detailed review of the companies' SEC filings. Any opinions or estimates constitute the author's best judgment as of the date of publication, and are subject to change without notice.