Citi reported an encouraging quarter in two respects. First, the bedrock of any position in Citigroup, namely its ability to return capital to shareholders, was confirmed. Second, the discussion of operating leverage - which is refreshing after years focus on restructuring - was broadly encouraging.
Let's look at the capital question first. Remember, if the stock were to remain around the current level, Citi's capital resources mean that it will be buying a lot of its stock beneath book value, so whenever it does achieve earnings improvement, your EPS benefit will be that much higher.
For this reason my first point of reference with the 3Q results was the fully implemented Basel III Core Equity Tier 1 ratio. This was encouraging, at 12.6%, which was up from 12.5% in 2Q 16, and the supplementary leverage ratio was solid at 7.4%. While Citi continues to wait for clarity around CCAR levels after the announcement of further prospective refinements, management did mention the possibility of a slightly lower CET1 ratio being possible in the future, which shows expectations in this area are not always for permanently higher capital levels.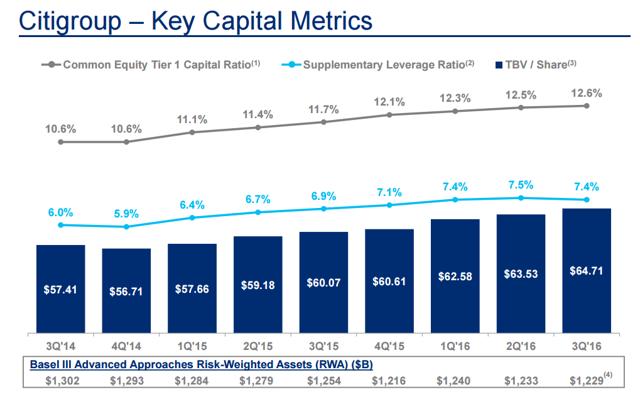 Company data
Even better, the value per share build over the year was nice. Book value per share is up from $69 per share a year ago to $74.5 per share: this is an 8% increase. 5% of this has been driven by an increase in shareholders' equity, while the number of shares outstanding is 4% lower. These are strong BVS dynamics and meaningful given that Citi is trading at 0.64x 3Q16 book value per share. Longer term, Citi's ROE target is for double digit ROE, which suggests an improvement in the multiple of book the market pays should be at least 54%. Without agonizing over whether this is deliverable (long term, I think it is), you know that you are not paying an excessive multiple of current book value given present return levels of ~7% ROE, and you have that additional support from capital return anyway. This gives you a margin of safety.
Away from the strong capital story, The P&L was also in good shape. Underlying revenue growth was reported at 6%. Headline revenues were 1% up sequentially and there was a pleasing drop in credit losses, which were down 6%. Trading did play a role in the higher revenue number and of course trading isn't a high quality income line - bit I view its role this quarter with equanimity. Trading is supposed to click in when a bond prices increase and offsets interest revenue pressure that can apply when yields fall. How much revenue pressure you get depends on the degree of asset roll over during the period of pressure. In the event, we got improved net interest income (NII) and trading with the NII driver being improved margins on the loan book as well as the contribution of the Costco (NASDAQ:COST) portfolio.
Mid-term guidance was limited but positive. In Global Consumer management expects improving operating leverage (income growth relative to cost growth) in all geographies including Mexico, where there is still some remaining franchise investment in branches and ATMS that will lift costs there in 2017. Overall, the tone has changed: Citi's management are focused on growing their higher return businesses and know where they are going.
Conclusion
Citi is now focused on operating leverage while investors enjoy strong support from its capital return. If the price stays where it is, you get book value per share growth via the buyback program ($6bn YTD); if Citi delivers good cost/income "jaws" then at around 10x EPS the PE is unchallenging and this will at least allow the price to move up with the underlying growth. In my view, both capital driven per share growth and underlying EPS growth will occur together.
Disclosure: I/we have no positions in any stocks mentioned, and no plans to initiate any positions within the next 72 hours.
I wrote this article myself, and it expresses my own opinions. I am not receiving compensation for it (other than from Seeking Alpha). I have no business relationship with any company whose stock is mentioned in this article.