Lam Research Corporation (NASDAQ:LRCX) is a provider of wafer fabrication equipment and services to the semiconductor industry. LRCX products allow clients to create faster, smaller and more powerful chips.
LRCX operates in a highly specialized and technical field. Due to the nature of their business and the atomic scale on which their products operate, there are significant barriers to entry. I think this specialized approach should provide LRCX with an enviable competitive position. Given the high-value nature of the solutions they provide, they should be able to charge clients a premium and earn strong returns for shareholders.
In order to try and quantify this thesis, I'll be looking at long-term financial trends to get a better idea of the LRCX economic moat, as shown by the data. I'm hoping the numbers corroborate my hypothesis. At the end of the day, something must be responsible for the stair stepping higher in the price of LRCX stock.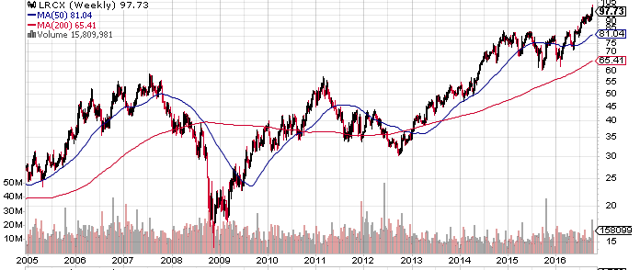 LRCX Business Overview:
LRCX was first founded in 1980, committed to helping grow the semiconductor industry. The company went public in 1984 and hasn't looked back since. Today, LRCX does over $5B in annual revenue.
The company operates in one reportable business segment: manufacturing and servicing of wafer processing semiconductor manufacturing equipment. Overall, revenue is split across a diverse array of countries as LRCX sells in to major semiconductor manufacturers, particularly in Asia (source).

Products and services offered by LRCX include wafer cleaning, plasma etching and thin-film disposition. Each product category has a variety of technologies and product families to serve the specific needs of clients. And across the board, sales are up 12% over the last year, primarily due to increasing capacity investments from semiconductor manufacturers.
However, the semiconductor business can be cyclical and it's unclear to what degree these results will be sustainable going forward. However, given the high-end specification of LRCX products I believe any slowing in revenue growth would be temporary. This is reinforced by the relationship LRCX has with clients. Because they're at the leading edge of semiconductor technology, they work very closely with their customers to gather feedback on what they need to achieve their goals. This symbiotic relationship has high switching costs for both parties. With that in mind, let's see if this thesis shows up in the long-term financial trends of LRCX.
LRCX Financial History:
In an attempt to try and quantify the strong competitive position of LRCX, I like to look for trends in long-term operating results over a 10-year and trailing-twelve-month basis. I'm particularly interested in consistent trends because that makes me more confident extrapolating these results into the future. All the graphs below were made with data available from Morningstar (source), but let's start with the top line.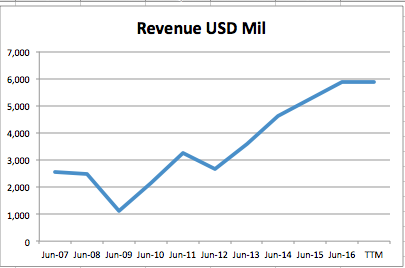 The reason I like to begin with sales numbers is because it gives a very clear picture of how well companies are able to meet market demands. In the case of LRCX, I think the company has done a good job checking this box. The trend, for the most part, is up and to the right, which is exactly what I like to see. I truly believe that a company that can keep growing sales can sell their way out of a lot of problems. It's a good place to be.
That said, the semiconductor R&D industry can be relatively capital intensive. And growth could be coming at a cost. To understand the extent to which this dynamic is affecting shareholders, let's look at gross margins.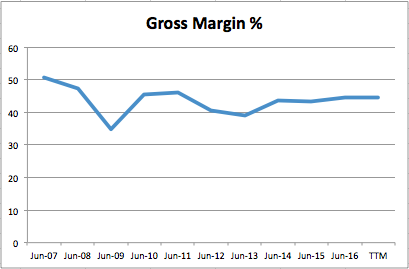 While gross margins are off their 10-year highs, you can see that they are still holding up quite well. This consistent result goes to show that LRCX is managing to effectively sell their products at a premium. And as a potential shareholder, that's what I like to see. I think this result in particular helps to underscore the competitive position of LRCX. But do these results trickle down to the bottom line?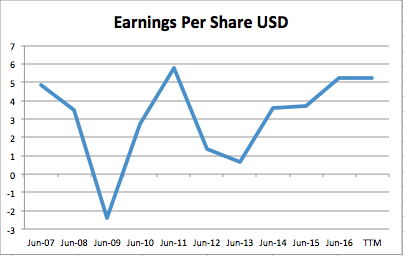 Unfortunately, the trend in earnings per share, or lack thereof, is not exactly reassuring. With bumpy results like that, it's hard to accurately forecast what's going to happen next year. I prefer to avoid companies that have this kind of drastic swing in earnings from year to year.
But I'm not willing to give up on LRCX just yet. In particular, I want to look at these results on a cash flow per share basis. I think these numbers might look a little bit better.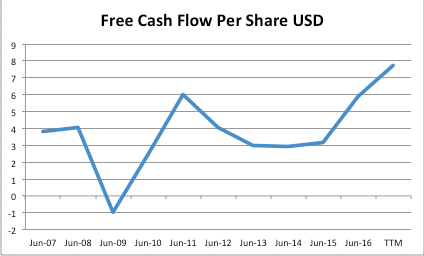 Sometimes R&D intensive businesses have accounting issues that distort earnings. So looking at cash results can be more helpful. While this view does offer an improvement over the earnings outcome, it's still not a perfect trend and more bumpy than I'd like to see. At least it's at all-time highs, for now.
The other key metric of LRCX I want to look at is book value per share. Although LRCX recently initiated a dividend, most of the historic returns have come from price appreciation driven by increased equity value. So this metric offers important insight into the potential for shareholder value creation.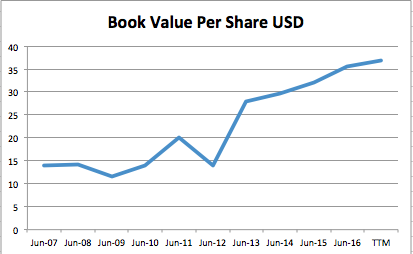 I think this trend largely redeems the earnings inconsistencies. While earnings have been bumpy, LRCX has consistently been able to retain them and grow equity value for shareholders. I really like this trend because it provides an additional margin of safety for LRCX. All things equal, as long as the company can continue to grow equity value on a per-share basis, then stock price should tend to follow. That's far from certain though.
Potential Risks to Investing in LRCX:
Although LRCX looks like it could be an appealing investment opportunity, it also comes with significant risk. For starters, the semiconductor industry is rather cyclical. So while clients are making big investments right now, that could change in coming years which would depress earnings.
Additionally, the one thing that does make customer upgrades likely, improved manufacturing technology, doesn't come free. LRCX must make significant investments in research and development to try and stay ahead of their competition and successfully deliver high-tech solutions for their clients. It's almost like LRCX is in a never-ending arms race to create the best manufacturing equipment to develop ever-more powerful chips. This is a precarious position to be in, before even considering execution risk, supply chain risk and a cyclical business environment.
However, one mitigating factor for LRCX might be the fact that the shares aren't too expensive. While the company isn't incredibly cheap, it does trade at a comparable multiple to the S&P 500. This chart from Morningstar provides a good summary (source).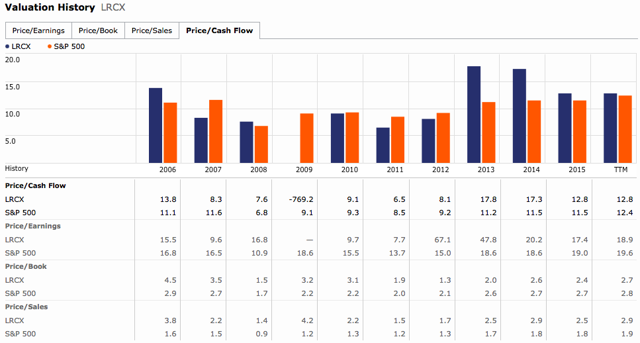 This discount may be warranted for the somewhat erratic earnings, even though shares are trading near all-time highs.
Conclusion: Planning to Purchase LRCX
I'm currently fully invested. But as soon as I have cash, I'll plan to pick up some shares of LRCX. The company seems to have a durable competitive advantage, and the consistent compounding of book value is appealing to me. Any dividend growth potential would be a bonus, through I'm not counting on it. So I'd be curious to hear from you, do you think LRCX is worth investing in?
Disclosure: I/we have no positions in any stocks mentioned, and no plans to initiate any positions within the next 72 hours.
I wrote this article myself, and it expresses my own opinions. I am not receiving compensation for it (other than from Seeking Alpha). I have no business relationship with any company whose stock is mentioned in this article.