It's been a week since the harsh correction in the price of gold (NYSEARCA:GLD), and some of the gold stocks (NYSEARCA:GDX) have begun to show signs of life. Despite the gold price being roughly 1% off its lows it hit at $1,240 / oz, the gold stocks are nearly 4% off their lows, and some are faring much better. Those that have been following me know that I have had roughly 40% of my portfolio in gold stocks for the majority of this year. I began by recommending McEwen Mining (NYSE:MUX) and Fortuna Silver (NYSE:FSM), and both are still up 100% from my recommendations despite the correction we suffered last week.
I am primarily a momentum investor, which means that I buy stocks as they are breaking to new 3-month highs. Having said that, I do have a portfolio that trades a different strategy which buys pullbacks in the long term uptrend. I have used this strategy earlier this week to add to Torex Gold (OTCPK:TORXF), and Roxgold (OTC:ROGFF), which are two of my favorite producers. I am currently long the GDX as well from $22.69 for a swing trade, but there is a reason I prefer not to just buy the GDX for my main investment accounts.
The GDX is made up of several companies that I am not very keen on at all, and I see no reason to hold it from a value proposition. I would much rather buy specific gold companies which I believe offer greater upside than the GDX, with better fundamentals.
Below is a look at the top 10 holdings in the GDX: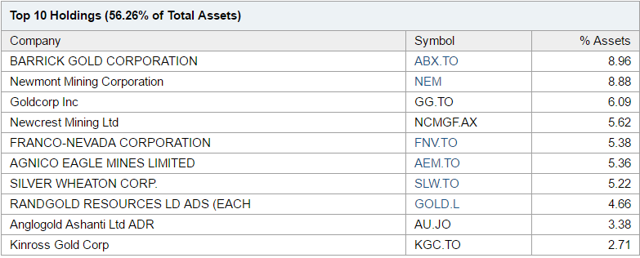 Source: Yahoo Finance
Barrick Gold (NYSE:ABX) has been a decent performer all year, but has since taken out its May lows. Of all the gold stocks I currently own, none of them have taken out their May lows. The fact that Barrick has done this shows that it is an underperformer and not something I want to hold from a value perspective. Goldcorp (NYSE:GG) is another laggard, and has been an abomination to the index. While the GDX is still up 88% from its 52-week lows, Goldcorp is only up 54%. This is another massive outperformance from one of the top holdings, and a reason I don't see value in holding the index. Randgold (NASDAQ:GOLD) is another eyesore in the index, and I am not a huge fan of the company. The share price is evidence of this as it's up 45% off its 52-week lows, with the GDX up 88% still.
To reiterate and not cause confusion, I am currently long the GDX but not from a value standpoint, only from a trade standpoint. I am looking for a nice bounce from the GDX from my buy at $22.69, but it is in my trading account, not my trend following portfolio. My main trend following portfolios are reserved for stocks that I think are the strongest fundamentally, and that fit my trading thesis.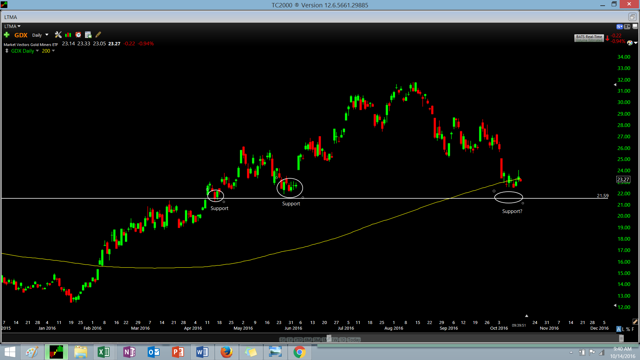 Source: TC2000.com
While the price of gold is above $1,300 / oz and has momentum behind it, I am much more aggressive and tend to more heavily weight myself in the exploration stocks. This is because they tend to have the most leverage, and also have very little chance of going under while the price of gold is above $1,300 / oz. With the price of gold now hovering at the $1,250 / oz level, the trend is starting to see very slight deterioration. I do not expect the gold price to break down and test sub $1,200 / oz levels, but the longer we remain under $1,300 / oz, the worse the chart of gold gets in my opinion. I am currently long gold with an average cost of $1,253 / oz, and I am not by any means bearish on the metal. I am just more cautious, as the price of gold has not seen any meaningful buying yet, despite sitting at a very important level of support.
Given the fact that I am more conservative with my gold allocations when the price is under $1,300 / oz, I am looking for junior producers that are leaders in the industry. This means I am looking for companies that have positive earnings, and all-in sustaining cash costs that are ahead of their peers. Roxgold and Torex Gold were my first recommendations on Tuesday of this week, as their cash costs all well below the peer average. Both companies have all-in sustaining cash costs below $800 / oz, and have positive earnings. While many gold producers have lots of positive free cash flow, this does not guarantee it will result in positive earnings. I am looking for companies that have positive earnings as this shows management is being smart at keeping costs down to provide maximum return to shareholders. I have no problem with companies that have one-time charges and capex that causes them to see negative earnings, but many gold companies are plagued with negative earnings regardless.
The two companies I have chosen to highlight in this article are Guyana Goldfields (OTCPK:GUYFF), and Teranga Gold Corporation (OTCQX:TGCDF).
Guyana Goldfields
I am no stranger to Guyana Goldfields as it was the first stock I purchased this year as gold broke out above $1,200 / oz. The below image is a picture of my portfolio as of March 4th from Twitter (NYSE:TWTR), where I show my current holdings each week. As you can see my first two gold stocks I entered this year were Guyana Goldfields at $3.94, and Roxgold at $0.82. The date is shown on the tweet to show full transparency. All prices quoted in this article are Canadian prices, unless noted otherwise. I bought the stock based on the new 3 month highs the stock had made, and rode it for nearly a double before letting go of 1/3 at $5.98. My 2nd sell point was at $9.41 for a 138% gain, which left me with half of my position riding with a $3.94 average cost. Finally, I was forced to exit the stock last week as it broke my trailing stop level. My trailing stop level is based on old support levels and the $7.60 level was a level I believed to be important for Guyana Goldfields. I exited the remaining half of my position for a 77% gain, and a total gain on my shares of nearly 100%.
So why do I want back in after selling out just last week? The stock is holding up much better than I expected it would, and has held its 200-day moving average. While the remainder of the GDX fell through its 200-day moving average and has had a hard time holding above it, Guyana Goldfields never broke its 200-day moving average. The current technical setup is a very low-risk entry if the price of gold does rebound. If I am wrong on this trade, I will risk roughly 10% from my entry, which is a very small price to pay as I've made over 100% on the stock already this year.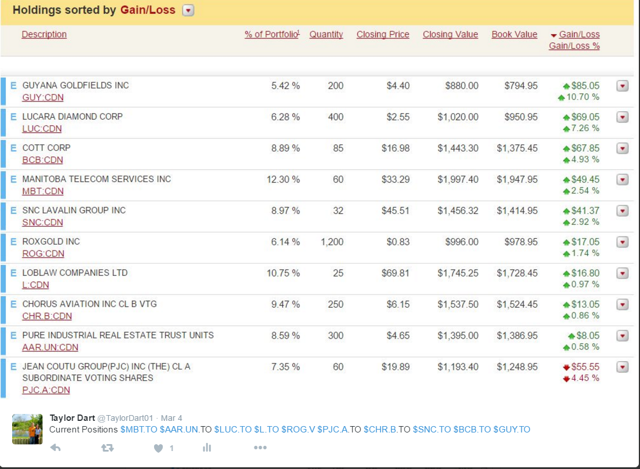 Source: Twitter.com/TaylorDart01
The below image is a road-map of my full trade on Guyana Goldfields.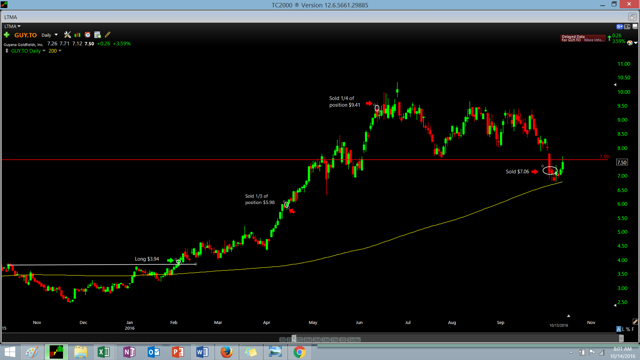 Source: Twitter.com/TaylorDart01
The below image is my sell at $9.41 for a 138% gain on 1/4 of my position. The date is shown on the tweet, and in the bottom corner for full transparency.
Q2 results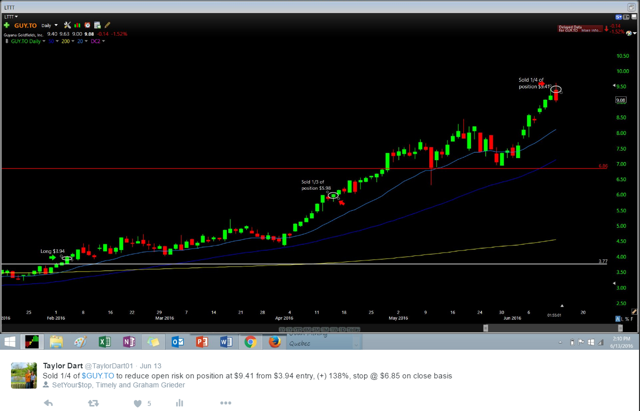 Source: Twitter.com/TaylorDart01
Aurora Gold Mine
Guyana Goldfields is an 150,000 ounce producer operating in Guyana, which is sandwiched between Suriname and Venezuela. The company has 170 million shares outstanding, which gives it a market capitalization of $1.2 billion at its current share price. The company has a global gold resource of roughly 5 million ounces at an average grade of over 3 grams per tonne gold. This separates the company from its peers, as has one of the highest grade open-pit gold mines not operated by a major. With high grades come low-costs, and Guyana is no stranger to this. The company reported its Q2 results and they met guidance and showed diluted EPS of $0.05 per share. The company's 2016 guidance was for 150,000 ounces of gold production at all-in sustaining cash costs of $720 / oz. Thus far the company is on track to meet this as they have produced 73,000 ounces of gold in the first half at an all-in sustaining cash cost of $729 / oz. Guyana's average selling price for gold in Q2 was $1,269 / oz, and I believe they will see a significant improvement from this in their Q3 results. I expect the company's gold selling price to come in at $1,305 - $1,315 / oz, which should result in revenues of $49-$50 million for the quarter. This should translate into earnings of $0.06 per share, which will place the company's earnings at $0.16 for the first 3 quarters of the year.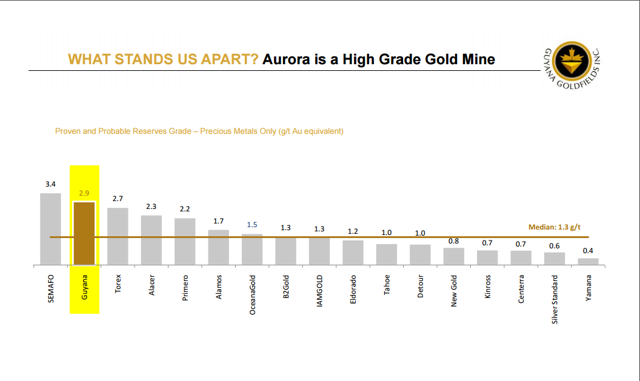 Source: Guyana Goldfields Corporate Presentation
In addition to strong earnings, the company has a steady growth profile for its production. The company is expecting to ramp up to 210,000 ounces of gold by 2018, which would result in a 40% increase in earnings, assuming similar gold prices. Guyana Goldfields has one of the lowest general and administrative expenses per gold equivalent ounce in the industry. This has helped them to be as profitable as they are, and shows management is very responsible and is concerned with providing value to shareholders and not just themselves.
The final thing that draws me to Guyana Goldfields is their second deposit which they are hoping to build into a mine. The Sulphur Rose deposit is located 23 kilometers from their Aurora Mine, and already has a resource of 600,000 ounces at 1.67 grams per tonne gold. The PEA for the project is due in the final quarter of this year, and will tell investors whether another mine for the company is feasible.
I entered Guyana Goldfields at $7.42 yesterday, and have a stop on my trade below the $6.78 level on a closing basis. This represents a risk of $0.66 cents per share of roughly 9% from my entry. I have entered the stock using 10% of my portfolio, which represents a risk of 0.9% on my total portfolio.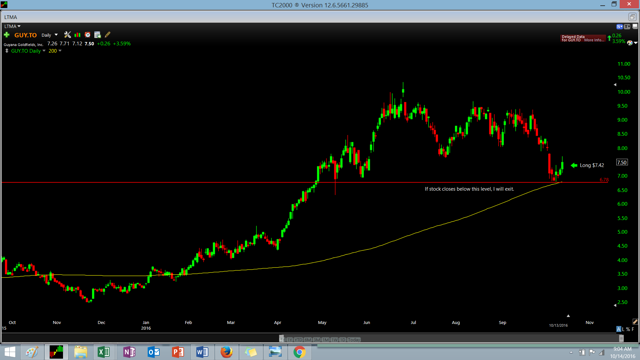 Source: TC2000.com
Teranga Gold
Teranga Gold is a stock I have never held before, but started a position yesterday at $1.04. The company operates the Sabodala gold mine in Senegal, which has a total global gold resource of 7 million ounces at 1.15 grams per tonne gold. The company is a 200,000 ounce producer currently at all-in sustaining cash costs of under $1,000 / oz. The best part of the investment thesis for me is their well timed acquisition of Gryphon Minerals. The company basically stole Gryphon Minerals as it acquired a company that could see 200,000 ounces of annual production by 2019. Gryphon Minerals adds the Banfora project in southwest Burkina Faso to Teranga's arsenal, which could transform Teranga into a 400,000 ounce producer.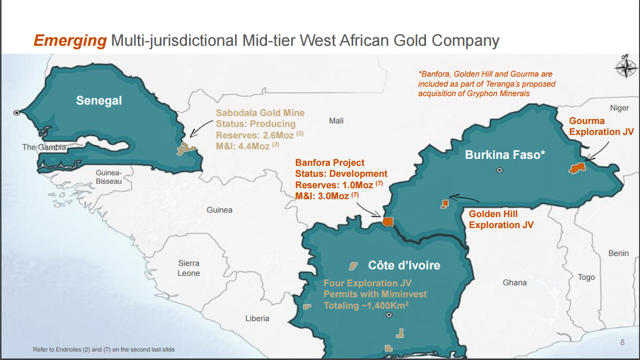 Source: Teranga Gold Company Website
Teranga's Q2 results were very strong, and have met the company's guidance. The company produced over 52,000 ounces for the quarter, at all-in sustaining cash costs of $968 / oz. Teranga earned $6 million for the quarter of $0.02 per share, which translates into annual earnings of $0.08 per share. I expect the company may surpass the $0.02 per share mark in Q3, as they should be selling at a gold price of nearly 7% higher. The company now has a cash balance of $70 million dollars, which gives it a very strong treasury to begin to advance Banfora into production. Based on the company's 392 million shares outstanding, it has a market capitalization of $400 million dollars. With annual earnings of $24-30 million dollars, this represents a great value proposition.
I have started a position in Teranga Gold at $1.04 per share, and my stop on the trade is a close below the $0.89 cent level. The stock is currently sitting on support from its June gap up, and I expect it to hold its 200-day moving average at $0.90 cents. The entry to exit represents a risk of $0.15 cents, or roughly 14% on the position. Due to the slightly higher position risk, I have used 7% of my portfolio to enter Teranga Gold, which represents a total portfolio risk of 0.98% on my portfolio.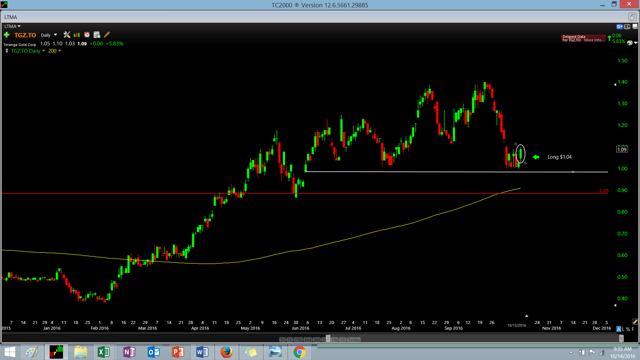 Source: TC2000.com
I believe Teranga Gold and Guyana Goldfields to be excellent opportunities to buy blood in the gold sector. I expect them to outperform the GDX, and believe they offer much better value than the Gold Miners Index. While the average all-in sustaining cash costs for the top 10 holdings in the GDX is over $975 / oz, the average all-in sustaining cash costs for these two companies is under $850 / oz. This means that if gold continues to further pull back these two companies should see less of a hit to their bottom line. Despite my strong thesis on these two companies, I will maintain my stop levels even if they become more "valuable" as they drop. I never fight the dominant trend and only hold stocks when they remain above my stop levels. I would be surprised if these stocks broke their stop levels, but I am prepared for that portfolio risk as it represents a 2% total portfolio risk if both are losers.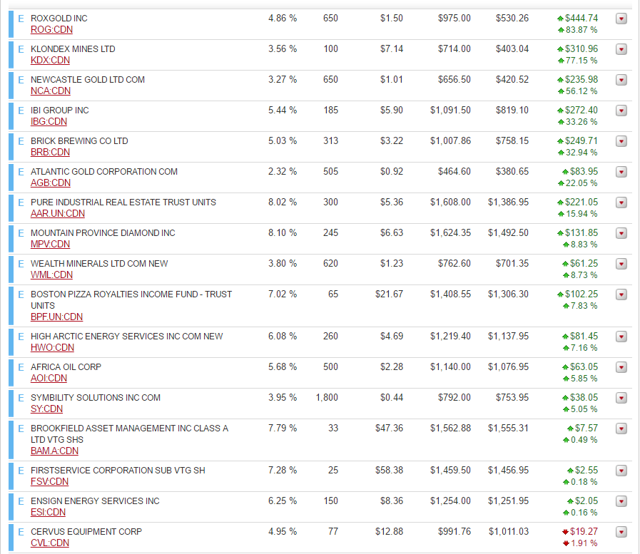 Source: CIBC Investors Edge Account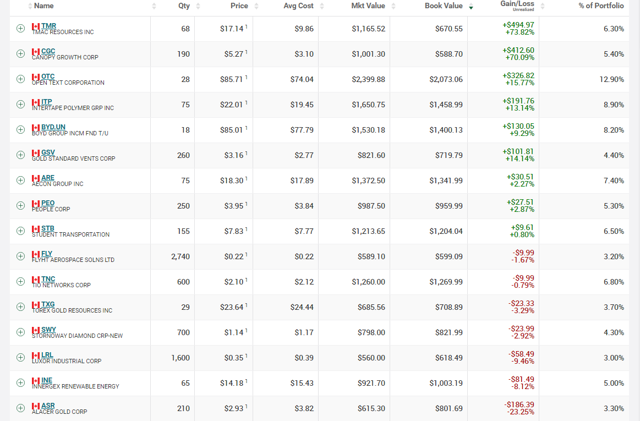 Source: TD WebBroker
The above image shows my current positions as of Monday this week. Most of these positions I have recommended on Seeking Alpha prior to purchasing them for my portfolio. My style of trading is a trend following approach, which is why I have many large winners and some small losers. I continue to ride my winners as long as they remain in their long term uptrends, and cut my losers as soon as they break key support levels.
Disclosure: I am/we are long TGCDF, ROGFF, TORXF, GUYFF, GDX, GLD.
I wrote this article myself, and it expresses my own opinions. I am not receiving compensation for it (other than from Seeking Alpha). I have no business relationship with any company whose stock is mentioned in this article.
Additional disclosure: If you liked this article and found it useful, please feel free to follow me by clicking on my name next to my avatar at the top of this article. I also invite you to check my performance at TipRanks.com where I am ranked in the Top 100 Contributors for performance with an average return this year of 65% on new long positions.
Editor's Note: This article discusses one or more securities that do not trade on a major U.S. exchange. Please be aware of the risks associated with these stocks.