The EIA reported a +79 Bcf injection figure yesterday, which was 6 Bcf lower than our expectation of +85 Bcf. Be sure to read our summary of the storage figures here.
We anticipate an injection figure around +78 Bcf for the week ending Oct. 14.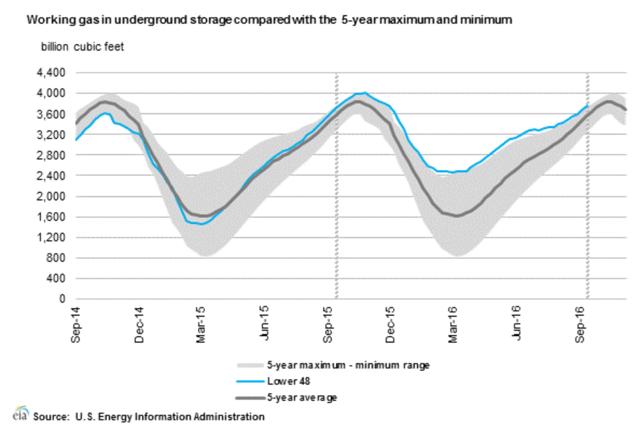 As we wrote in yesterday's weekly natural gas storage report, the report came below most estimates largely due to the previous week's report being significantly overstated. The EIA likely had to adjust for the previous week's mistake in yesterday's report, and we now see the issue as resolved. Looking at our data points, we don't see how the EIA reported bad data like some people have suggested. Since we started tracking our estimates, we are now only 2 Bcf off from what the EIA has reported. Long-term track records matter much more to us as it gives us the ability to more accurately predict longer-term storage levels.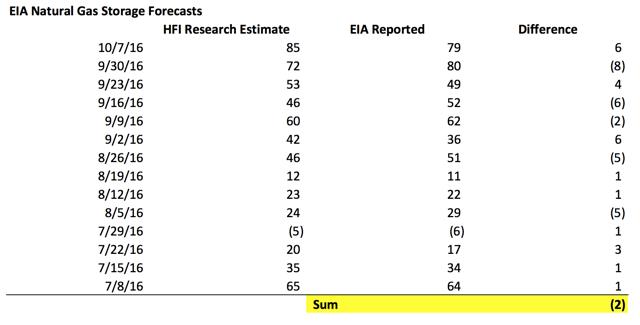 Source: HFI Research Estimates Track Record
For storage ending Oct. 14, overall natural gas demand moved up slightly from the week before. If Hurricane Matthew had affected demand, you know we would've been covering it, but we saw no slowdown in pipeline flows. People who thought there was demand destruction are very wrong.
U.S. natural gas production moved slightly higher on the week with production barely hovering above 70 Bcf/d. Overall supply is down, however, on the back of lower Canadian gas imports as the heating season has already started up North.
Some have commented on when Cheniere Energy's (NYSEMKT:LNG) Sabine Pass will come back online, and it's looking like that will happen next week. LNG pipeline flow will be running higher than 1.2 Bcf/d as Cheniere replenishes depleted storage, while also meeting additional cargo demand. Looking at our model, we have modeled it in for some of Oct. 21 storage and fully modeled in for Oct. 28 and beyond. Our injection forecast of +78, however, could see an upward bias if physical storage data on Monday is higher than our current expectation. But we don't see it moving up more than 5 Bcf.
Looking at natural gas prices, they sold off slightly as we wrote yesterday that traders are experiencing full on FOMO (fear of missing out). Today also saw natural gas rig counts jump by 11, which some eternal bears seem to think hints at a production response coming to fruition. We want to remind you that we said previously that Q4 production will grow from Q3 production levels as natural gas producers take advantage of higher prices. This can be easily gauged from producer capex guidance for Q4, so the rig jump is just producers ramping up production in Q4.
Here's the scary part for the natural gas bears: Even with natural gas producers ramping up production, we still expect a 3 Bcf/d structural deficit as we exit 2016. Associated gas production will be part of the overall production growth, but as companies focus on liquid heavy wells, the guidance currently point to very minimal associated gas production growth.
As we detailed in our report to premium subscribers titled "Big Picture Outlook - Why We Are Very Bullish On Natural Gas Prices," we said the key to our thesis on why natural gas prices will move higher is the focus on structural tightening vs. weather. Gas prices have to move up to the point where the current difference is covered, while also accommodating for the demand growth next year. We see $4 as a real possibility as our current production forecast for $3 and $3.50 gas shows insufficient production growth.
Eight- to 14-Day Outlook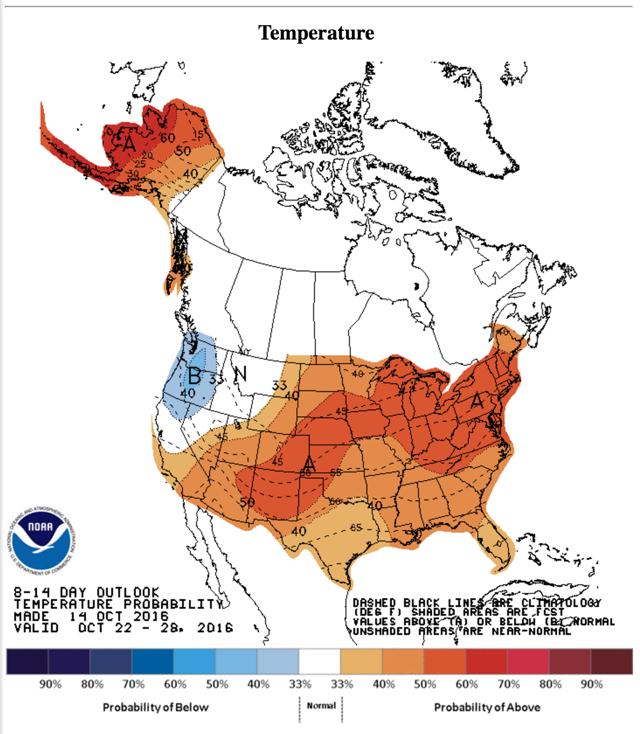 If you are interested in reading our big picture outlook report, please consider signing up here. Thank you for reading our Natural Gas Daily.
Disclosure: I/we have no positions in any stocks mentioned, and no plans to initiate any positions within the next 72 hours.
I wrote this article myself, and it expresses my own opinions. I am not receiving compensation for it (other than from Seeking Alpha). I have no business relationship with any company whose stock is mentioned in this article.