This time I'll take a look at the S&P 500 sectors. Ultimately, I will write two pieces covering the following two topics: The first section, which starts below, will deal with some basic quantitative stats and engineered features on the S&P 500 sectors. I will have a look at return stats, risk-reward tradeoffs, alternative measures of risk over return including details on the sectoral drawdowns and tail events while lastly, the sectors' co-momentums with the S&P 500 (NYSEARCA:SPY) itself are analyzed. Also, I feature some risk/return co-relationships that are not so well-known.
The second part of the series will then build several portfolios consisting of different weights of the S&P 500 sectors, each one optimized for a specific goal. Always putting great emphasis on broad diversification (i.e. all sectors will be included in the portfolios), I will highlight portfolios optimized for maximum return, minimum variance or minimum expected tail loss, but more importantly combinations of these as long-only and long/short portfolios. Furthermore and at the core, I will construct several portfolios based on entirely new risk-return metrics and quantitative measures. These portfolios will highlight weightings of the S&P 500 sectors that can reasonably outperform the S&P 500 over the longer-term at a lower downside risk. Lastly, the next article will also be filled with reasoning as to why certain sectors are - in addition - fundamentally assumed to outperform as parts of well-diversified but ultimately alternatively-weighted portfolios. Naturally, the portfolios will go beyond overweighting past winners and underweighting or shorting past under-performers.
The S&P sectors analyzed are Consumer Discretionary (NYSEARCA:XLY), Consumer Staples (NYSEARCA:XLP), Energy (NYSEARCA:XLE), Financials (NYSEARCA:XLF), Health Care (NYSEARCA:XLV), Industrials (NYSEARCA:XLI), Materials (NYSEARCA:XLB), Technology (NYSEARCA:XLK) and Utilities (NYSEARCA:XLU) from 01/01/2007 until 10/11/2016.
Quant stats of the S&P 500 sectors
To begin with, let me take the time to have a quick look at the stats of the S&P 500 sectors and see if there are some interesting things that spark the eye.
Consumer Staples have the best annualized return of all the sectors annualized herein. It registered an annualized price return of 10.11% with a standard deviation of returns of 14.21%, resulting in a sharpe ratio of 0.71, also the best of all sectors. In terms of returns, they are followed by Health Care, which returns a mean 9.84% per year at a higher standard deviation of 17.6%, still yielding the second best sharpe ratio. Technology has the 3rd best risk-reward profile with a sharpe of 0.43, but with its return of 9.21%, it is only the fourth best return investment after consumer discretionary with 9.25%. Energy and Financials have been the worst investments (as you could guess) since 2007 with Financials returning -2.3% since then (the only negative yielder) and Energy with 4.3% p.a.. Intuitively, they are also the sectors with the highest standard deviation of returns and thus the lowest sharpe ratios. The S&P 500 itself is at rank number 6 with a mean annualized return of 6.5%, a standard deviation of 21.04% and a sharpe of 0.31: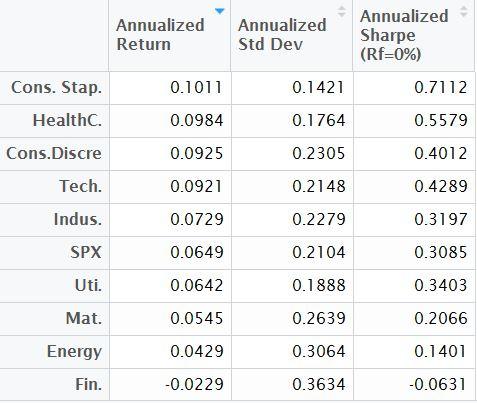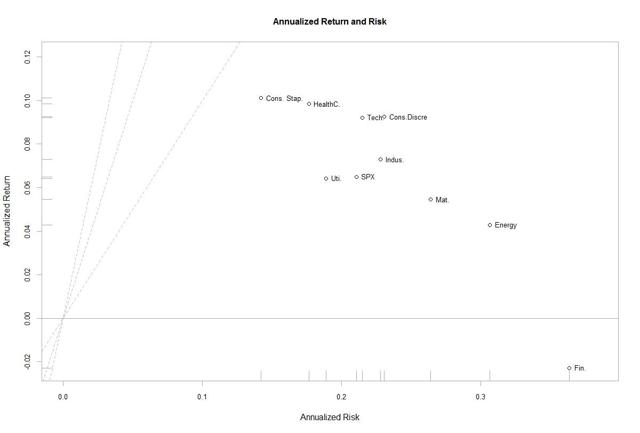 The highest median return, however, is found in Materials, indicating outliers in the low end of the returns. Ranked number 1 in these terms, Materials returned a median 0.11% per day in the witnessed time frame. The S&P itself is ranked number 8 with a median daily return 0.07%: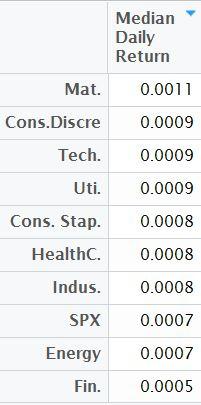 In terms of upside frequency, i.e. the likelihood that any given day is closed positively, the S&P 500 itself is the leader with a frequency of 54.7%, which is attributable to the fact that it is the most diversified. Technology, has the second highest upside frequency with 54.1% while Financials trade the least frequently positively with a value of 50.9%. Consumer Staples, the best in terms of annualized return, is ranked number 3 with 54.08% of trading days positive.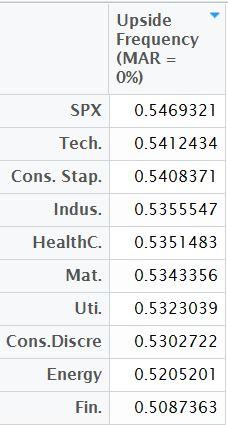 Turning the view to the risk stats of the sectors - the other side of the coin - we can have a look at maximum drawdowns, value-at-risk and tail losses of the individual sectors: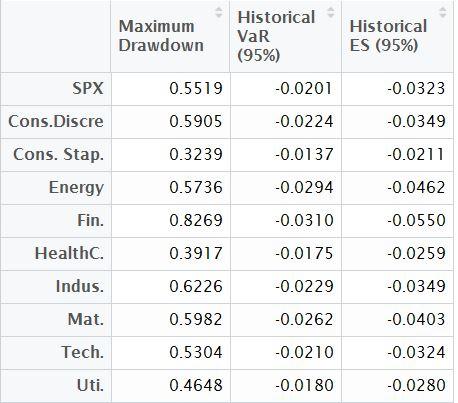 Consumer Staples is also generically the one with the lowest maximum drawdown of 32.4%, lowest VaR (-1.37%) and lowest expected tail loss (-2.11%). Similarly, Health Care ranks very well within these ratios. Financials, on the other hand, rank last herein again. Consumer Staples and Health Care are thus the ones having mastered the financial crisis the best, and did so far better than others, while Financials took an 80% drawdown and all other sectors suffered more intensely than Consumer Staples and Health Care as well: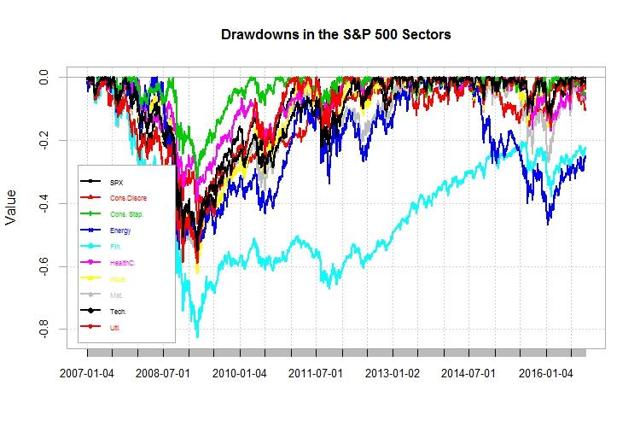 Speaking of drawdowns, another interesting risk measure is the average size of an asset's drawdown and not merely the maximum drawdown: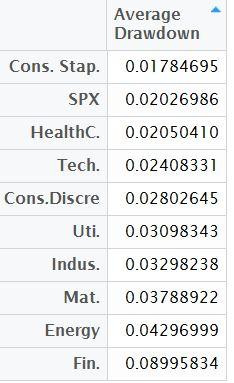 The average drawdown for Consumer Staples from a previous peak is merely 1.78%, which is intuitive if we look at the drawdown graph above. Most of the time, Consumer Staples posted minor drawdowns. In that regard, it also beats the S&P 500, which is counterintuitive as the S&P 500 is much more diversified, nevertheless Consumer Staples is naturally a lot more defensive. Again, Health Care comes in closely after that with a slightly higher mean drawdown.
As an alternative way of measuring risk-reward tradeoffs, I plot the annualized return over average drawdown for the picture of the S&P 500 sectors as follows: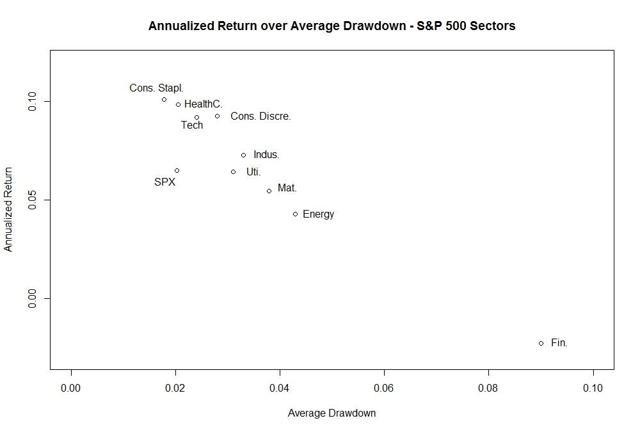 Generally, we are looking for assets in the top left area of the scatterplot for maximizing our utility. Consumer Staples, Health Care and Tech are the interesting thing to look at here. They all have similar average drawdowns as the S&P 500 has, but return far more on an annualized basis. On the other hand, Utilities return about the same as the S&P 500, but investors have to sit out drawdowns almost 50% higher, on average, thus being an unfavorable investment on a solely quantitative basis. Materials, Energy and Financials are the least attractive in this two-dimensional matrix.
Considering that as investors, we also would like to know a little bit about the length of the drawdowns witnessed in the S&P 500 sectors, here are the values for each sector, indicated as days. Financials are officially still in a drawdown from their high in 2007, thus the stats on Financials are distorted: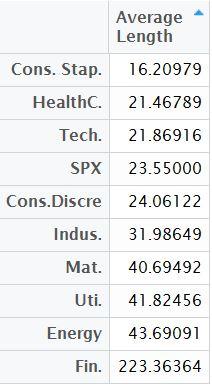 We get a similar picture as above, in which Consumer Staples, Health Care and Technology each show shorter drawdown periods than the benchmark. Plotting the annualized return over average drawdown length, I get a similar picture that favors the above, and draws away attention quickly from the lagging Financials: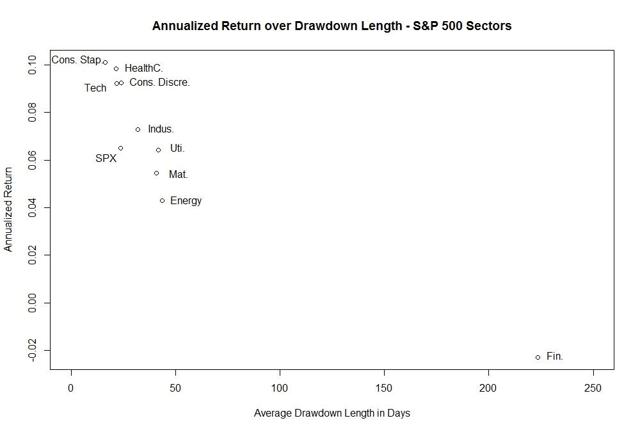 Furthermore, we can also display graphically how the average total drawdown length in days corresponds to the average recovery in days for the S&P 500 sectors. Sectors with values under 60% (i.e. the recovery takes 60% of the time of the total drawdown or less - meaning they are quicker to recover) are marked blue, the others red:
Out of the outperforming sectors, Technology is the only one where recoveries take longer than 60% of the drawdown time, but also noteworthy is that Industrials have quick recoveries.
If we consider the S&P 500 our benchmark, and all sectors our individual securities, it may be interesting to learn about how much each sector captures on the upside on positive days of the S&P 500, and how much it captures on the downside on S&P 500's negative days. In order to do that, let us have a quick look at the basic stats behind these ratios. The first column indicates how much an individual sector amplifies its returns on the upside when the S&P 500 is positive, while the second column shows that when the S&P 500 is negative. The third and last column tells us how the tradeoff between the two prior calculations is. The higher this value, the more rewarding our sector ultimately is. The below table is sorted by upside over downside capture, in descending order: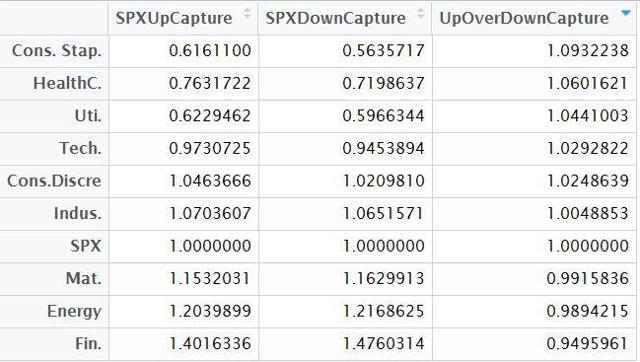 Plotting the tradeoffs in a scatterplot, I get the following picture. In blue we see the S&P 500 and the sectors that have an upside / downside capture of over 1, while in red we see those that generally capture more downside as opposed to upside, thus having been unfavorably rewarding to investors:
Both for the fact that they are blue and for the fact that they are more towards the bottom-left area of the scatterplot, Utilities, Technology, Health Care and Consumer Staples are the most favorable in this metric. These sectors tend to move less heavily versus the S&P 500, and more importantly return more on positive days than they lose on negative days versus the S&P 500.
Going one step further, I believe it is noteworthy to compare the upside over downside capture ratio with the 95% expected tail loss to model how rewarding a sector usually is with the 5% loss level we have to take for this reward each trading day: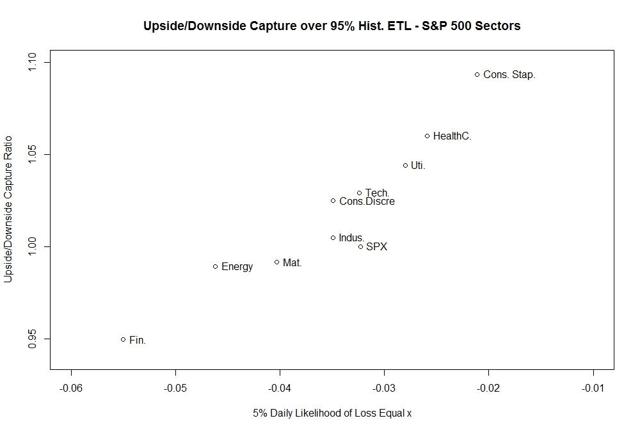 Again looking at the favorite, Consumer Staples, I note that we are rewarded extraordinarily in both directions the S&P 500 is trading (higher returns on positive days, lower losses on negative days), and we also just have to take a tremendously lower 5% risk what we can lose on each trading day compared to the S&P 500. Also interesting in this view are Consumer Discretionary, Tech, as well as Health Care and Utilities.
Looking at the percentage of trading days that each individual sector is up when the S&P 500 is up, and comparing that to the percentage of trading days when the sector is down when the S&P 500 is down, we get the following picture:
My favorites in these metrics are again Consumer Staples, but also Technology and Utilities are worth taking a look at: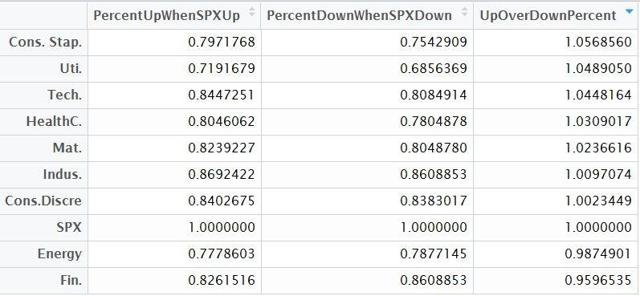 Also, we can quantitatively calculate the 2-month probability that each sector outperforms the S&P 500, and plot this over the correlation the sector has with the S&P 500: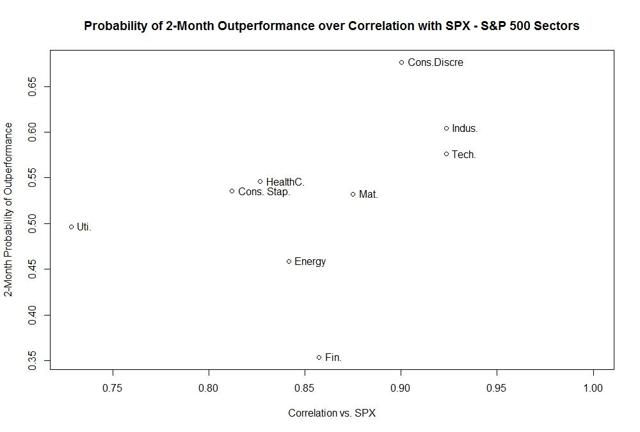 The YTD picture and preliminary conclusions
Now that I have shown a little bit of the historical measures, I believe it is interesting to look at which sectors have underperformed recently and can thus be good additions to a portfolio. Note that my next article provides several optimized portfolios for the longer-term.
As a recap, my analysis above has shown that Consumer Staples, Health Care, Technology and Utilities were in almost all quantitative measures the most attractive sectors in the S&P 500.
However, if we look at the returns the sectors have achieved this year, there are quite a few noteworthy observations. First of all, Energy and Utilities have outpaced their historical returns by a large margin this year. Following a mean reversion logic, it might be a good time to underweight these two sectors.
On the other hand, the quantitative top performers Health Care and Consumer Staples have had a relatively weak 2016 so far, partly driven by Hillary Clinton's widely-assumed winning of the presidential election and her political stance on drug pricing. As I believe there are strong reasons for Health Care and Consumer Staples to return back to their historic return patterns for several fundamental reasons, I contemplate overweighting both sectors today. What is more, Consumer Discretionary equally is a sector that has seen sub-average annualized returns year-to-date while having the highest 2-month probability of outperformance, and is a sector worth keeping on the watchlist. All stats below are annualized returns: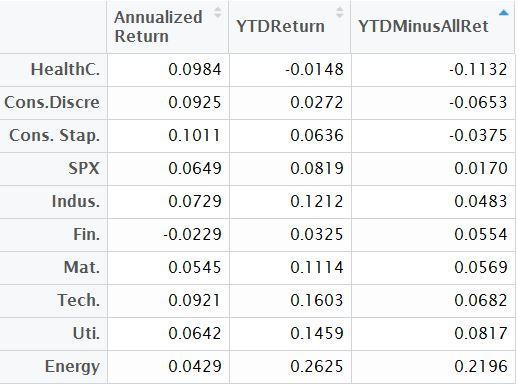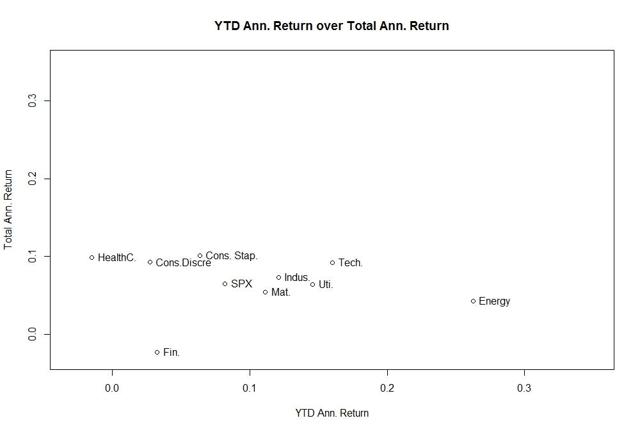 I also like Consumer Staples and Health Care for the co-momentum and advantageous risk-return ratios they have shown in the past, including a lower correlation to the S&P 500, as highlighted above. Furthermore and at the core, Consumer Staples provides a revenue and earnings protection much higher than cyclicals, and in part so does Health Care, obviously with certain limitations. If you are looking for sectors that make good cases for adding positions and for sectors that provide less share price downside in case of an economic downturn, these two are a good starting set.
To conclude, please find the chart of upside/downside capture ratio over the under/outperformance YTD, in which the topleft area is the one where to find potential opportunities: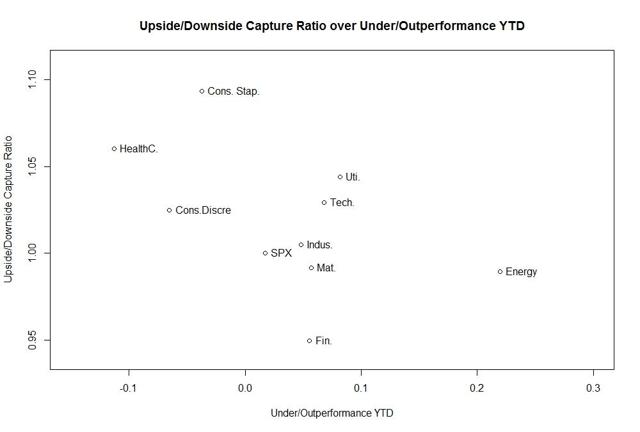 In the next article, I will show several optimized and reasonable long-term portfolios based on common optimizations (maximum return, minimum variance, minimum ETL), as well as based on several new quantitative metrics that outperform the S&P 500 with a lower downside risk.
Limitations
As with most quantitative analyses, the limitations are that past results may not play out the same way in the future. Correlations, price trends and patterns are ultimately influenced by investor preferences, who in turn are influenced by a broad array of factors, including but not exclusively macroeconomics, politics, consumer tastes, demographics, business environments, company management, risk tolerance, asset allocation decisions and more.
Disclosure: I/we have no positions in any stocks mentioned, and no plans to initiate any positions within the next 72 hours.
I wrote this article myself, and it expresses my own opinions. I am not receiving compensation for it (other than from Seeking Alpha). I have no business relationship with any company whose stock is mentioned in this article.