Just the other day, OPEC released data regarding the global oil picture and what their assessment is of the market. Just as in the case of last month, I figured it would be a good idea to look at their report and give investors my thoughts of the good and the bad and detail what I believe it means, on the whole, for investors in companies like Memorial Production Partners (NASDAQ:MEMP), Approach Resources (NASDAQ:AREX), and Legacy Reserves (NASDAQ:LGCY), as well as for the United States Oil ETF (NYSEARCA:USO) and other oil-related ETFs moving forward.
The bad
After reviewing their report on the global oil market, I could only find one really bad piece of data that I believe warrants attention. This relates to the image shown below. For anybody who has been following OPEC and its actions for a while, one key takeaway is the fact that, in response to the rise of U.S., as well as Canadian, production, members such as Saudi Arabia and Iraq have ramped up production in order to combat this new and growing threat. Just as it looked as though the market was about to begin to fix itself, Iran, fresh off of sanctions earlier this year, began to increase output at a nice clip too.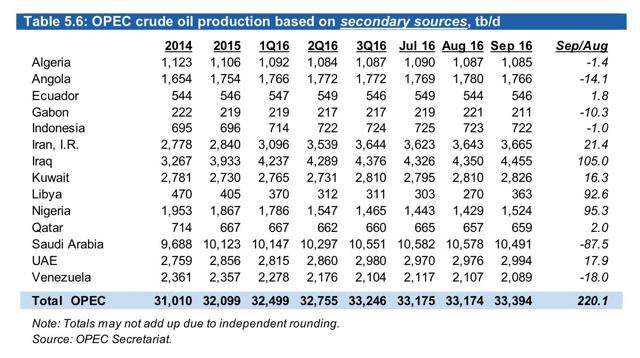 *Image Provided by OPEC
Well, recognizing now that the best option all along was for OPEC to cut production in order to push prices higher, the group has agreed to set up a committee to figure out how to implement the cut next month. Between now and then, however, it would make sense for members to pump as much as they can but, more importantly, we are seeing increases in some key nations that likely encouraged OPEC's overall move.
You see, while OPEC intends to limit production to between 32.5 million barrels per day and 33 million barrels per day moving forward, there are exceptions for three countries; Libya, Nigeria, and Iran. In the case of the first two, as shown in the table, production grew by a nice clip. The reason here relates to easing tensions associated with militant groups but I have to wonder how long matters there (especially in Nigeria) will remain stable. Iran did see a small uptick and intends to increase output to close to 4 million barrels per day but it appears as though that level is quite a few months off given their recent trend, which suggests more capital expenditures will be needed to get them there. Due to all of these increases (and others) but offset somewhat by output declines in nations like Saudi Arabia and Venezuela, output in OPEC increased by 220.1 thousand barrels per day in September, to 33.394 million barrels per day.
But there's a decent amount of good news
Should OPEC change its mind regarding a cut, more pain could be on the horizon for oil prices (a lot more if Iran, Libya, and Nigeria continue to push production higher). Absent this happening, however, the picture for oil is looking mostly up. Take, for instance, the case of global oil demand. According to the group, demand this year should come out to about 94.40 million barrels per day. Should this come to fruition, it will represent an increase of 1.23 million barrels per day from the 93.17 million barrels per day estimated for last year.
What's interesting about this, however, is that not only does this represent an increase in demand from the 94.27 million barrels per day estimated last month for the year; it is also after accounting for demand that was revised higher from 2015's data, which pegged consumption at 93.04 million barrels per day. This has been a trend of different oil organizations this year, where demand was often forecasted lower before and is now being revised higher. If you use the old 2015 demand data (the data from the prior month), demand should actually be up 1.36 million barrels per day this year.
In 2017, we should see output rise by another 1.16 million barrels per day to 95.56 million barrels per day and about 140 thousand barrels per day greater than last month's forecast for demand to average 95.42 million barrels per day next year. Once again, if we use the old data for this year, demand would actually grow by 1.29 million barrels per day next year compared to this year, bringing to question how many more upward revisions (if any) we will see. Absent a major economic downturn, I would be shocked to not see some respectable upward revisions over the next 12 months.
In addition to seeing demand forecasts improve, we've also been given some insight into OPEC's estimate of how large the oil glut might be next year. Given their forecasts for non-OPEC production, which calls for output of 56.30 million barrels per day this year and 56.54 million barrels per day next year, production should be about 90 thousand barrels per day (or 32.85 million barrels for the year) lower than demand should OPEC stick at their 32.5 million barrel per day target. On the other hand, if their supply forecasts are right and they stick with the upper end of the range (33 million barrels per day), then we should see a build of 410 thousand barrels per day (or 149.65 million barrels for the year) next year. This comes on top of a build in the third quarter this year of only 49 thousand barrels per day.
Takeaway
Right now, it's hard to tell what to expect of the oil market but I think a good summary would be that if OPEC honors its words then the rebalancing process will truly begin next year (if their data is correct). Having said that, OPEC has a far more bullish output than the EIA (Energy Information Administration) when it comes to non-OPEC production (their estimate is for a build of just 100 thousand barrels per day) and I have been critical of their demand forecasts for some time now. Due to this, if OPEC does honor its word, I believe that a deficit in production next year is fairly likely unless prices rise enough to send the rig count soaring.
Disclosure: I am/we are long AREX, MEMP, LGCY.
I wrote this article myself, and it expresses my own opinions. I am not receiving compensation for it (other than from Seeking Alpha). I have no business relationship with any company whose stock is mentioned in this article.
Additional disclosure: I own LGCYO, not LGCY