Being by far the largest company in the food service industry, SYSCO Corporation (NYSE:SYY) is poised to take advantage of its position growing organically or through acquisitions. The strategy to acquire US Foods, a minor competitor representing around 18% of its market cap, was denied in June 2015. Nevertheless, other options were considered either domestically or internationally.
With a strong balance sheet and generating significant cash flow, the company is strongly committed to grow. In fact, apart from a dividend yield of 2.50%, and a $3.8 billion buyback program ending August 2017, the company is always seeking opportunities for acquisitions in the US or even in international markets. As a matter of fact, SYSCO has completed the acquisition of Brakes Group - a leading foodservice distributor in Europe - in a $3.1 billion deal. This company posted sales of around $5B (a 6.5% increase YoY) which means that it represents 10% of SYSCO dimension. On the other hand, SYY announced the acquisition of Supplies on the Fly which may be crucial in the restaurant supplies segment.
With a Free Cash Flow yield of 5.15% - a good result - we know that the company is really making money. ROE of 21.73% and ROA of 5.47% tells us that not only the company's performance is good but financial leverage is moderate. In other words, management is doing a good job in order to increase the company's value.
However, will the level of its share price be sustainable? Surely, the company dominates the market with its market cap of $27.4 billion - 67% of the entire sector. But if we believe that SYSCO has enough pricing power due to its dimension to continue growing margins, possibly we will be making a mistake. Not that the company doesn't have relevant pricing power, but it surely has to deal with large clients that expect to bargain especially when there are other competitors in place.
Another aspect is absolutely crucial. SYSCO has a P/E [ttm] of ~30 which is not only much higher than peer average but is probably too excessive to maintain. But we know that the company posted sales of $50.4B (an increase of 3.5% YoY) with an operating margin of 3.67%. Net earnings of $950 million translates to diluted EPS of $1.64. Considering adjusted EPS we get $2.10 which is probably its current average potential. If we include Brakes Group we may get EPS close to $2.50 for the full fiscal year 2017.
So, it is possible that a P/E of 30 may be absolutely reasonable. Taking the last closing price of ~$49 we arrive at a forward P/E of less than 20. To calculate the intrinsic value we may use a basic discounted cash flow (DCF) analysis with conservative assumptions:
Adjusted FCF at 5% CAGR reaching ~$1.91B in 5 years
A 20x multiple against FCF in 5 years gives Terminal Value
WACC (Discount Rate): 8%
Cash minus debt: -$3.42B
Thus, with a total market value of ~$30B and supposing that there will be the same number of fully diluted shares outstanding (555M), we arrive at a value of $53.20 per share.
With a small margin of safety like this (~$53 against current price of ~$49), the company doesn't show high upside potential. Nevertheless, the annual growth rate considered (5%) may be too pessimistic.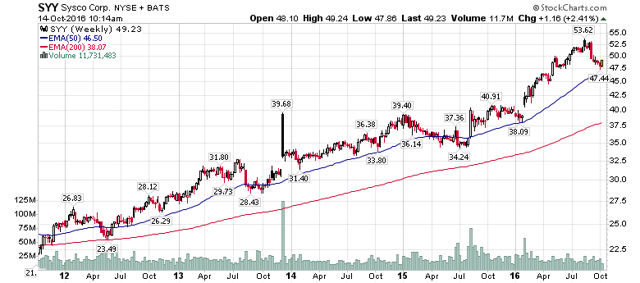 Charts courtesy of StockCharts.com
Note: All charts are in semi-logarithmic scale
The 5-year weekly chart above shows clearly an uptrend although SYY' share prices denote some volatility which by no means put in danger the long-term ascending trendline.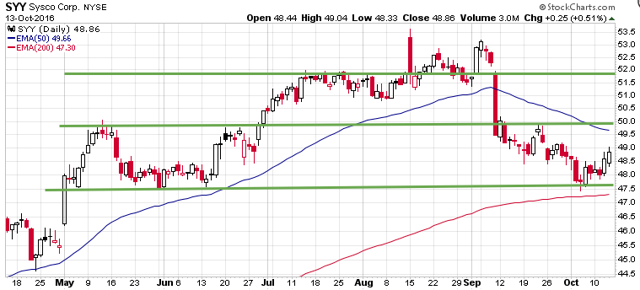 Looking at the 6-month daily chart above two points stand out:
- SYSCO' share price reached an all-time high last August at $53.62.
- There are three well identified levels of support/resistance at around $47, $50 and $52.
Repeatedly for two months, share price has tried to surpass consistently $52 but has failed to succeed and is now moving again between $47 and $50. The setup is not negative and we may see share price attempting higher levels.
Conclusion
SYSCO is a solid company with a leading market presence worldwide. It has a growth strategy both organic and through acquisitions which makes investors believe that it's a value company with growth capability. SYSCO is in a long-term uptrend and remains in a favorable setup which will likely allow the rise in the stock price above its daily EMA(50). Furthermore, in my opinion, SYSCO is an investment for the long run and I believe that the current strategy focused on products and productivity will bring tangible results over time.
Disclosure: I/we have no positions in any stocks mentioned, and no plans to initiate any positions within the next 72 hours.
I wrote this article myself, and it expresses my own opinions. I am not receiving compensation for it (other than from Seeking Alpha). I have no business relationship with any company whose stock is mentioned in this article.
Additional disclosure: The author of this article is not an investment adviser and gives only his personal view and opinion, never making any investment advice or recommendation to buy or sell specific securities. Investors in financial assets must do so at their own responsibility and with due caution as they involve a significant degree of risk. Before investing in financial assets, investors should do their own research and consult a professional investment adviser.