Weekly Review
Coming off the worst week in several years, the REIT sector saw a modest bounce higher. The REIT ETF indexes (VNQ and IYR) gained 1.5% compared to a 0.7% loss for the S&P 500 (NYSEARCA:SPY).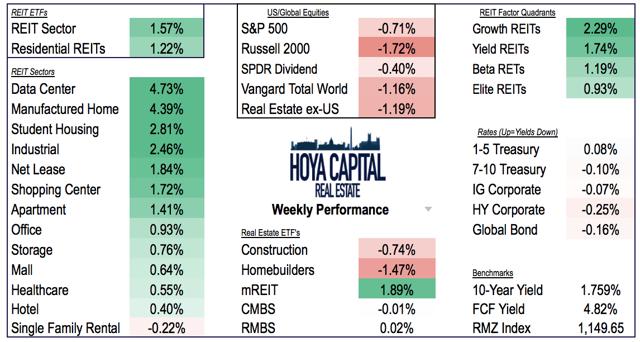 (Hoya Capital Real Estate, Performance as of 2pm Friday)
The volatility in REITs moderated this week as the 10-year yield finished the week essentially unchanged at 1.76%.

(CNBC.com)
Rolling correlation between REITs and treasury yields reached record highs last week, but that trend reversed slightly this week. We have seen a similar pattern reoccur as Fed rate hikes get increasingly priced into the market. Correlations spike during periods of sharp changes in the implied probability of a rate hike.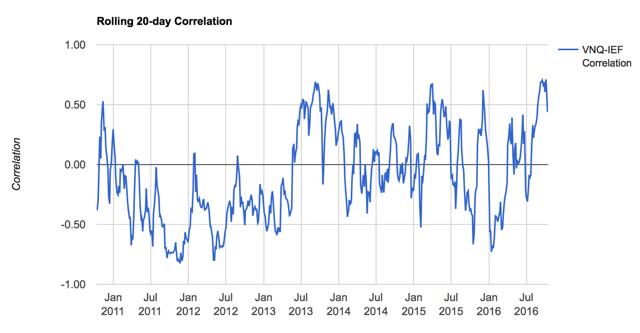 (PortfolioVisualizer.com)
Mixed economic data decreased the probability for a December rate hike from over 70% to 65%. As we pointed out last week, this high implied probability may indicate that the downside risk of a December interest rate hike on REIT shares may be fully priced in at this point.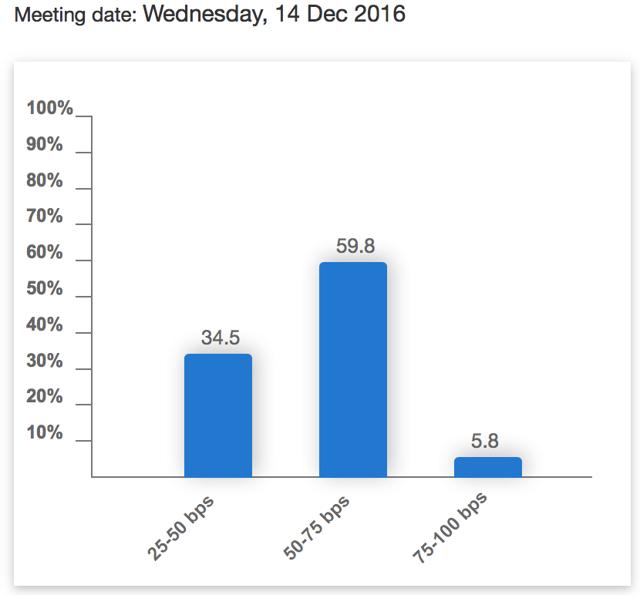 (CME Group)
The SPDR dividend ETF (NYSEARCA:SDY), which we view as an income-oriented alternative to real estate equities, underperformed REITs with a 0.4% loss. Across the other areas of the real estate sector, mortgage REITs (NYSEARCA:REM) finished the week higher by 2%. The homebuilder ETF (NYSEARCA:ITB) and commercial construction ETF (NYSEARCA:PKB) finished lower by roughly 1%.
The ex-US real estate ETF (NASDAQ:VNQI) underperformed US REITs, finishing the week lower by 2%.
Relative Valuation
This week, we introduced readers to our new relative valuation model. (After Selloff, REITs Cheapest in Years) We note that FCF yield analysis is just one tool in a real estate investor's toolbox, but one of the most important and predictive.
Free Cash Flow yields retreated slightly as REIT values increased and our FCF estimates remained static. FCF yields remain at or above the post-recession average.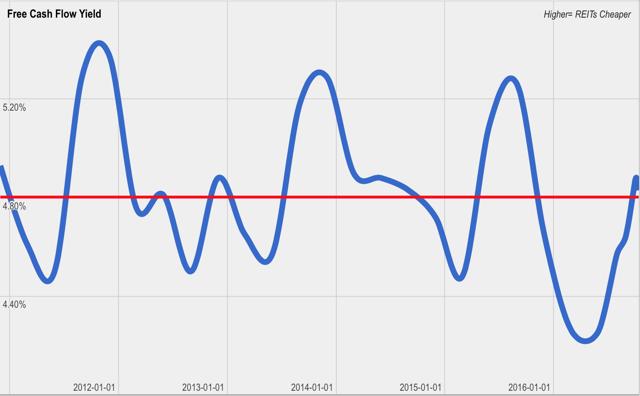 Compared to the 10-Year note, REITs are still in "cheap" territory based on 5-year average spreads between Free Cash Flow to the 10-year treasury. Compared to the S&P 500 earnings yield, REIT FCF yield continue to appear cheaper and cheaper.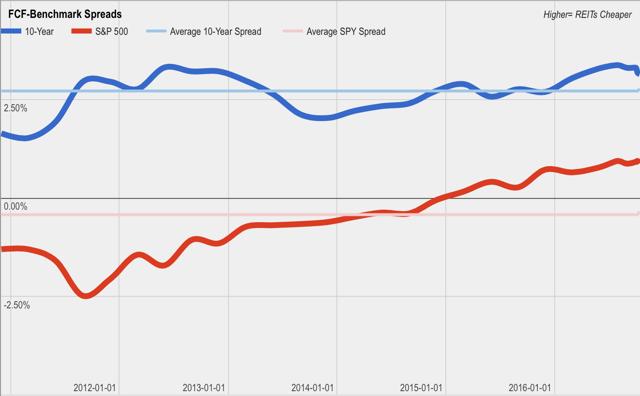 Sector Performance
All REIT sectors besides Single Family Rentals were higher on the week.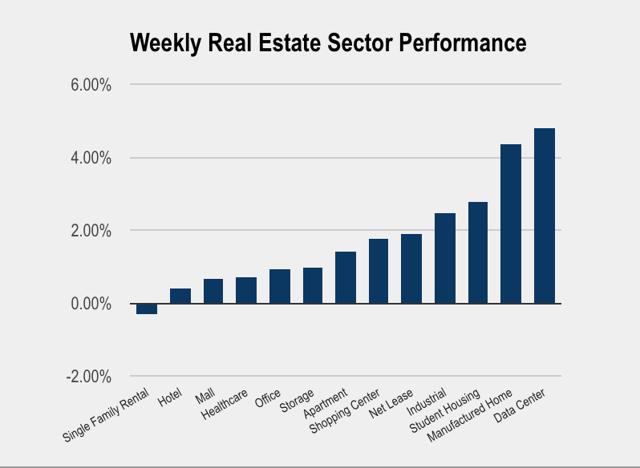 CoreSite (NYSE:COR), DuPont Fabros (NYSE:DFT), and Digital Realty (NYSE:DLR) led the way higher in the data center space. Equity Lifestyle (NYSE:ELS) and Sun Communities (NYSE:SUI), manufactured housing REITs, were both higher by over 4%. Net Lease REIT Realty Income (NYSE:O) was up 2%.
Economic Data
Real estate economic data was mixed on the week. Key themes include continued strength in the jobs market, mixed results in retail sales, consumer confidence remaining relatively strong, producer prices ticking slightly higher.
Mortgage rates remain near all-time lows, and the overall mortgage market appears healthy.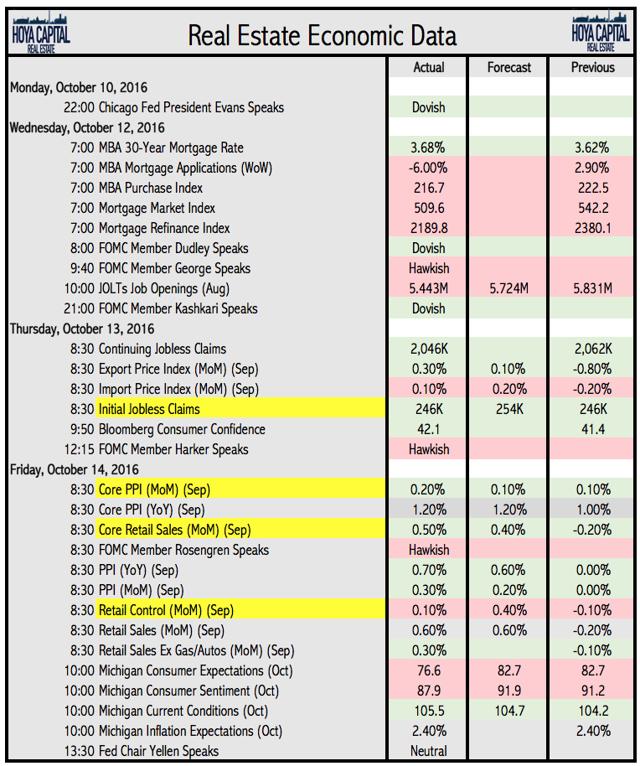 (Hoya Capital Real Estate, HousingWire)
Every week, we like to dive deeper into some of the more interesting trends we see occurring in the real estate markets.
We start this week with retail sales, where the headline number showed a 0.6% rise, which was in line with expectations and reverses the weakness seen in the prior two months. Retail sales were strong over the summer with an aggregate 2.5% growth between May and July. Sales sputtered in August and September, so this 0.6% gain is a strong report and dampen fears of a broader consumer slowdown. Below we show retail sales data presented both year over year and month over month.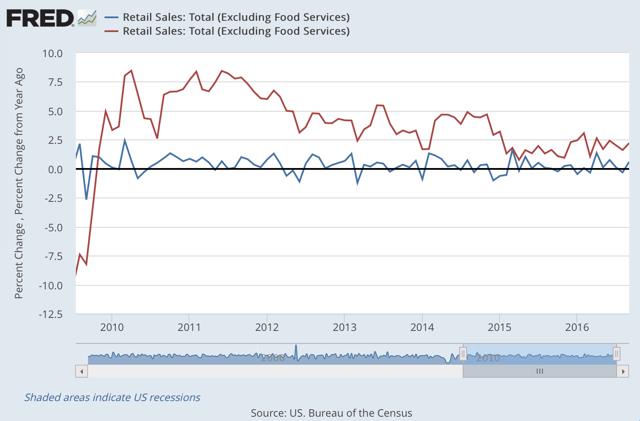 Next, we look at Core PPI, a measure of pressure on prices of final goods excluding food and energy. Core PPI came in slightly higher than expectations, but remain muted. By this measure, inflation does not appear to be an immediate issue, but rising energy prices may put renewed pressure on this metric.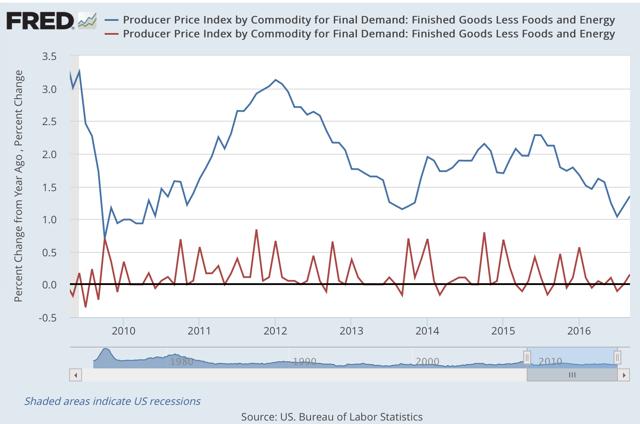 Next, we examine the jobs market, which remains the single strongest attribute of the economy over the past three years. The 4-week moving average of initial claims reached its lowest level in nearly 40 years.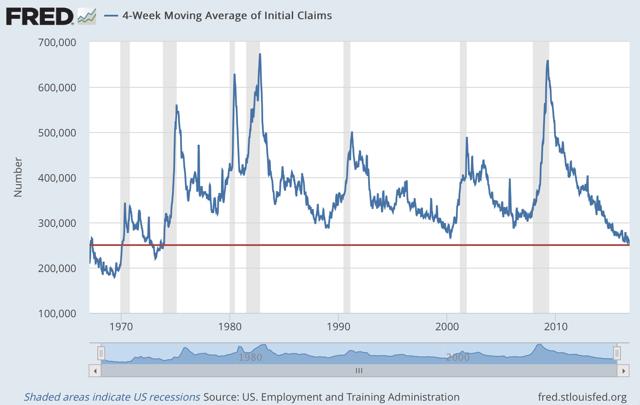 Finally, we note that the Atlanta Fed revised down their Q3 GDPNow forecast from 2.1% last week to 1.9% now. For Q4, The NY Fed estimates 1.6% growth. Combined, if these estimates prove accurate, GDP will have grown at just 1.4% in 2016, which would be the slowest GDP growth rate since 2009.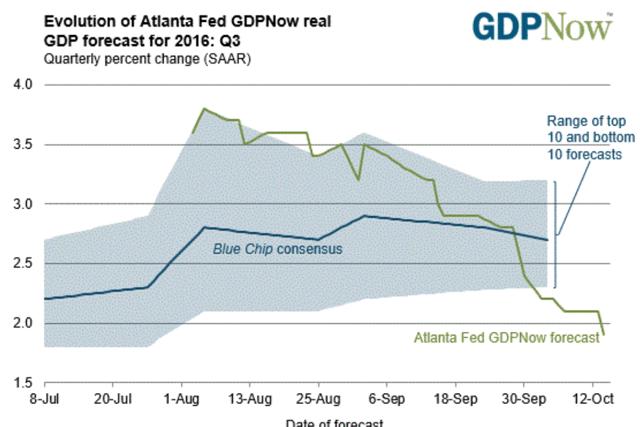 Week Ahead: Earnings
Earnings season kicks off next week. Q2 earnings for REITs were quite strong with 40% beating expectations, 50% meeting expectations, and 10% falling short. Despite the strong results, REITs have struggled mightily over the past quarter dragged down by the storage, data center, and mall sectors.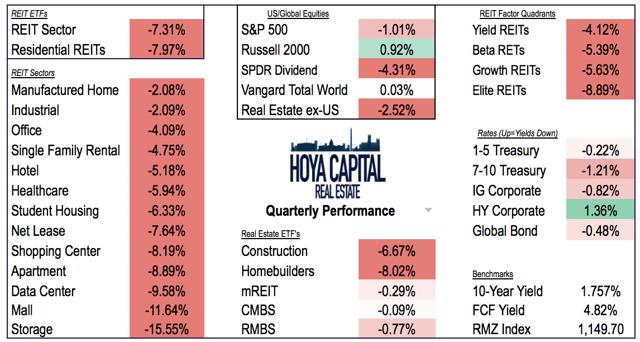 We anticipate that the REIT sector will average 7.5% growth in Free Cash Flows, and are looking for signs of oversupply in the nonresidential space, which is generally more opaque and difficult to track than the residential sector. Strong leasing results from storage and data center REITs could quickly reverse the recent weakness.
Next week, we will see earnings from ELS, BDN, EGP, LHO, SLG, CCI, PLD, and WPC.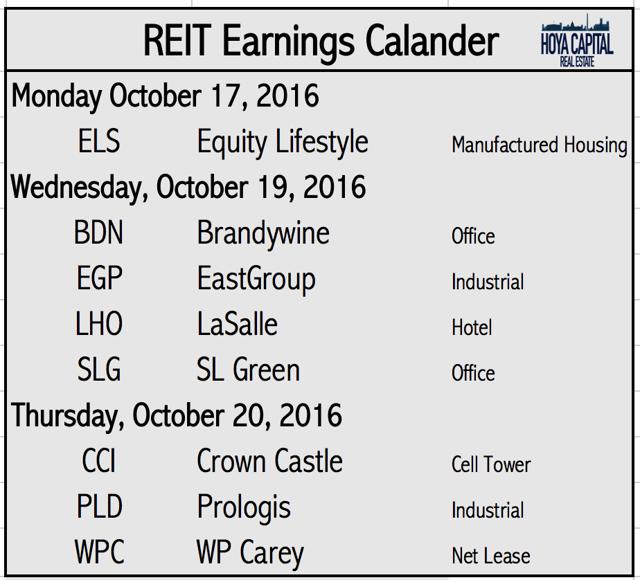 To recap, last week we analyzed the NAREIT Political Action Committee to examine the legislative risk and policy objectives surrounding the REIT industry. In "REITs Backing Republicans in 2016" we showed that NAREIT is backing Republican Senate candidates by a 2:1 margin. NAREIT has historically supported both sides of the political aisle fairly evenly, but so far this cycle, the trade group has backed Republicans by the widest margin in NAREIT's history. In recent years, the Democratic platform has been increasingly incorporating policies that may be adverse to REIT investors, including limits on the Like-Kind 1031 exchange, which some independent analysts say may have very negative effects on commercial real estate prices.
Also last week, we continued our REIT Rankings series with the single family housing sector, which concluded our sector overview series. Readers can check out all of our REIT rankings located on our author page.
Finally, we encourage readers to follow our Seeking Alpha page (click "Follow" at the top of the page) to continue to stay up to date on our weekly recaps and analysis on the REIT and broader real estate sector.
Disclosure: I am/we are long DLR, ELS, SUI, PLD.
I wrote this article myself, and it expresses my own opinions. I am not receiving compensation for it (other than from Seeking Alpha). I have no business relationship with any company whose stock is mentioned in this article.