With today's retail sales report "mixed", the Atlanta Fed now predicts Q3 GDP will be less than 2%. According to its GDPNow model, the weaker retail sales report, particularly the control group that enters the GDP calculation, will add up to just 2.6% Real PCE growth. In prior periods with actual growth, Real PCE has ranged from 4% to 5% or more. From 1983 to 1989, Real PCE averaged 4.42%; from 1993 to 2000, Real PCE averaged 4.19%.
If that estimate holds it would mean GDP below 2% for the fifth consecutive quarter, and less than 2.5% in seven out of the past eight (the only quarter above that level was Q2 2015 at just 2.6%). This is undoubtedly due, in part, to "residual seasonality" where the BEA has intentionally adjusted its figures to smooth out what were often sharp variations. It hasn't had the effect its proponents believed it would.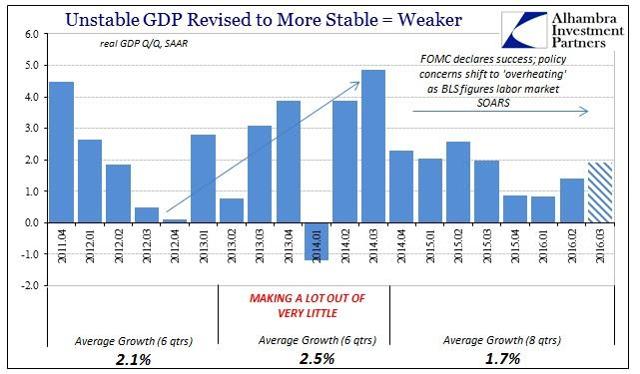 In other words, before so much attention to winter the pattern had been established where each Q1 (especially the Polar Vortex of 2014) would be alarmingly weak and often negative. An actual recovery and growth period is free of any contraction even in the usual ups and downs of normal variation. Repeated negative numbers concentrated all in Q1's led economists and media commentators to speculate that this was misleading; especially since GDP would rebound often sharply each Q2 or Q3 at the latest.
From the mainstream point of view, the rebound quarters were what mattered and the overly seasonal (and conspicuously snowy) contractions just anomalies. This was the baseline analysis especially in 2014 where Q1's -1.4% (current estimate) was quickly forgotten in the 4% and 5% growth of the next two quarters.
It happened again to start 2015, where originally GDP was figured to be mildly negative just like the year before even though most economists had just declared "full employment" and a ready "liftoff" state. It was this contrary calculation that led to the outcry for residual seasonality. As CNBC's Steve Liesman complained last April:
Here we go again: The latest data show the U.S. economy plodding through another weak first quarter.

But it may not be coincidence. A detailed review by CNBC of 30 years of the government's gross domestic product data, the most followed measure of U.S. growth, suggests a longstanding problem of under-reporting Q1 expansion.

Over some time periods, in fact, first quarter growth is so weak it appears to be measuring a different economy altogether compared to overall growth and the three other quarters.
That is what they wanted to believe, that continual Q1 weakness not only didn't matter it didn't happen ("a different economy altogether"). The BEA obliged and seems to have once more proven the cliché about being careful what you wish for.
The effects of "residual seasonality" have clearly revealed the opposite of Liesman's slanted perceptions. The GDP figures have been removed of their volatility, but in withdrawing "seasonal" weakness from Q1 they had to "put" it somewhere else, usually in Q2. Thus, what looked like volatile GDP in early 2015 (and again to start 2016) was renumbered as just weakness overall. Rather than 0.6% in the first quarter last year and then 3.8% in the second, with economists being able to dismiss the former and overhype the latter, the BEA now figures 2.0% followed by 2.6%. Economists, policymakers, and those in the media (all redundant) are now no longer able to maintain that everything is fine if you just throw out the first quarter and focus on the second.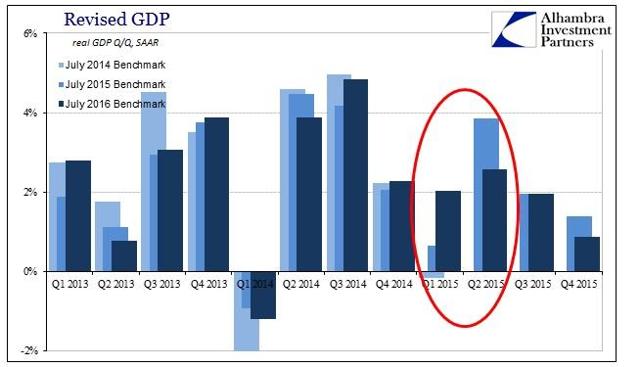 Because this "residual seasonality" was still being applied this year, the same happens again - only at a still lower level. Q1 2016 is currently figured at just 0.8% but because that included the redrawn "seasonal" baseline it meant pushing some "growth" from Q2 into Q1 and still showing very little overall. In other words, the mainstream believed that by fixing "residual seasonality" the truly healthy economy would now be freely voiced by GDP unfettered by snow and winter; instead, the opposite occurred where we see yet again that it is (or was) these better quarters that are always the anomaly.
Economists are predictably shocked, and policymakers left questioning their own biases including "rate hikes." In smoothing out the huge variations in GDP, the BEA's numbers end up indicating weakness anyway because the economy actually is and has been just that.
At the very least, it would have made the last three quarters that much more surprising than they already are to economists. Rather than stay steady at around 2%, GDP is now steady at around 1%. Again, that might be overall somewhat accurate as to what happened, but it removes all the interesting and relevant behavior of how it got that way; the new benchmark estimates do show the economy getting worse right after "global turmoil" hit last summer during Q3, but to suggest an orderly slowing or gentle downshift is to intentionally exclude important granularity. We will never know, but what would Q1 2016 GDP look like under the "seasonality" of the 2014 benchmarks? As bad as +0.831% is, it is very likely to have been much worse without the straight lines of late which would have been far more consistent with especially January and February during the liquidations.
The Atlanta Fed started out by predicting Q3 GDP at 3.6%, quickly upgrading to 3.8% at one point in early August. Since then, their GDP expectations have steadily declined, especially in the past few weeks as the dreams of spring were flushed with summer. At this point, given the trend, we might be lucky to see even 1.9% this quarter. The overall trajectory remains the same as does the hugely important and relevant interpretation: the economy clearly slowed in 2016 as compared to 2015 even though that was supposed to be impossible given the "best jobs market in decades." The new GDP seasonal set, I believe, obscure how that happened, but as we see with more of this year's economy it cannot add up to any other result no matter how it might be rehashed.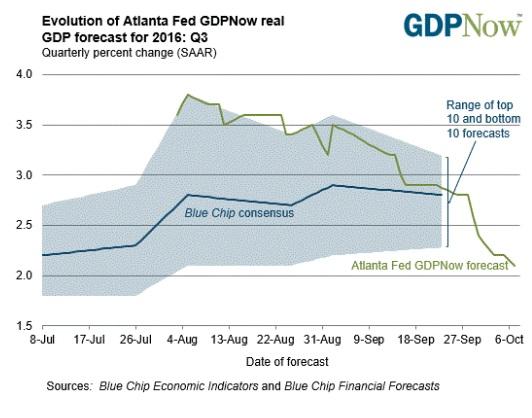 If I had to guess, I would imagine that economists would prefer to go back to the old way again. Though there would be still far too many "bad" quarters demanding explanations they could not provide, at least there would be some "good" quarters to remove some of the sting.