As we have mentioned before, the recent run in precious metals over the past six months has been primarily driven by Western investor demand for gold, mainly in the ETFs and precious metals funds. This is in stark contrast to demand in the East that has been very subdued in the physical gold markets as Chinese and Indian buying has been lackluster at best. In fact, weak Eastern demand is one of the main factors why we thought gold had little room left to run over $1,300 until we started seeing buying from the non-Western physical markets pick up.
With the recent drop in gold, we turn our attention to the Chinese and Indian markets to see if buying has picked up, and we will start with Indian gold premiums.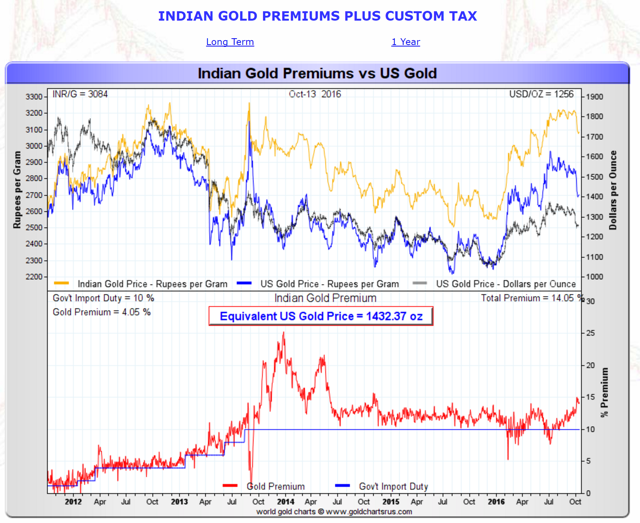 As investors can see, the Indian gold premium was actually negative for a good portion of 2016, which goes along very closely with the drop in Indian gold imports since the beginning of the year. With the recent drop in gold, we are seeing premiums rise quite steadily to some of the highest levels since late 2014. That is positive news from the perspective of gold bulls as it suggests we will see physical demand pick up some of the slack from the drop in Western demand.
Moving on to China, we are also seeing a rise in the premiums paid by Chinese buyers on the Shanghai Gold Exchange (SGE).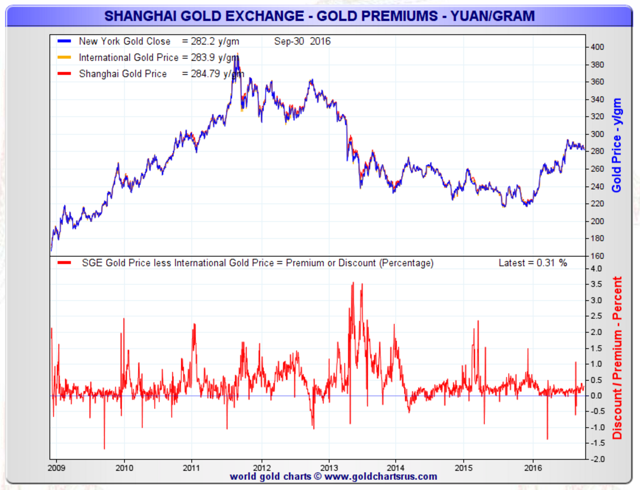 Source: Sharelynx
While the rise is much less subdued than in India, it is slightly rising on the Chinese market as well.
What we haven't seen is ETFs unload gold like they did from 2013-2015, as ETF holdings have been relatively stable despite the recent drop in gold.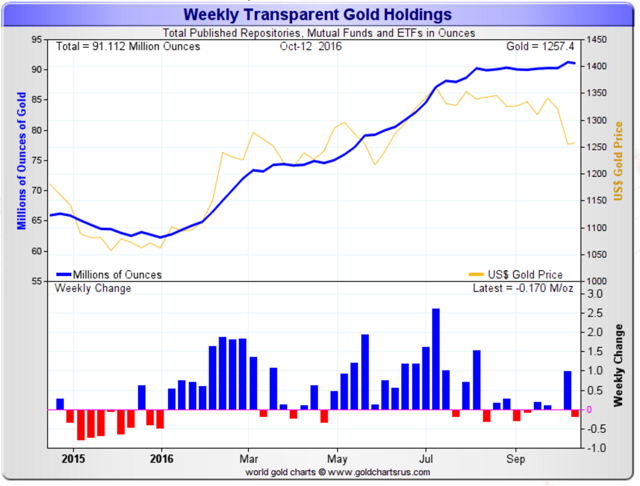 Source: Sharelynx Gold
That is actually very important because that tells us that (1) ETF investors haven't been the culprit for the recent drop in gold, and (2) if we see a pick up in physical demand and no corresponding drop in ETF holdings, we could see a big move up in gold.
Conclusion for Investors
While we are still waiting on some other important data elements related to physical demand from India and China such as the latest look at Swiss exports and Chinese imports, initially it looks like demand from India and China is picking up with this recent drop in gold.
It also looks like the recent drop in gold hasn't dented ETF gold holdings as they have stayed very stable despite the gold price drop. That is either very positive or negative for investors, as it could mean the gold price could move up very fast if physical demand is coupled with no loss of ETF gold holdings as there would be more buyers than sellers in gold. Or it could be negative if we see physical demand pick up while ETF holdings start to drop from current levels of gold holdings.
Another important thing that we glean from this is that the recent drop in gold is probably related to speculators, as it's not the ETFs flooding the gold market and it's certainly not physical gold sellers all of a sudden selling their positions during a period of a few hours because of their expectations of a December rate hike - physical markets don't work like that.
While it's a bit early to call the bottom here in gold, we think it's a positive sign that premiums are rising in China and India while ETFs are holding tight to their gold holdings. For investors that sold previous gold positions, we certainly think now is a good time to be building back those gold positions. Investors should consider buying back some of their previously sold gold trading positions in the gold ETFs such as the SPDR Gold Trust ETF (NYSEARCA:GLD), the ETFS Physical Swiss Gold Trust ETF (NYSEARCA:SGOL), and the iShares Silver Trust ETF (NYSEARCA:SLV), because there are some upcoming catalysts (the US presidential elections, the Italian Referendum, European banking shortfalls, etc.) that could benefit gold.
We will keep an eye on physical demand in the East, but initially the signs are looking good that this recent drop has brought physical gold investors back into the market.
Disclosure: I am/we are long SGOL, SIVR.
I wrote this article myself, and it expresses my own opinions. I am not receiving compensation for it (other than from Seeking Alpha). I have no business relationship with any company whose stock is mentioned in this article.