Microsoft (NASDAQ:MSFT) wants to have it all. Microsoft is already the overall leader in Enterprise SaaS (Software-as-a-Service) and the clear winner in Enterprise Collaboration software. However, Microsoft apparently still wants to unseat CRM (Customer Relationship Management) leader Salesforce (NYSE:CRM). The new Dynamics 365 product is Microsoft's integrated CRM and ERP (Enterprise Resource Planning) cloud product.
Dynamics 365 could undermine Salesforce. Microsoft is already the no.2 vendor in Enterprise CRM. Business clients could save some money by getting Dynamics 365 instead of paying for Salesforce's separate CRM and ERP products. Microsoft could also use Dynamics 365 to gradually diminish the leadership of SAP AG (NYSE:SAP), Oracle (NYSE:ORCL), and Netsuite (NYSE:N) in Enterprise Resource Planning (ERP).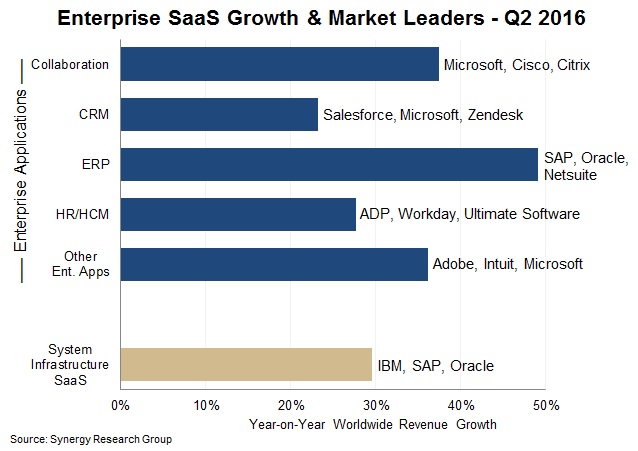 Gluttony is a good trait for a capitalist firm like Microsoft. Financial incentive is behind Microsoft's eat-all-you-can approach to Enterprise SaaS. As per the Q2 2016 report of Synergy Research, the global Enterprise SaaS market generated around $11 billion in revenue in Q2. This is 33% higher than the comparable period last year. Microsoft is not sated being just the segment leader in Collaboration SaaS. It also wants to get the biggest slice in ERP and CRM revenue.
By attracting customers away from the CRM and ERP products of its rivals, Microsoft could earn new revenue to eventually offset the $7.6 billion write-off of its phone hardware business. By becoming the segment leader in Enterprise CRM and ERP, Microsoft could generate more revenue to help pay off its new $19.75 billion debt. Microsoft issued $19.75 billion of debt with seven maturities last August to help fund its $26 billion acquisition of LinkedIn (LNKD).
Microsoft recently filed for EU approval of its LinkedIn acquisition. Unfortunately, Salesforce is still bitter about Microsoft's victory over LinkedIn. Salesforce is urging EU regulators to block Microsoft's purchase of LinkedIn. Microsoft can extract some revenge by eventually displacing Salesforce as the segment leader in Enterprise CRM SaaS.
Salesforce was last year's overall leader in Enterprise SaaS. Microsoft took just two quarters this year to unseat Salesforce. It is my fearless forecast that Dynamics 365 could also help Microsoft beat Salesforce in CRM within the next 2 or 3 quarters.
Dynamics CRM Will Be Available Starting November 1
Takeshi Numoto, Microsoft's Vice-President for Cloud + Enterprise, announced in a blog post that Dynamics 365 will be available starting November 1. It will be offered in more than 135 markets and over 40 languages. Microsoft also offers Enterprise and Business Editions so that big and small organizations can take advantage of Dynamics 365 integrated CRM/ERP solutions.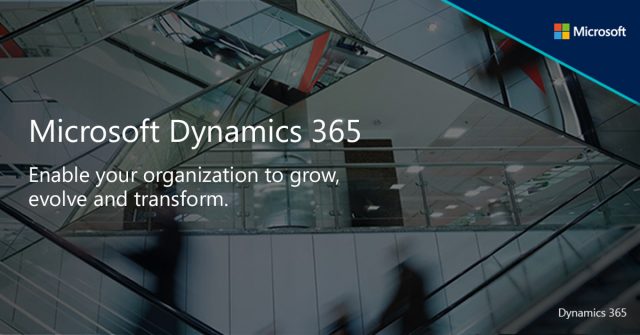 (Source: Microsoft)
The key differentiator of Dynamics 365 is again Microsoft's advanced Artificial Intelligence technology. Enterprises users can leverage Microsoft's cloud-based machine learning, Bing Predicts, Skype Translate, and Cortana assets to improve their sales automation, operations, and customer service.
Microsoft emphasizes its 'Dynamics 365 for Customer Insights' app which can deliver targeted and domain-specific intelligence data. This will help companies get 360-degree insights to their customers. Microsoft believes its AI-enhanced business intelligence will improve customer engagement.
Salesforce also unveiled its Salesforce Einstein Artificial Intelligence solution. Einstein will reportedly help anyone build apps that give advanced AI features to customer software for sales, service, and marketing. However, I still have more faith in Microsoft when it comes to AI-enhanced SaaS.
Conclusion
Dynamics 365 is one more reason for us to stay long on MSFT. Nadella is steering Microsoft toward becoming the true overall leader in Enterprise SaaS. Microsoft is now almost a one-stop-shop for enterprise cloud. It has Azure for cloud infrastructure, Office 365, Skype for Business, and SharePoint for collaboration, and Dynamics 365 for CRM and ERP.
It is also my fearless forecast that LinkedIn acquisition will eventually help Microsoft build a SaaS product for HR (Human Resources) and HCM (Human Capital Management). Going forward, Microsoft will also eventually compete with HR/HCM SaaS leader ADP (NASDAQ:ADP), Workday (NYSE:WDAY), and Ultimate Software (NASDAQ:ULTI).
Disclosure: I am/we are long MSFT, LNKD.
I wrote this article myself, and it expresses my own opinions. I am not receiving compensation for it (other than from Seeking Alpha). I have no business relationship with any company whose stock is mentioned in this article.