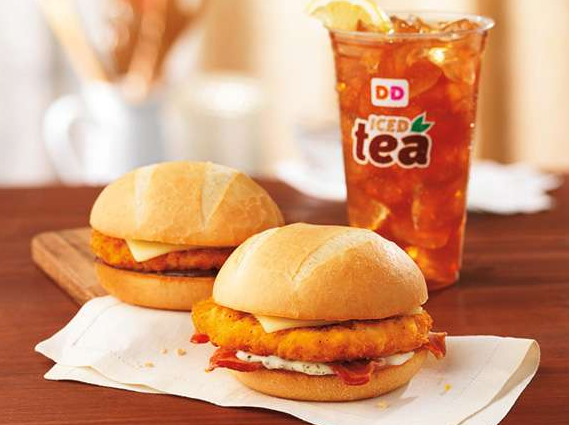 Dunkin' Brands (NASDAQ:DNKN) has been in an epic uptrend since it made its lows at $35 at the start of the year. The stock has flown from that level to just over $50 in 2016, and heading into Q3 results, due out next week, it seems sentiment is very high. DNKN has managed to continue to grow despite its massive size and obvious competition from the likes of Starbucks (NASDAQ:SBUX), but has it earned the right to trade for $50 again? Going into Q3 earnings, I'm a bit cautious on the stock's valuation, but let's take a look at what might drive it higher or lower.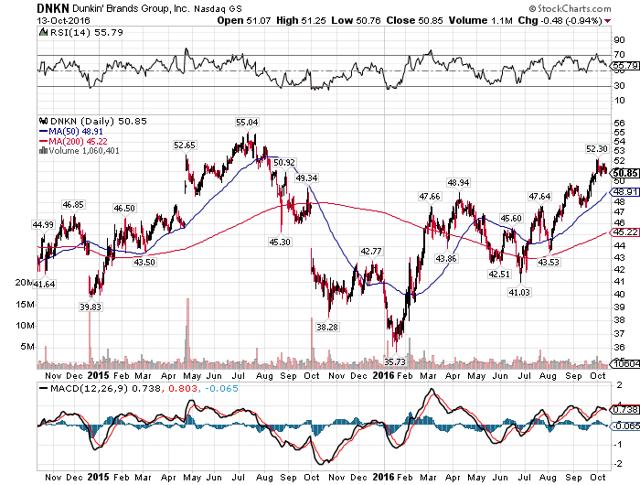 Dunkin' has made its very impressive run higher - including breaking out over its previous relative high at $49 - despite the fact that it continues to see Starbucks and McDonald's (NYSE:MCD) grow more quickly. MCD became an issue for DNKN a few quarters ago when it launched its all-day breakfast initiative, something that has been wildly successful. That has come at the expense of DNKN, but investors are enthusiastic anyway and we see the stock approaching its highs heading into earnings.
I generally don't like this kind of setup unless momentum for a stock is undeniably positive, but for DNKN, I'm afraid that simply isn't the case. Revenue growth has been anemic at best this year - coming in at the low single-digit level - and comp sales are even worse. That metric is hovering just above zero and it is not a one-quarter issue; DNKN's comp sales have slowed down and it is becoming a problem. Unit growth is continuing - particularly in the western US - but with 12K outlets already, DNKN simply cannot open new units quickly enough for it to be the primary source of growth.
DNKN has seen successful with its K-cups and it is getting into ready-to-drink products next year. The impact is difficult to gauge because the terms of the deal with Coca-Cola (NYSE:KO) weren't announced, but we could see some incremental top line growth from the deal. Either way, I don't see any path forward for meaningful revenue growth for DNKN and that is congruent with what analysts have for DNKN this year. In fact, analysts have DNKN hitting 3.6% sales growth this year, a number that may even be a bit high. But at any rate, the fact that we're talking about revenue growth in terms of three or four percent is all you need to know about DNKN's top line expansion.
I want to be clear; I'm not bearish on DNKN's fundamentals. This is simply a case of a company that has reached a point in its lifecycle where it is difficult to grow. And competition from MCD and SBUX is just exacerbating a problem DNKN already had, but at this point, it seems investors don't care.
When DNKN reports Q3 results, I'll be keenly watching its top line growth and any guidance it provides. The story with DNKN for me is about top line growth because its margins are already tremendous and getting better. Operating margins are over 50% for DNKN and they are growing every year so I'm certainly not worried about profitability. The problem - if there is one - with margins that high is that future growth is difficult to come by simply because the number is already so huge. That's certainly a lovely problem to have, but when you're projecting EPS growth out into the future, you have to take it into account.
An update on DNKN's buyback will be useful for updating EPS growth models as well because with revenue growth so light, the buyback is a primary source of EPS growth. DNKN's run rate of ~4% per year is a nice tailwind for EPS, but with the share price soaring, we may see a bit less in terms of its impact simply because it costs more to retire the same number of shares. If we do, EPS growth estimates will need to come down and that's not something the stock is pricing in.
Estimates for Q3 and indeed this entire year haven't budged since DNKN reported Q2 earnings, but the stock has come up a lot. That means that shares are now going for 23 times this year's earnings and 21 times next year's earnings; lofty multiples indeed. And that's my issue with DNKN; it isn't that I don't like the business or that I think it is completely done growing. But there are undeniable issues with the path forward for DNKN's earnings growth, not the least of which is its ability to win share back from its competitors. DNKN has shown marked weakness in the last few quarters with respect to revenue growth and there is no reason to think that has abated. If it has and Q3's revenue number is amazing, perhaps I'll reassess. But for now, DNKN looks very expensive heading into Q3 earnings so I'm on the sidelines. Despite its world-class operating margins, there are just too many risks for longs at this price.
Disclosure: I/we have no positions in any stocks mentioned, and no plans to initiate any positions within the next 72 hours.
I wrote this article myself, and it expresses my own opinions. I am not receiving compensation for it (other than from Seeking Alpha). I have no business relationship with any company whose stock is mentioned in this article.