Market sentiment remains low for Fortinet (NASDAQ:FTNT) as the stock has been beaten down badly over the past week, declining more than 11% on the back of weak preliminary third-quarter results that were released on October 11. This steep drop in Fortinet's shares has brought an end to the stock's rally that began in February after the stock had touched its 52-week low.
What caused the drop?
Fortinet expects its revenue for the third quarter to come in the range of $311 million to $316 million, which is slightly lower than its earlier guidance of revenue between $319 million and $324 million. As such, its earnings are now anticipated to be in the range of $0.15 per share to $0.16 per share, down from the previously provided guidance of $0.17 to $0.19 earnings per share.
Nevertheless, investors should not miss the fact that Fortinet has grown its organic sales by 15% to 20% in the past couple of years. In fact, its third-quarter revenue represents an increase of 20% on a year-over-year basis. Also, despite the company reducing its guidance, Fortinet's current guidance reflects an improvement of 7% in earnings on a year-over-year basis. The following chart indicates the impressive growth in the revenue profile of Fortinet over the past few quarters: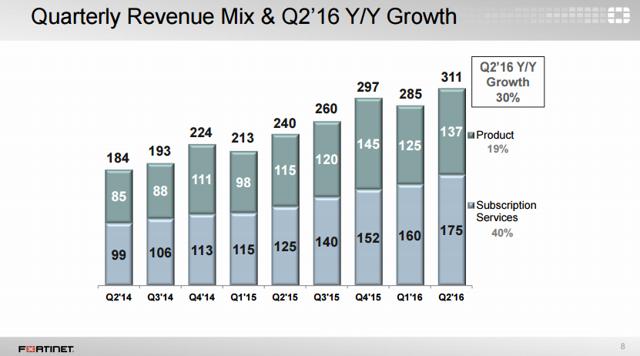 Source: Fortinet
Additionally, Fortinet should also benefit from the underlying strength of its business and long-term prospects because it is shipping more security devices than its peers in the segment. Fortinet's superior shipments should enable the company to increase its market share across the Enterprise, Mid-sized, and SMB market segments. This is the reason why investors should not pay much heed to the fact that Fortinet reduced its guidance by less than 2.5% for the third quarter as its long-term prospects are strong.
Steady growth in the security appliance market should be a tailwind
Fortinet's security devices are gaining traction in markets such as Enterprise, Mid-sized, and SMB. This is the reason why its appliance shipments increased more than 41% in the second quarter of 2016. In fact, due to this rise in shipments, Fortinet's market share increased to 25% at the end of 2015, occupying the second spot after Palo Alto Networks (NYSE:PANW). The improvement in market share suggests that more of Fortinet's solutions are being deployed across the globe.
The important thing to note here is that Fortinet's market share in security appliances continues to improve, while peers such as Cisco (NASDAQ:CSCO), Check Point (NASDAQ:CHKP), and McAfee continue to lose their market share. Given that the U.S. accounts for 40% of the total security appliance market that is growing at double-digit growth rates, Fortinet has more opportunities to improve its performance going forward.
In order to tap the anticipated growth in the end-market, Fortinet is focused on improving both the quality and reach of its production portfolio. For instance, it is expanding its Actionable Threat Intelligence across multi-vendor solutions that should increase its market share going forward.
Fortinet's Security Fabric solutions now offer integrated security consisting of Internet of Things capability to the cloud by integrating analytics solutions that could improve decision making across its multi-vendor networking and security solutions. As a result of this integrated security offering, Fortinet recently won many new deals. One such deal was with a large European government entity. Also, Fortinet landed a contract at a large North American retail product manufacturer for PCI-complaint and next generation firewall expansion projects.
Thus, Fortinet's moves to bring solutions such as Security Fabric that deliver all the requirements of clients through a single window should increase its market share and also enhance its revenue going forward. Moreover, the global security appliance market is expected to grow at a compound average growth rate of more than 11.38% from 2016 to 2020, creating opportunities for Fortinet to grow both its revenue and market share. The following chart indicates that Fortinet is the second-fastest growing company in its industry, which should get better on account of its new deals and shipments.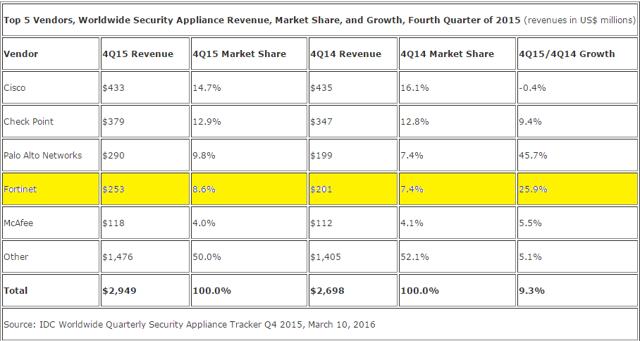 Source: IDC
Focus on improving the bottom line
As evident in the first chart of the article, Fortinet has been focused on enhancing its subscription services as it can generate more margins from this segment. In fact, the company is highly-focused on enhancing the productivity of its VM line of virtualized security solutions for cloud and virtual development, while also increasing the price of its subscription bundles to improve margins. On account of higher sales of these software products, its gross margin last quarter came in at 74%, which was higher than the previously given gross margin guidance of 73%.
Looking ahead, Fortinet should benefit from the recent acquisition of AccelOps, which should extend and enhance its Security Fabric architecture and thereby increase productivity. In fact, as a result of its focus on enhancing productivity and improving prices, Fortinet is expected to deliver an operating margin of more than 15% in 2016. Over the long run, the company plans to improve its operating margin by 1% every year to reach a figure of 20% by 2020.
Conclusion
Although Fortinet has lowered its top and bottom line estimates for the third quarter, it is still delivering substantial growth on a year-over-year basis. Moreover, the company is consistently increasing its focus on the security appliance market and is trying to gain more market share over here. Also, its efforts to increase productivity will lead to an improvement in its margins going forward. So, all-in-all, Fortinet remains a good bet going forward and investors should take advantage of the recent drop in the stock.
Disclosure: I/we have no positions in any stocks mentioned, and no plans to initiate any positions within the next 72 hours.
I wrote this article myself, and it expresses my own opinions. I am not receiving compensation for it (other than from Seeking Alpha). I have no business relationship with any company whose stock is mentioned in this article.