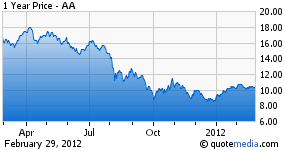 To consider taking a position in aluminum giant Alcoa (NYSE:AA), investors would be betting that not only will our economy improve, but the growth of worldwide human population would continue. I will go out on a limb and say that in both respects, this is a bet that I'm willing to place. But the concern for some investors who are anti buy-and-hold is that Alcoa is a cyclical stock, which impatient investors tend to shy away from. Be that as it may, I continue to see significant value in this company - particularly as the economy has shown considerable signs of improvement.
It is hard to imagine that demand for the market Alcoa serves can ever diminish. We have discussed the fact that aluminum is needed in most major appliances, but more significantly, it is needed for some of the world's largest transportation firms. These include names such as Boeing (NYSE:BA), General Motors (NYSE:GM) as well as Ford (NYSE:F) as the latter two plan to incorporate more aluminum into their car and truck designs. These are only a few examples of just how the demand for aluminum will grow and we have yet to even discuss foreign markets. India, Brazil as well as China are likely to see the similar growth in packaged food as well as beverage cans. Some experts expect this growth to approach the level that both North America as well as some European countries experienced several decades ago.
So with all of this demand on the horizon, it baffles me how Wall Street continues to discount the premiums that Alcoa will likely see as a result. For that matter, even the competition stands to benefit from the increase demand. Names such as Rio Tinto (NYSE:RIO) and BHP Billiton (NYSE:BHP) should also benefit immensely. The fact of the matter is, these firms are now in a great position - particularly Alcoa because in 2011, the world consumed 44 million tons of aluminum - a figure that was up from 39 million tons in 2010. Yet, there is a projection that demand for aluminum will grow at a rate greater than the historical trend lines for the balance of the current decade.
Its Recent Performance
In its latest report, the company demonstrated precisely what a sound business that it has. Though it posted a fourth quarter loss that was largely attributable to the huge declines in aluminum prices, it provided investors with a favorable outlook for the global demand of the metal - particularly in aerospace and automobile markets. The news of the loss was widely expected and didn't shock anyone since (as noted) several analysts had already dropped expectations by 25%.
Its net loss was $191 million - the first loss that it has posted in over a year. For the quarter ending in December the loss registered at 18 cents a share. On a year-over-year basis it looks pretty bad when compared to the 24 cents per share it previously earned. The quarter included one-time charges of $185 million. But with its recent restructuring plans which included closing a good portion of its smelting operations, these expenses were to be expected. So if you take that out, the loss was actually considerably less.
The good thing about its report was that the bad news is now out. What investors care more about is what to expect for the coming year - and they got just that. The company's CEO, Klaus Kleinfeld, predicted that cutbacks in aluminum production will create a global deficit in aluminum supplies of about 600,000 metric tons this year. He also forecast that global aluminum demand will increase 7% in 2012. It helps that the company said its growth projection continues to be ahead of the 6.5% rate required to meet its forecast of doubling in global aluminum demand over the next decade.
When a CEO comes out and says something like this, it is hard to not take him at his word. After all, who else would know better than the person running the business? Plus it helps having that "promise" become a matter of record. CEOs don't often boast about these projections to get investors excited if they don't really believe it themselves. Not to mention the company has also been working hard to reduce expenses and move down the cost curve on the refining and smelting side of the business.
Summary
The fact of the matter is aluminum and many of its characteristics are needed in several large business productions mainly for its high strength to weight ratio as well as its ability to resist corrosion. The company is now looking to move refining costs from the thirtieth percentile in 2010, to the twenty third percentile by 2015. This is on top of its goal to increase EBITDA margins. With these clear strategies in place and sound management, it is hard to bet against a stock that is already undervalued.
Disclosure: I am long AA.