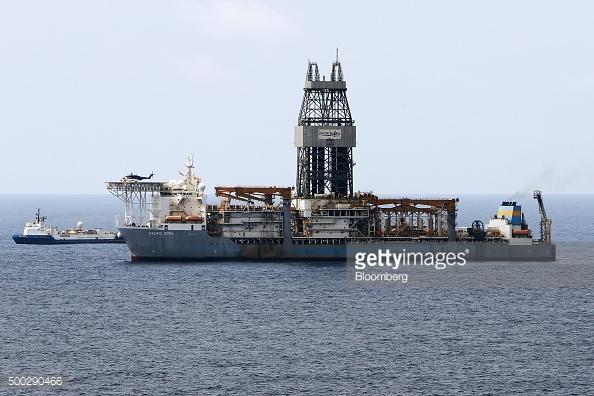 Schlumberger (NYSE:SLB) reports Q3 earnings on October 20th. Analysts expect revenue of $7.1 billion and EPS of $0.77. The revenue estimate implies flat growth Q/Q, and a 32% decline Y/Y. In Q3 2015, Schlumberger and Cameron had combined revenue of $10.4 billion. Investors should focus on the following key items:
International Could Weigh
In Q2, Schlumberger experienced a revenue decline in each region. Total revenue fell by 12% Q/Q, while total revenue from the international segment, formerly a stalwart, fell by 9%.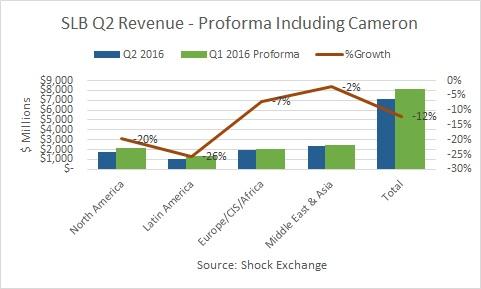 Latin America, which represents 14% of total revenue, was the worst performer. Schlumberger recently cut exposure to Venezuela due to insufficient payments from state-owned oil company PDVSA. The crisis stricken country represents about 5% of the company's total revenue, so Q3 results from Latin America could be disappointing again.
That said, oil prices rebounded sharply during the quarter due to talks of a production freeze by big oil producers. North America shale responded by increasing the rig count and increasing drilling activity. While North America equipment sales could offer hope, Schlumberger CEO Paal Kibsgaard is on record that the rebound in services revenue might not be commensurate with equipment sales. I expect Schlumberger to report positive results from North America (27%), offset by flat to declining international revenue.
Falling EBITDA Margins
At 28%-29%, Schlumberger has traditionally reported some of the highest EBITDA margins in the oil services space. Through cost-cutting it was able to maintain those margins even during the rout in oil prices. However, margins fell to 26% in Q1 2016 due to declining scale and fell to 23% after integrating the Cameron acquisition; Cameron had EBITDA margins of 18% prior to the deal. Projected cost synergies from the acquisition might have been predicated on revenue growth. I anticipate flat top line growth for Q3 and additional margin erosion.
Conclusion
Flat revenue growth and margin erosion is no reason to get bullish on SLB. I recommend that investors continue to avoid the stock.
Disclosure: I am/we are short SLB.
I wrote this article myself, and it expresses my own opinions. I am not receiving compensation for it. I have no business relationship with any company whose stock is mentioned in this article.