JPMorgan (NYSE:JPM) delivered $1.53 EPS for Q3 2016, beating by 19 cents. This solid result is driven to a large part by the investment bank (CIB) where the Markets division substantially outperformed expectations.
The below slide says it all: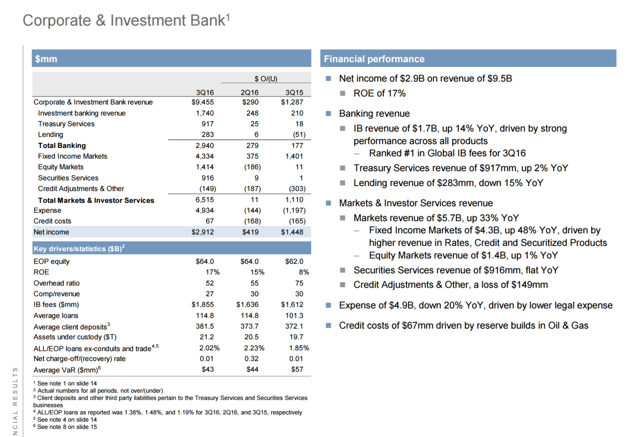 What is driving the outperformance for CIB?
Fixed Income is up 48% year on year or a staggering $1.4 billion. In the earnings call, the CFO attributed the outperformance to active markets, divergent monetary policy, rising LIBOR and U.S. interest rates expectations.
Reading the tea leaves across the industry - the big difference in this quarter has been spread products performance. A healthy primary issuance numbers and interest rates finally perking up translated to increased secondary trading volumes and margins.
Citigroup (NYSE:C) CEO Mr. Corbat commented on Q3 trading during Citi's earnings call:
On the spread products side of things, I think what you've seen here is the years progressed and we moved more towards a more likely shift towards higher rates. I think you've seen a relatively strong calendar on the debt issuance side, which always helps fuel secondary activity, and I think people are now focusing on positioning or repositioning their credit portfolios for an environment in the U.S. of higher rates. So again, we've beaten spread products down. There's some pretty low volumes and some pretty low numbers. So it's our expectation that, again, around a backdrop of a path towards slowly increasing rates and repositioning the portfolios, volumes continue to work their way back up. We don't see any big spike back up, but we expect it to continue to work its way back up.
It is all about operating leverage
JPM is the largest investment bank in the industry and the operating leverage and marginal returns in this business are huge for a flow-monster like JPM. As a point in case, Mr. Dimon just made an incremental $1.4 billion in Fixed Income with essentially the same level of equity allocated.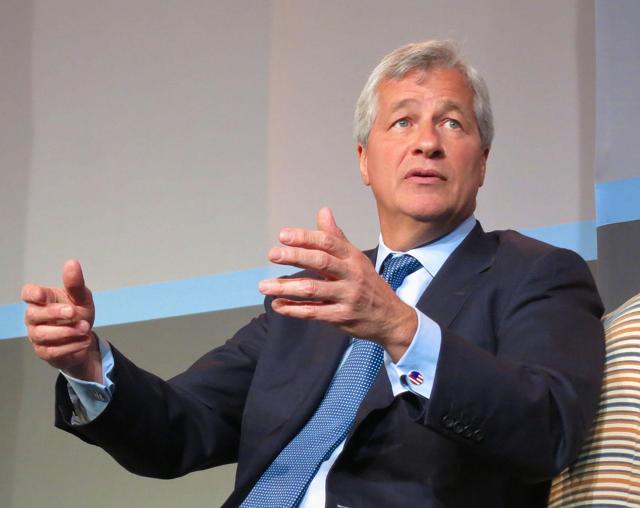 This slide from the 2016 Investors Day illustrates the marginal return profile of JPM's FICC businesses: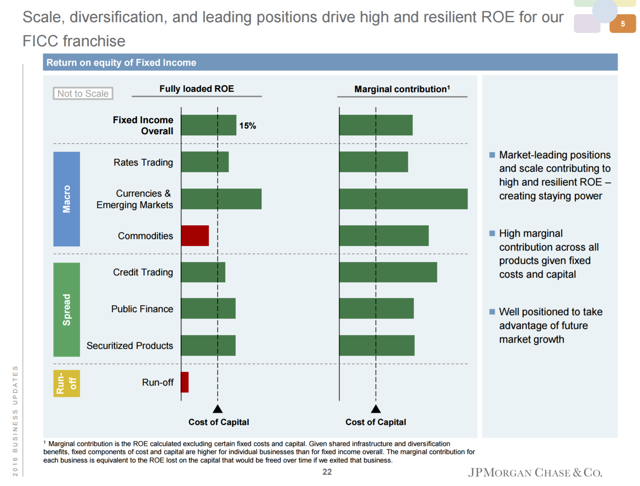 It is a pretty simple point to understand conceptually - the Markets cost base is, to a large extent, a fixed one (trading systems, infrastructure, legal and compliance). As such, the marginal cost of booking additional revenue is relatively modest. In other words, most of that revenue falls straight down to the bottom line.
The Q3 CIB Markets results clearly demonstrate the above.
The bear case for JPM
Charles Peabody, managing director at Compass Point Research, articulates quite well the bear case for JPM in a recent Bloomberg interview.
Mr. Peabody is expecting JPM to trade at the low $50s by the end of 2017 - essentially driven by normalization of credit losses and "bad volatility" in the investment bank.
I do not subscribe to Mr. Peabody's rather pessimistic view, simply because I believe there is traditionally a low correlation between Consumer and Investment Banking revenue drivers. For example, a rising interest rate environment may be challenging for consumers but are generally conducive for FICC trading.
Final thoughts
At the end of the day, this has been only one quarter of substantial FICC outperformance. One or two quarters do not make a trend. Having said that, if this pattern continues, the debate on whether the last 7 lackluster years in FICC trading are due to secular or seasonal factors may need to be resurrected.
In any case, JPM as a true scale player in this industry is in pole position to benefit from volume growth and increased margins. The next few quarters will be telling and I will certainly be tracking this market closely (so if of interest, add me as a "real follower" at the top of this article).
The next data points will be arriving next week from Bank of America (NYSE:BAC) Goldman Sachs (NYSE:GS) and Morgan Stanley (NYSE:MS) followed by their European peers Barclays (NYSE:BCS) and Deutsche Bank (NYSE:DB) scheduled to release their earnings at the end of October.
I provide quality and completely independent research on the large U.S., European, Canadian and Asian banks. I will be continuously updating developments with large U.S. and European banks; if interested in this topic, do subscribe as a "real-time follower" at the top of this article.
Disclosure: I am/we are long C, BAC.
I wrote this article myself, and it expresses my own opinions. I am not receiving compensation for it (other than from Seeking Alpha). I have no business relationship with any company whose stock is mentioned in this article.