I have been advising readers to keep cash or focus on market-neutral trades since the first week of September. Below is the conclusion from my article published on September 4.
I expect that stock prices are going to stay lower over the next few weeks. A correction like last year is very likely and would take some pressure off the current overvaluation, based on falling earnings and negative leading indicators.

-Article: S&P 500 Outlook: Things Have Changed
Since then, the market has lost about 2.7%.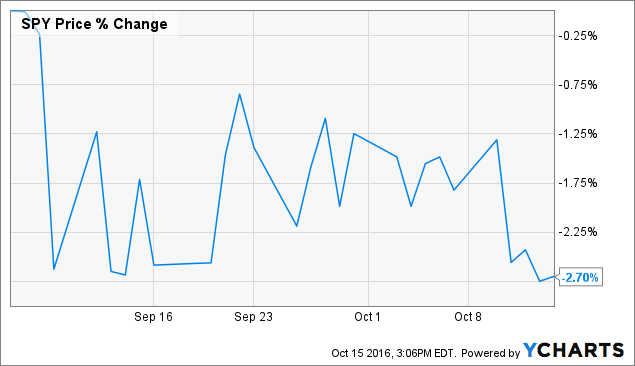 In this article, I want to update a few more indicators that I used in my articles during the last few weeks.
First of all, let's look at the ISM Manufacturing Index and the year-on-year stock market (NYSEARCA:SPY) performance. The ISM Index is a leading indicator. This means that it is leading both the economy and stocks. The ISM Index has weakened significantly since 2014. This caused much slower growth and lower stock market returns.
I expect growth to be slower in the coming months. I described this in my article titled 'Think Piece - Late Cycle Economic Growth'.
It is very unlikely that the ISM Index is going to rally. Based on current stock prices, we can conclude that the market is fairly valued. This means that the odds for both short sellers and buyers are rather low.
The two red parts of the line display the stock market performance for the month of November and December of 2016. I used the current S&P 500 price to look what the November and December year-on-year performance would look like if the market stayed at exactly this point. It turns out that the market is fairly valued if the ISM index stays below 53 this year.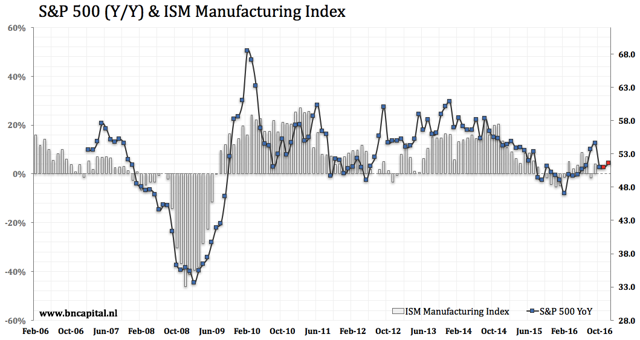 A second concern is the strong USD. The USD has hit a new 2016 high last Friday. This is not only bad for commodities, but for the market in general. A higher USD has led to increased stock market volatility as you can see below.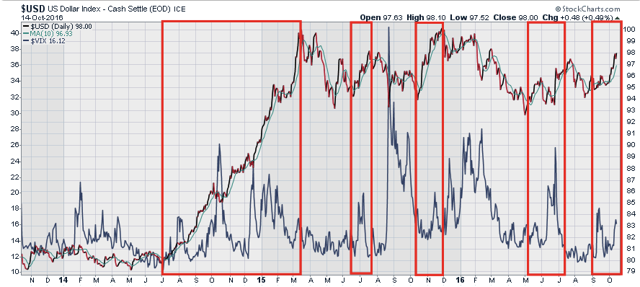 Higher volatility fits perfectly in the picture of slower growth and low stock market returns. We saw the same between 2015 and 2016. No big upside returns and a few severe sell-offs with strong rebounds.
The USD has already weakened the market breath. Currently, less than 30% of S&P 500 stocks are above their 50 day moving average. This shows that the market is extremely fragile at this point. The number of stocks keeping the S&P 500 at these levels has decreased dramatically.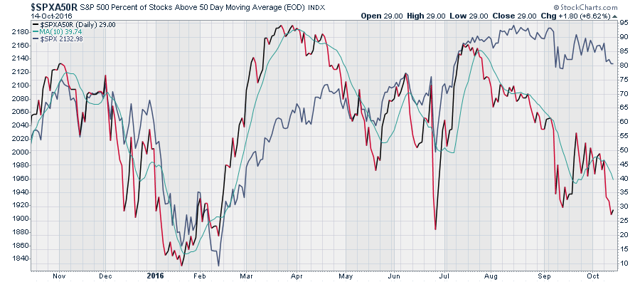 We currently see the same when we look at the number of stocks above their 200 day moving average. This index has lost strength and is currently showing weakness. The percentage of stocks above their 200 DMA is still higher than 60%. However, this index is getting some momentum to the downside. This confirms what I see in my other indicators, and is not a good sign at all.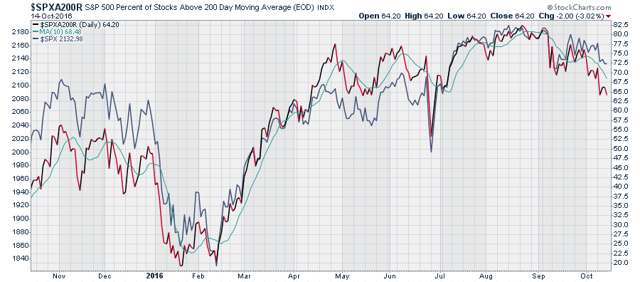 I am maintaining my advice to keep cash or trade market-neutral trades. I didn't short the market and I am not planning to do so. The odds of a successful outright long trade or short trade are too low. It is better to trade macro changes with market-neutral trades or just to wait till the market gives us a buying opportunity.
Disclosure: I/we have no positions in any stocks mentioned, and no plans to initiate any positions within the next 72 hours.
I wrote this article myself, and it expresses my own opinions. I am not receiving compensation for it (other than from Seeking Alpha). I have no business relationship with any company whose stock is mentioned in this article.