When it comes to impressive dividend growth few do it better than McDonald's (NYSE:MCD). In fact, the company just announced its 40th straight annual dividend increase, putting it on course to join the coveted ranks of the Dividend Kings in 2026.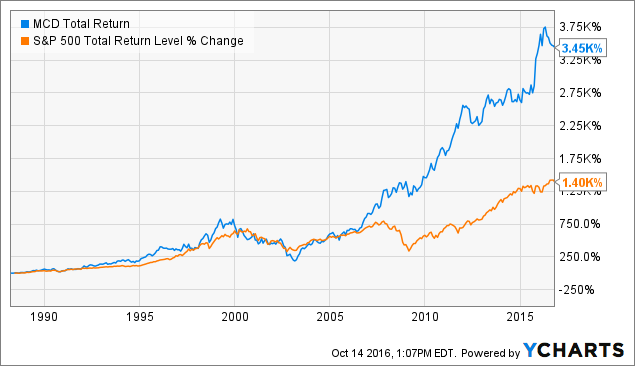 MCD Total Return Price data by YCharts
Along the way to achieving this remarkably dividend friendly status, McDonald's has made millions of long-term investors fabulously rich; growing their wealth 35.5 fold over the last 30 years.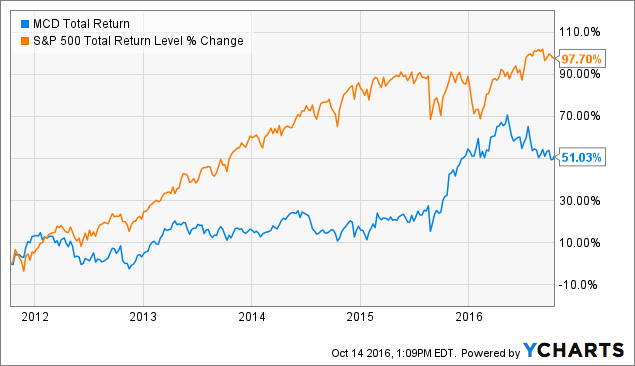 MCD Total Return Price data by YCharts
Of course, with over 36,000 global locations, and the US market now pretty much saturated, concerns over where future growth will come from have resulted in far less impressive returns over the past few years.
However, when I dig into the company's underlying business model, and consider management's plans for the future I don't see a fallen fast food giant whose best days are behind it.
Rather I see a solidly undervalued blue chip with strong long-term dividend growth prospects. Payout growth that is likely to return McDonald's to the ranks of market beating dividend stocks over the next decade.
In fact, my confidence in McDonald's investment thesis is strong enough that I plan to buy shares as soon as I can transfer money to my broker. Find out why McDonald's deserves a core holding spot in my diversified dividend portfolio, and may be worthy of a spot in yours as well.
Management is executing well on its turnaround plan
| | | | |
| --- | --- | --- | --- |
| Metric | YTD 2016 | YTD 2015 | YoY Change |
| Revenue | $12.2 billion | $12.5 billion | -2.3% |
| Net Income | $2.2 billion | $2.0 billion | 10.1% |
| EPS | $2.51 | $2.09 | 20.1% |
| FCF | $2.2 billion | $2.4 billion | -7.6% |
| FCF Margin | 18.3% | 19.3% | -5.4% |
| FCF/Share | $2.52 | $2.50 | 0.7% |
| Dividend | $1.78 | $1.70 | 4.7% |
| FCF Payout Ratio | 70.7% | 68.0% | 4.0% |
Despite falling sales, a result of McDonald's efforts to re-franchise 4,000 of its stores by the end of 2018, net income saw a nice boost, thanks to lower operating costs.
Similarly, a massive 9% reduction in share count allowed EPS, and FCF/share to grow, despite a negative tax charge related to deferred taxes resulting in a significant dip in FCF.
Meanwhile, McDonald's turnaround strategy has been paying handsome dividends. Easterbrook's vision consists of three parts:
Re-franchise almost all of its corporate stores, with an ultimate goal of 95% franchised locations which will boost margins substantially.
Continue improving menu, both in quality and quantity, while being careful to streamline it so as not to create supply chain havoc or longer service times.
Use improved technology to allow customers to customize food, improve customer service, and increase satisfaction, while boosting efficiency, and gathering valuable data on local tastes.
Thus far the strategy has been paying handsome dividends.
For example, in the latest quarter global same store sales, were up 3.1%, and McDonald's gained market share in Canada, Australia, and the UK.
Meanwhile in the US the McPick 2 value menu, and all day breakfast rollout has gone nationwide, and helped turn around US sales over the past year resulting in 1.8% same store sales growth. In fact, McDonald's has now reported four straight quarters of comps growth in all its business segments.
Now management did warn that future comps growth might be weaker, owing to the lowest hanging fruit, in terms of menu changes, having already been plucked. However, Easterbrooke is confident that McDonald's can keep its winning streak going thanks to rolling out a nationwide offering of Muffins, Biscuits, and McGriddles, which up until now have had availability limited by region.
More importantly, thanks to efforts to improve the quality of its ingredients, such as a shift to free range eggs, and sustainable beef, McDonald's brand image has greatly improved, according to Yougov's latest brand survey.
Better yet, customer satisfaction is also rising, which is vital in the cutthroat world of quick serve restaurants, where competition is rampant and only set to increase in the coming years.
Overall, I'm very impressed with management's turnaround efforts, which are making McDonald's a much stronger, and more grown up brand. This can be seen with the company experimenting with Cafes under the McCafe brand in target cities such as Toronto and Paris.
And while I don't imagine that McDonald's poses a significant threat to traditional coffee chains such as Dunkin' Donuts (NASDAQ:DNKN), or Starbucks (NASDAQ:SBUX), the fact that its premium coffees have met with such success as they have gives me confidence that McDonald's will be able to adapt its menu much faster than it has in the past.
That's especially true given its successful rollout of its Experience of the Future to over 50%, 40%, and 25% of its restaurants in Canada, the UK, and France, respectively.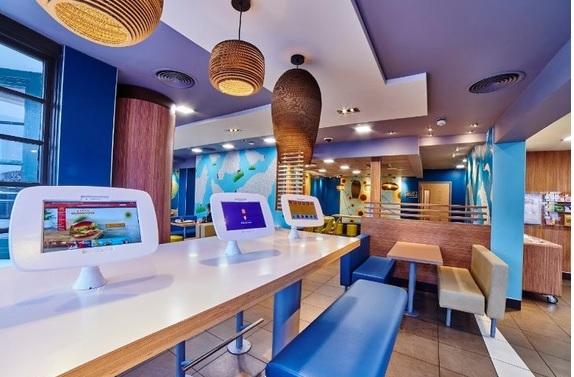 Source: SOTI
Experience of the Future, which is coming to the US eventually, has the potential to further move McDonald's brand upscale, thanks to its use of tablets to allow customers to customize food with increased accuracy.
Better yet, according to Easterbrook,
"We are seeing a good pickup in sales as we roll this out ... So we know we're onto something. We know customers respond well. And certainly, it breathes a lot of new life into our restaurants and into the brand."
In other words, Experience of the Future is just the ticket to help continue the company's turnaround in America, once the growth benefits of its menu changes have been used up.
Dividend profile remains highly favorable
| | | | | |
| --- | --- | --- | --- | --- |
| Company | Yield | TTM FCF Payout Ratio | 10 Year Projected Dividend Growth | 10 Year Projected Total Return |
| McDonald's | 3.3% | 68.8% | 7.3% | 10.6% |
| S&P 500 | 2.1% | 39.1% | 6.2% | 9.1% |
Academic studies have shown that over the long term a good rule of thumb for total returns is yield + dividend growth. This is why, rather than just look at the current yield, one needs to also consider the safety of a dividend, represented by its payout ratio, and its long-term growth prospects.
In this case analysts expect McDonald's payout growth over the next decade to be a very respectable 7.3%, which should allow it to easily beat the S&P 500's historical total return of 9.1% CAGR since 1871.
Now keep in mind that you should never simply take any forward growth projection as gospel, much less make it the sole basis of an investing decision.
That being said, in this case my own dividend growth model, based on the latest management plans, guidance, and conservative growth models, indicates that this rate of payout growth is imminently attainable.
| | |
| --- | --- |
| Post-Turnaround Sales Growth | 2025 Sales Projection |
| 3% | $30.9 billion |
| 4% | $33.1 billion |
| 5% | $35.4 billion |
Once management has finished its re-franchising, cost cutting initiative sales are likely to turn around, especially given continued growth of store count overseas. Add in slow but steady comps growth, and I think that McDonald's should be able to achieve 3% to 5% top line growth, once its short-term headwinds abate.
| | | |
| --- | --- | --- |
| 10 Year FCF Margin Growth | 2025 FCF Margin | 2025 FCF |
| 3% | 24.4% | $7.6 billion to $9.2 billion |
| 4% | 26.9% | $8.1 billion to $9.8 billion |
| 5% | 29.6% | $8.6 billion to $10.5 billion |
Since FCF is ultimately what pays for the dividend, and its growth, we need to determine a likely range for this all important metric.
Over the past 10 years McDonald's has grown its FCF margin at 3.9%, despite many years of poor execution, and ongoing troubled relations between franchise operators and the company.
If management can avoid such trouble going forward, and make good on its planned re-franchising of 4,000 locations by the end of 2018, then I expect the company should be able to continue to improve this important margin.
The 5% "best case scenario" comes from the potential for continued innovation, via automation, and more consumer personalization experiments, to allow the company to gather data about local customer tastes. This would allow more efficient menu, and supply chain optimization.
| | | |
| --- | --- | --- |
| Net Share Buyback Rate | 2025 Share Count | 2025 FCF/Share |
| 1% | 819.4 million | $9.28 to $12.81 |
| 2% | 740.3 million | $10.27 to $14.18 |
| 3% | 668.1 million | $11.38 to $15.72 |
Over the past five, 10, and 31 years McDonald's has reduced its share count at a CAGR of 1.9%, 3.2%, and 2.0%, respectively.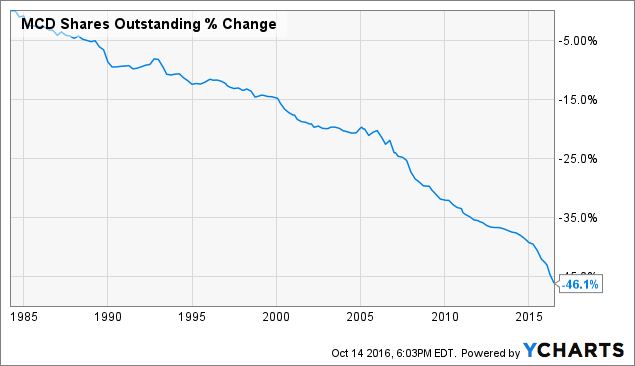 MCD Shares Outstanding data by YCharts
This reduction in share count not just benefits investors because it means they own a larger stake in the company, but it also: helps fuel FCF/share growth, reducing the payout ratio, and allowing faster, longer, and more secure dividend growth.
In order to determine a realistic range of potential dividend payouts in 2025 we need to determine a reasonable range of FCF payout ratios. This means ones that are within the company's historic payout ratio range, and provides sufficient excess FCF to allow the company to invest in future growth initiatives, and continuing buybacks.


Source: Simply Safe Dividends
For my model I used a range of 60% to 80%.
| | | | | |
| --- | --- | --- | --- | --- |
| 2025 FCF Payout Ratio | 2025 Dividend | 9 Year Dividend CAGR | 9 Year Projected Total Return | Yield On Today's Cost ($114.62) |
| 60% | $5.57 to $9.43 | 4.5% to 10.8% | 7.8% to 14.1% | 4.9% to 8.2% |
| 70% | $6.50 to $11.00 | 6.3% to 12.7% | 9.9% to 16.0% | 5.7% to 9.6% |
| 80% | $7.42 to $12.58 | 7.9% to 14.4% | 11.2% to 17.7% | 6.5% to 11.0% |
Now of course making long-term growth assumptions across so many variables means getting a wide range of potential outcomes.
However, what my model makes clear is that the current analyst consensus of 7.3% is well within the bounds of what McDonald's current growth plan should be able to accomplish.
That being said, here is what I think is the most likely outcome for McDonald's future dividend growth.
| | |
| --- | --- |
| Metric | My Expectations |
| Post-Turnaround Sales Growth | 4% |
| FCF Margin Growth | 4% |
| Net Share Buyback Rate | 2% |
| 2025 FCF/Share | $12.03 |
| 2025 FCF Payout Ratio | 70% |
| 2025 Dividend | $8.42 |
| 9 Year Dividend CAGR | 9.4% |
| 9 Year Projected Total Return | 12.7% |
| Yield On Today's Cost | 7.3% |
What's remarkable here is not just that McDonald's has a good chance of continuing to be a great blue chip dividend growth stock, but it could even achieve similar returns to the 12.6% CAGR total return it's delivered over the past 30 years.
In other words, McDonald's best days might very well still lie ahead of it.
Valuation: McDonald's remains a solid buy at today's price
| | | | | | | |
| --- | --- | --- | --- | --- | --- | --- |
| Yield | 5 Year Avg Yield | P/OE | Historical P/OE | P/CFO | Historical P/CFO | Average Historical Premium |
| 3.3% | 3.1% | 21.2 | 19.2 | 16.3 | 13.1 | 9.5% |
If you compare McDonald's yield, price to operating earnings, and price to operating cash flow, to its historic norms then the shares do appear somewhat over priced.
However, when you consider the improvements management is making, and the potential boost to its future sales, earnings, and cash flow growth, things look a bit different.
| | | | | |
| --- | --- | --- | --- | --- |
| Morningstar Fair Value Estimate | Current Price | Sell Price | Discount To Fair Value | Distance To Sell Price |
| $128 | $114.62 | $172.80 | 10.5% | 50.8% |
When it comes to five year intrinsic value approximations I consider Morningstar's (NASDAQ:MORN) fair value estimate the gold standard due to its analysts' emphasis on long-term fundamentals, and conservative growth assumptions.
In this case analyst R.J. Hottovy's valuation model takes into account the company's wide moat, courtesy of its strong brand, consistent customer experience, and immense economies of scale.
And while Morningstar doesn't expect much in terms of short-term top line growth, courtesy of the strong dollar, and the ongoing re-franchising efforts, in the long-term Mr. Hottovy's expectation of 3% to 5% sales growth agrees with my own model.
Similarly, Morningstar expects ongoing margin improvements, both due to the shift towards 95% franchised restaurants, as well as numerous innovations the company is currently testing, especially in the realm of automation, such as in the "Experience of the Future" rollout.
These changes should allow McDonald's to not just speed up, and improve the reliability of service, but allow more personalization.
More importantly, such innovations leave much opportunity to further gather data, allowing McDonald's to better tailor its menu to regional, and national tastes, without disrupting its legendarily efficient supply chain.
In other words, more automation + more data is likely to equal ever more efficient, faster, and better service. Not just is that likely to help keep comps positive going forward (as will the use of higher-quality ingredients), but it should help boost margins even more. In fact, Hottovy thinks that McDonald's operating margins will reach around 45% over the next 10 years; an impressive 50% increase.
This also parallels nicely with my expected 48% increase in FCF margin, which is the key to the rising cash flow that will allow further strong, and sustainable dividend growth.
However, by no means is Morningstar unaware of the challenges facing the company in the short term. Specifically, Hottovy cut his fair value estimate from $130 to $128 based on the expected weak comps in the coming quarters. That's due to the lack of short-term growth catalysts in the US, now that the very popular McPick 2 Value menu, and all day breakfast menu has been rolled out nationwide.
While I highly respect and agree with Morningstar's assessment of McDonald's long-term potential, I think the stock may be more undervalued than Hottovy realizes.
At least that's my assessment based on my definition of fair value, which is the price at which a stock is likely to beat the market's historical return.
That's because no single stock, no matter how high-quality will ever be as safe as owning a low cost S&P 500 index like Vanguard's S&P 500 ETF (NYSEARCA:VOO). Which means that we need at least some kind of risk premium to take on the extra risk of investing in a company.
| | | | |
| --- | --- | --- | --- |
| 10 Year Dividend Growth Expectation | Yield Needed To Beat Market | Implied Fair Value | Discount To Fair Value |
| 5% | 4.2% | $89.52 | -28.0% |
| 6% | 3.2% | $117.50 | 2.5% |
| 7% | 2.2% | $170.91 | 32.9% |
As you can see, under this valuation method, the fair value of a dividend growth stock is primarily based on the long-term payout growth one thinks is likely.
Using a 6% expectation, the latest increase just announced, the stock is about fair value right now. This implies that you can expect to beat the market, or at least keep up with it. And given that McDonald's has a beta of 0.61, meaning it's 39% less volatile than the market at large, this implies that its risk adjusted return expectations are excellent.
However, if, like me, you think that McDonald's can achieve stronger growth, along the lines of 7% or more, then the stock becomes a screaming buy at today's price.
Risks to keep in mind
There are three main risks that threaten to derail McDonald's long-term thesis.
The first is the most obvious; competition from healthier, and or fast casual restaurants such as Panera Bread (NASDAQ:PNRA), and Chipotle (NYSE:CMG). Part of this is from the simple fact that McDonald's conquered America in a time when there was far less competition from other chains.
In addition, the growth potential they face overseas could run into cultural differences, specifically that the growing middle, and upper classes of China, India, and other emerging markets may not have the same taste for its core menu.
Now so far this hasn't proven true, given McDonald's success overseas, especially Japan, where comps were up 7% last quarter. Similarly, Yum Brands (NYSE:YUM) prior to the KFC chicken scandal in China, was growing like a weed because Chinese consumers considered KFC "high end" cuisine.
However, there is always the risk, both here and abroad, that the growing global obesity epidemic will end up harming the brand's ability to achieve the same long-term growth in developing markets as it enjoyed in the US in the '60s, '70s, and '80s.
The second risk is to the turnaround plan itself. Specifically the company's goal of essentially becoming an all franchise, high-margin, FCF minting machine.
For example, according to a survey conducted in 2015 of the 3,000 or so franchise operators of McDonald's 14,350 US locations, relations between McDonald's and its franchisees are at a 12 year low.
The problem is that the kind of changes that Steve Easterbrook is trying to make, things like larger, healthier menus, improved restaurants, and automation leading to faster, better customer service, ends up coming out of franchise operator profits.
As Richard Adams, an advisor to franchise operators puts it:
"They don't work for him, and he can't order them around...For him to get anything done, he needs franchisee cooperation."
This shows the kind of challenge that McDonald's will face trying to evolve into a more competitive, and once more fast growing global chain. Because the kinds of improvements that corporate wants to make to attract and retain customers, such as larger menus, can also end up harming service times, resulting in lost sales.
Don Boodel, a former franchisee owner in Colorado explains:
"If more of the corporate people would take their lunch hour and work the line and in the kitchen, we wouldn't be in the position we're in today...They kept repeating themselves in expanding the menu; we knew this was only making the problem worse."
Thankfully management's focus on a more streamlined menu should help to smooth over relations a bit between the company and its franchisees.
Similarly, many operators were furious when Easterbrook announced that all corporate owned stores would pay workers $1 above minimum wage. This made a lot of operators feel as if corporate was siding against them, at a time when thousands of protesters were demanding they pay employees $15 per hour.
In other words, Easterbrook's turnaround plan, which calls for lifting the proportion of franchise operated stores by 4,000, might potentially boost margins. BUT it will also mean that the company has less control over how its stores operate, limiting its future flexibility in an increasingly cutthroat business where competition will only get worse over time.
Finally, we can't forget the ever present risk of rising interest rates.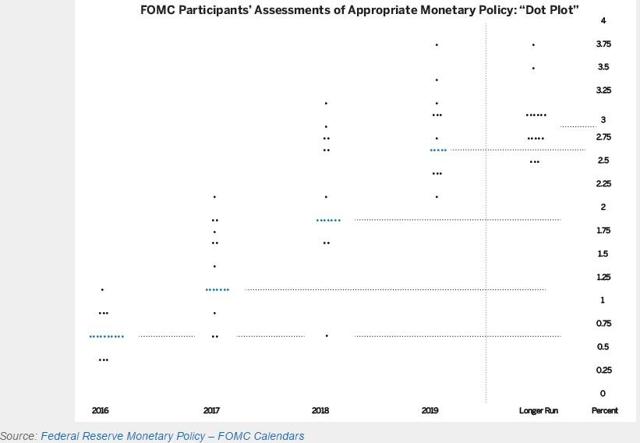 Not only does the Fed's plan to raise rates by 2.75% over the next few years mean potentially higher interest costs for the company, but we can't forget the most important threat higher rates pose to McDonald's: an increasingly stronger dollar.
In its most recent quarter the strong dollar only dinged sales, profits, and cash flow by 3%. But as McDonald's continues to expand overseas, (international restaurants make up 62.5% of current operating profits), its foreign currency risk will only grow.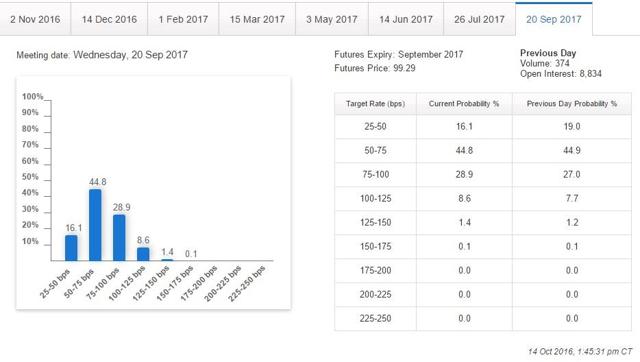 Source: CME Group
Now, there's always a chance that the economy won't be strong enough to endure that kind of rise in rates. After all, the financial markets are currently putting the probability of future rate hikes through September of 2017 at:
At least 1: 83.9%
At least 2: 39.1%
At least 3: 10.2%
At least 4: 1.6%
At least 5: 0.1%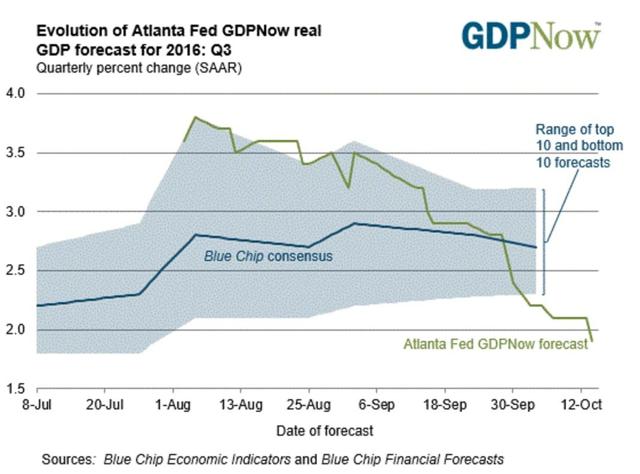 In fact, the futures markets are currently calling for a single increase in December of 2016, and then nothing through September. That's most likely due to weakening economic data over the last few months.
However, even that single 25 basis point increase, in the face of negative interest rates around the globe, could strengthen the dollar enough to hit McDonald's cash flow by another few percentage points.
In other words, rising US rates could mean ever greater growth headwinds in the future.
Bottom line: The king of fast food is adapting to a changing world, and likely to continue rewarding dividend lovers for decades to come.
Despite the threats of mounting fast casual competition, and America's obesity epidemic making it an easy political target, I've been very impressed with how the company has adapted in recent years.
Improved, and more upscale stores, healthier, higher-quality food options, and a shift towards an all franchise model should help to continue to drive moderate top line growth in the coming years. Meanwhile, cost cutting efforts, and the higher-margin business model, combined with ongoing buybacks should result in solid FCF/share growth that will allow continued payout hikes at a rate that should result in very impressive total returns indeed.
Disclosure: I/we have no positions in any stocks mentioned, but may initiate a long position in MCD over the next 72 hours.
I wrote this article myself, and it expresses my own opinions. I am not receiving compensation for it (other than from Seeking Alpha). I have no business relationship with any company whose stock is mentioned in this article.