We all know that bank stocks have not been great performers in 2016. Most big banks continue to sell for way below accounting book value, and, frankly, I don't expect this to change in a meaningful way any time soon. However, this does not mean that investors with a long breath can't make any money here. In fact, I think, the reward-to-risk ratios for large banks are quite compelling at today's valuation levels, and, so far, earnings season is shaping up real nice.
Wells Fargo (NYSE:WFC) was among a group of big banks that recently kicked off earnings season, and the bank appears to be in a good position to grow earnings in the future, especially if the Federal Reserve pulls the interest rate trigger.
The last time I covered Wells Fargo was in July, just after the bank released results for the 2nd financial quarter. In my article entitled "Buy Wells Fargo, Plain And Simple", I drew attention to the fact that the bank profited from strong growth in its consumer and commercial loan portfolios.
I had this to say at the end of my article:
Though profits declined slightly Y/Y, Warren Buffett's favorite bank saw continued strong growth in its loan portfolio, which underpins Wells Fargo's investment value. Wells Fargo has done a great job for shareholders during/after the Great Recession, returning to growth quickly, and making the right capital decisions, including consistent dividend growth. As a result, Wells Fargo is one of the most expensive Wall Street banks, and for good reason. Buy for income and capital appreciation.
What was true then, is still true today.
Wells Fargo continues to see strong Y/Y loan growth in its commercial & industrial, credit card, and commercial real estate portfolios.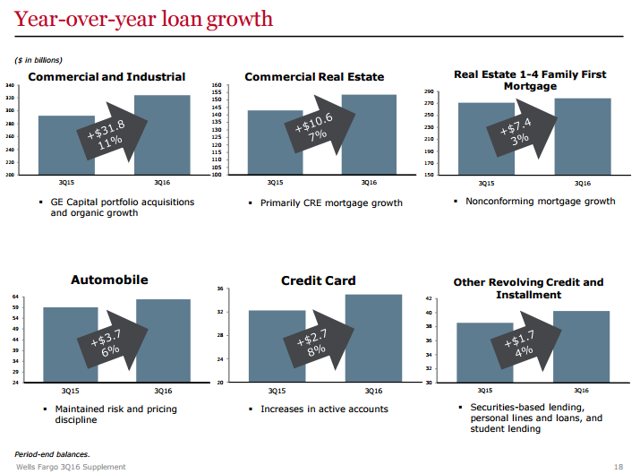 Source: Wells Fargo
'Fake Account' Scandal Distracts From Real Investment Value
Wells Fargo is one of the most expensive banking stocks in the sector. However, this year the stock has been battered due to Wells Fargo's 'fake customer account' scandal, which obviously has had a real negative impact on the stock. Year-to-date, Wells Fargo's shares have cratered ~15 percent.
See for yourself: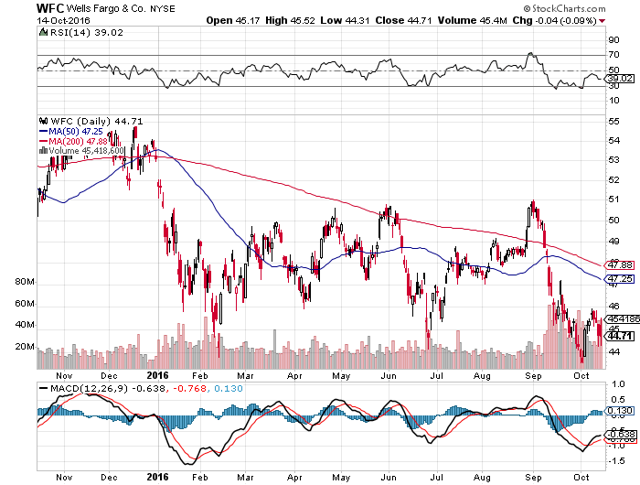 Source: StockCharts.com
That being said, though, Wells Fargo may have gotten clobbered a little too hard here, and investors may have lost the perspective on Wells Fargo, too.
Besides robust long growth underpinning Wells Fargo's investment value, the bank, on a forward earnings basis, has become quite affordable lately thanks to the scandal-induced sell-off. Today, shares of Wells Fargo are changing hands for less than eleven times next year's earnings. And also: Wells Fargo's 3rd quarter results saw a rebound in earnings, hitting $1.03/share (last quarter: $1.01/share), and the bank beat the consensus earnings estimate of $1.01/share, too.
As far as I am concerned, the reward-to-risk equation at ~$45 looks appealing.
Your Takeaway
Everyone talks about Wells Fargo's fake customer account scandal, and that can be expected to weigh on the bank for a while. Litigation costs and fines can also be expected to have in impact on the bank's financial statements in future quarters. That being said, though, I think investors can't do much wrong buying a bank as resilient and successful as Wells Fargo for less than eleven times next year's earnings. Buy for income and capital appreciation.
If you like to read more of my articles, and like to be kept up to date with the companies I cover, I kindly ask you that you scroll to the top of this page and click 'follow'. I am largely investing in dividend paying stocks, but also venture out occasionally and cover special situations that offer appealing reward-to-risk ratios and have potential for significant capital appreciation. Above all, my immediate investment goal is to achieve financial independence.
Disclosure: I/we have no positions in any stocks mentioned, and no plans to initiate any positions within the next 72 hours.
I wrote this article myself, and it expresses my own opinions. I am not receiving compensation for it (other than from Seeking Alpha). I have no business relationship with any company whose stock is mentioned in this article.