Betting on earnings is not always a good idea. It can be more like gambling than investing because a strong, long-term thesis will not always materialize in the quarterly earnings report.
Valeant (NYSE:VRX) short-sellers have enjoyed a profitable October and there is evidence earnings will disappoint. However, is short-selling VRX before earnings a good way to bet? Perhaps, investors should take this opportunity to step back. Too much bad news may already be priced into the stock.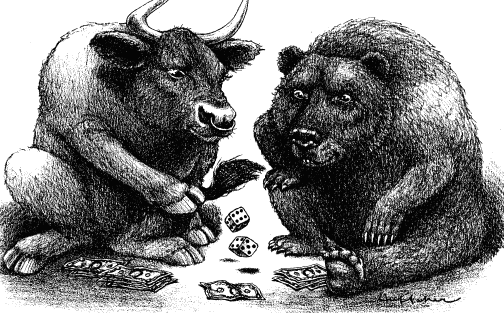 Source:howthemarketworks.com
Background.
There is evidence that Valeant will disappoint investors when third-quarter earnings are released.
According to a Bloomberg Intelligence report, Valeant's prescription drug business is still showing signs of weakness; not an acceptable outcome in light of all the pressure the firm faces from its massive debt load and the threat of regulation.
1. According to the report, sales in ophthalmology have fallen 6% in the third quarter.
2. Dermatology is down 1%. This is bad, but still better than the $461 million to $208 million drop the firm endured in the second quarter of 2016.
3. The report suggests gastrointestinal drugs sales have increased 2% in the third quarter. Xifaxan, Valeant's flagship drug, is up 2%.
There is some good news and some bad news here, but overall this report paints a bland picture for Valeant.
Investors must also remember that the firm has precedent for disappointing in the earnings department. Valeant has missed expectations for both the first and second quarters of 2016 and is not on track to meet its annual guidance; the third quarter seems unlikely to buck this trend.

Source: Bloomberg Gadfly
Prediction.
The evidence suggests Valeant will miss earnings and may suffer another guidance cut; this would most likely push shares below $20.00
However, this is speculative and not guaranteed; earnings may be a good time to step back and analyze the company's long term prospects without risking any money.
If total debt grows while FCF falls, bankruptcy is still on the table. There is a great deal of potential for short sellers over the long-term.
Recommendation.
As a prolific Valeant bear, my recommendation may be surprising; I do not suggest shorting Valeant before earnings.
Market sentiment on VRX is already too bearish, and the stock has shed so much value in the past weeks that further downside potential is limited.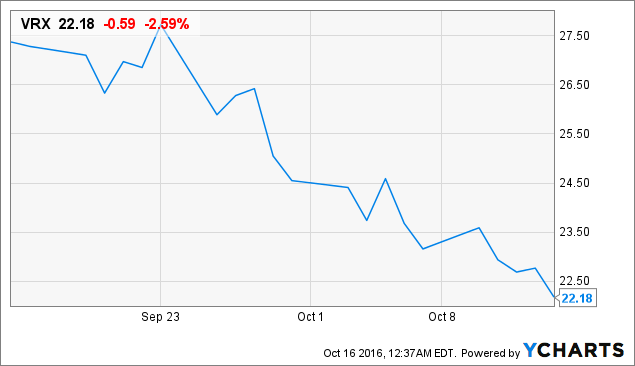 While I certainly expect a weak third quarter earnings result, I believe much of the bad news will already be priced into the stock. For this reason, betting on further losses is too risky to justify the potential reward.
I maintain my long-term bearish thesis and expect the stock to go below $20 at some point; however, this will most likely be due to regulations destroying the firm's pricing power in 2017.
Disclosure: I/we have no positions in any stocks mentioned, but may initiate a short position in VRX over the next 72 hours.
I wrote this article myself, and it expresses my own opinions. I am not receiving compensation for it (other than from Seeking Alpha). I have no business relationship with any company whose stock is mentioned in this article.