VTech (OTCPK:VTKLF) is being challenged on many fronts.
After having bought Leapfrog for a song, VTech felt that there was nothing that could threaten them in the Learning Space. They had a virtual monopoly because Leapfrog had been their only real competitor. The company is now learning that things may not be quite that simple after all.
The first challenge comes from no lesser body than the British CMA - Competition and Markets Authority. The CMA is a U.K. government department responsible for strengthening business competition and preventing and reducing anti-competitive activities. Internationally, the CMA promotes enforcement co-operation, working with its counterparts in other EU countries. In other words, whilst being a U.K. entity, its influence is felt throughout the European Union at least as long as Great Britain is a member.
The CMA found that the merger between the two companies "has resulted, or may be expected to result, in a substantial lessening of competition within a market or markets in the United Kingdom for goods or services, including in relation to the supply of toddler electronic learning toys, child laptops/tablets and child electronic reading systems in the UK."
On September 8, the U.K. CMA ruled that until their investigation is completed, VTech and Leapfrog must be maintained as completely separate businesses and VTech may not in any way integrate the two nor dispose of any LF assets. There is at this point no date set for completion of the CMA investigation. In other words, the merger is "on hold" at least as far as the European Union is concerned. Considering that Europe, including the U.K., accounts for approximately 40% of Vtech/Leapfrog's worldwide learning business, the CMA action could have a very major impact on the company's long-term strategy.
There is little question that the CMA's contention of competition between the two companies is accurate. This is how the shelf space occupied by them at Target, ToysRUs and Wal-Mart in the U.S. looks like: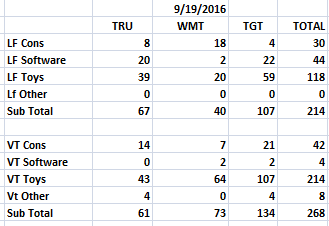 Source: Klosters Retailer Panel
The situation in the U.K. is very similar. In fact, the two companies are now literally neck-to-neck in terms of market share and shelf space which leaves VTech in a very tough place. They cannot achieve one major benefit of the merger - cost synergies by cutting out duplication. Equally, they have to continue promoting both brands lest a third-party competitor, e.g. Mattel or Spin Master, moves into the resulting vacuum.
At the same time, the merger has alarmed the national buyers at the leading retailers who viewed the emerging monopoly in a key toy category as a direct threat to their own leverage - they saw negotiating power shifting from them to the VTech/Leapfrog entity. As a countermeasure they encouraged other companies to enter the learning toy field - notably Fisher Price's (NASDAQ:MAT) Think&Learn range and Spin Master's (TOY.TO) Paw Patrol tablets.
The U.S. shelf space metrics tell the story: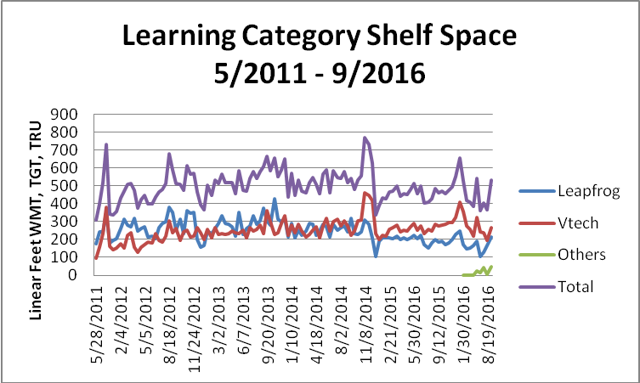 Source: Klosters Retailer Panel
At this point, Vtech dominates the Learning Space both in terms of shelf space as well as far as consumer perception is concerned. However, Spin Master's Paw Patrol has been particularly successful in penetrating the Learning space. The brand now has the #1 sales rank at ToysRUs U.S., Amazon Mexico and ToysRUs Hong Kong [where the brand is sold by VTech]. It is also #2 at ASDA U.K. In fact, in terms of consumer interest, as measured by TickerTags, Paw Patrol beats both VTech and Leapfrog handily: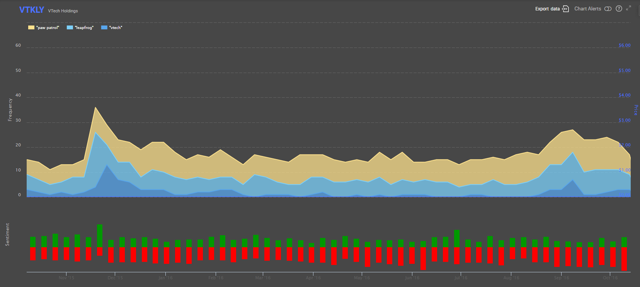 Source: TickerTags
Fisher Price, too, is making progress - LaughNLearn is now #2 at ToysRUs Spain and #5 at Amazon Mexico. More importantly, the company is now gearing up to enter the Learning space in earnest. Yet, the company has yet to make an impact on social media as far as their stake in the learning space is concerned.
However, Fisher Price is trying to change this. One program to this end is the Fisher-Price Think-a-Thon program first hosted on September 28 in Los Angeles and presented by Mayim Bialik, the noted actress and neuroscientist. This and future events are designed to demonstrate that the Think&Learn toys can combine fun playtime with acquiring skills necessary for future development. This program is expected to be rolled out countrywide and is designed to build the educational credentials necessary for a successful entry into the learning space.
The second step taken by Mattel to gain share in the Learning space is the forthcoming release of the Nabi tablets. Nabi's original creator was the incredibly successful FUHU company - successful, that is, for three years. With sales at $196 million the company had captured the #1 position on Inc. 500 list of the fastest-growing American private companies in both 2013 and 2014 - a success story driven by the Nabi tablet. However, the company fell off a cliff in 2015 because its main supplier, Foxconn, yanked the plug on shipments because Fuhu was not paying its bills. Mattel bought bankrupt Fuhu early this year for next to nothing and is now poised to enter the Learning Space with the updated Nabi tablet.
Whatever the case may be, we can safely assume that VTech will find a way to ride out the CMA conundrum facing it and we can also assume that the Mattels and Spin Masters of this world will continue on their quest to grab a share of the pie. However, there are also fundamental questions not so far considered but which have a major influence on the long-term success of VTech - do electronic learning products have a real positive influence on the children exposed to them and what is the company's long-term sales outlook in the face of demographic changes?
The first one is the basic utility of electronic learning products as opposed to traditional non-electronic toys - do they help the children for whom they are intended?
In December 2015, the highly respected Journal of the American Medical Association published an article which suggested that Electronic toys may not help language learning for young children. This assertion was based on a study conducted by Anna V. Sosa, associate professor in communication sciences and disorders and director of the Northern Arizona State University's child speech and language laboratory. She discovered parent-infant conversation takes a significant dip when using electronic toys compared to traditional toys or books. Her findings are summarized in the chart below: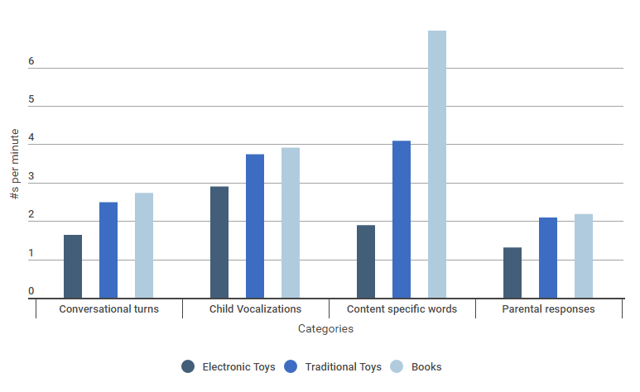 - Conversational turns = an utterance by either the parent or the infant that occurred within five seconds of an utterance by the other speaker
- Child vocalizations = an utterance consisting of, at minimum, a voiced vowel
- Content-specific words = a word produced by the parent that was in a category that the toys were selected to elicit
- Parental responses = a response by the parent that occurred within 5 seconds of an immediately preceding child vocalization.
Hers is not the only study that suggests that Electronic Learning Products may not be quite as beneficial for the child as claimed. More than that - the parents would over time also have noticed that the child did not develop in quite the way they had hoped and word of mouth would have done the rest.
It is hence interesting to see what happened to the category in sales terms: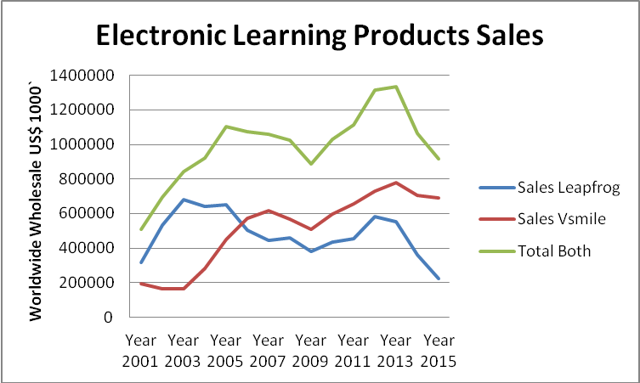 Source: Klosters Retailer Panel
After a decade of rapid growth, the Electronic Learning category plateaued in 2012 and then fell off a cliff. While the 2008 recession undoubtedly played a role, the timing of the decline suggests that its impact was minor. It is much more likely that more fundamental factors were involved - such as consumer dissatisfaction with the product category overall.
Equally importantly, population growth, or its absence, was and is a major driver - no population growth = no increase in number of children = no growth in sales. Since North America and Europe constitute more than 90% of the Learning Product sales of the two companies, it is interesting to see what the population dynamics are there: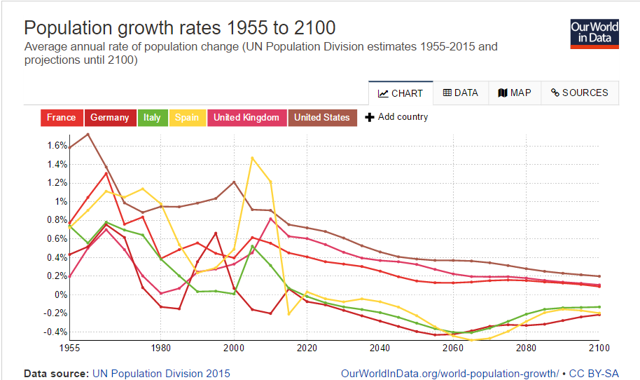 This chart tells us that population growth rates took a nosedive in the U.S. and the major European countries in 2010 and continued from there with a projected flattening only occurring in 2060.
Whilst one could argue that these are problems facing all other toy companies, this is in fact not the case. Firstly, they do not have the CMA threatening to derail their corporate strategy. Secondly, their product raison d'être is not in question - traditional toys are there for entertainment and play and not for anything else. Thirdly, whilst the majority of their sales are still made in North America and Europe, most large toy companies have made great strides in penetrating markets such as Latin America, Asia and the Middle East and Africa.
In the specific case of VTech and Leapfrog, they have very little room to manoeuvre as far as the CMA issue is concerned and they will simply have to wait and see how the chips fall. However, the other two problems are in their case real, intertwined and solvable. They have to close the gap between product promise and performance before they can forcefully and credibly move into markets where they are now not present.
One of my contacts, a very senior executive at a major retailer, put it very succinctly. He said that "VTech and Leapfrog should go back to the drawing board and develop a product that in fact keeps the promises they have made to the consumers - to provide educational benefits that are real and measurable. If they cannot do this, they should concentrate on developing regular toys with educational overtones - products that help the child develop skills rather than trying to educate it." In other words, go down the Think&Learn route rather than the Leappad avenue.
VTech has faced and solved major challenges before and they will again this time. Their management is probably one of the best amongst the larger toy companies and it will be interesting to see how they are going to address these three issues over the months and years to come.
.
Disclosure: I/we have no positions in any stocks mentioned, and no plans to initiate any positions within the next 72 hours.
I wrote this article myself, and it expresses my own opinions. I am not receiving compensation for it (other than from Seeking Alpha). I have no business relationship with any company whose stock is mentioned in this article.
Editor's Note: This article discusses one or more securities that do not trade on a major U.S. exchange. Please be aware of the risks associated with these stocks.