This article will be about industrial metal companies and miners. I will show you what I am looking for when I analyze these cyclical companies. My method is applicable to two major ETFs. The first one is the SPDR S&P Metals And Mining ETF (NYSEARCA:XME). The second one is the VanEck Vectors Steel ETF (NYSEARCA:SLX).
In fact, we are talking about extremely cyclical companies like AK Steel (NYSE:AKS), Vale SA (NYSE:VALE), Nucor Corp. (NYSE:NUE), Arcelor Mittal (NYSE:AM), Rio Tinto (NYSE:RIO) and Consol Energy (NYSE:CNX).
First, let me show you the ISM Manufacturing outlook for the mining industry. This indicator is leading and tells us what is about to happen. Just like the official ISM Manufacturing Index. In this case, however, we are talking about one industry in particular: the mining industry.
The numbers you are about to see show relative strength. Values close to -1 mean that the industry is among the industries with the worst contraction. Values close to 1 mean the opposite.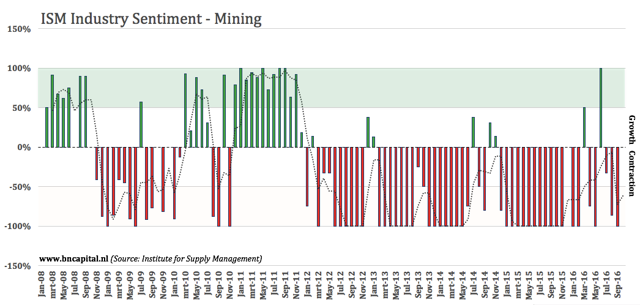 What we are seeing above is an example of an industry that had tremendous growth after the recession of 2008. If there is one place to be after a recession, it is definitely the mining industry.
After 2011, we saw a total and utter collapse. There is absolutely no doubt that this industry has been the worst performer since 2011.
In 2011, two things happened. First of all, the USD bottomed, which put pressure on commodities. If you are not familiar with the USD/commodity correlation, just think about the fact that commodities are priced in USD. A higher USD means that commodities are getting more expensive for non-USD importing countries. This pushes prices lower. To get a correlation, we must use an inverted scale for the USD.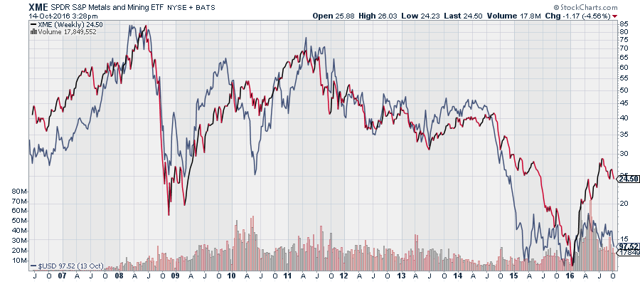 As you can see, the USD bottom and XME top happened at the same time. The USD rally in 2014 had an even bigger impact. Miners completely imploded until they bottomed in 2016.
Now, let's look at the economy. I always use the ISM Manufacturing Index to display economic activity. This index is leading and tells us exactly what is going to happen.
If you want to know more about economic indicators and the importance to distinguish between leading and 'other' indicators, please read my blog about this very topic, United States Economic Indicator Overview.
The graph below shows that metals and mining companies reacted heavily to economic changes - despite being in a multi-year downtrend.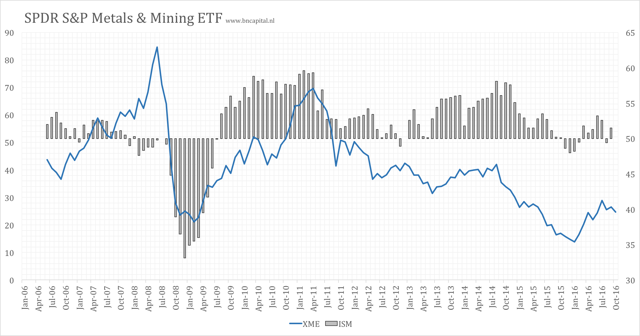 ISM uptrends have pushed mining stocks much higher. In 2013 and 2014, mining stocks rallied almost 40%. The 'bad' news is that mining stocks also react when the economy is cooling down. 2011 has been such a year. 2014 showed the same pattern. The economy declined along with a much stronger dollar. XME declined more than 70% between Q3 of 2014 and Q1 of 2016.
Industrial production of metal ore mining confirms the ISM outlook. You can see how metal ore production is reacting. A strong economy means much higher metal ore production while a small economic decline results in severe production cuts.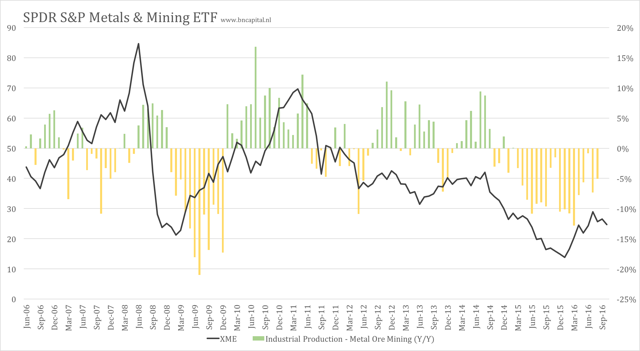 When it comes to the current situation, I can tell you that both the USD and the economic growth part of my research are telling me to avoid miners. The USD has gained some serious momentum after breaking out and has reached a new YTD (year to date) high. In addition to that, we see that the economy is slowing.
Please read my article about the late-cycle stage of the economy if you are interested to know why we are currently dealing with low growth.
I placed the following trade on my watchlist this week: long Industrial Select Sector SPDR ETF (NYSEARCA:XLI) versus short SPDR S&P Metals And Mining ETF. This trade is based on the fact that miners are very unlikely to outperform other industrial companies under the current circumstances. This trade makes money if XLI outperforms XME. It loses money if XLI underperforms XME.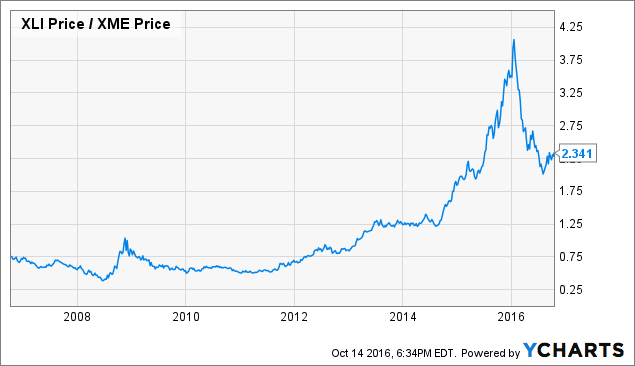 Fundamental Chart data by YCharts
I also like the timing of this trade and think that the ratio spread is going back to 2.9 rather sooner than later. Please keep in mind that this trade is extremely volatile and risky. Shorting any stock, in particular mining companies, is a big risk. I do not encourage anyone to follow my lead on this trade. Think for yourself and use this article as a guideline when it comes to fundamental analysis.
Thank you for reading my article. I hope you enjoyed the combination of education and a fundamental outlook. Please leave a comment if you have questions or remarks/opinions.
Disclosure: I/we have no positions in any stocks mentioned, and no plans to initiate any positions within the next 72 hours.
I wrote this article myself, and it expresses my own opinions. I am not receiving compensation for it (other than from Seeking Alpha). I have no business relationship with any company whose stock is mentioned in this article.