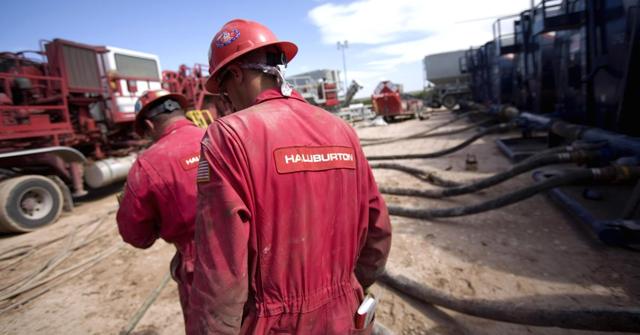 Halliburton (NYSE:HAL) reports Q3 earnings on October 19th. Analysts expect revenue of $3.89 billion and EPS of -$0.07. Estimates imply flat growth sequentially and a 34% decline Y/Y. Investors should focus on the following items heading into the quarter.
Have Animal Spirits Returned To North America?
Q2 2016 was another dismal quarter for Halliburton. Total revenue fell by 9% while revenue from North America, the company's largest region, was off 15%.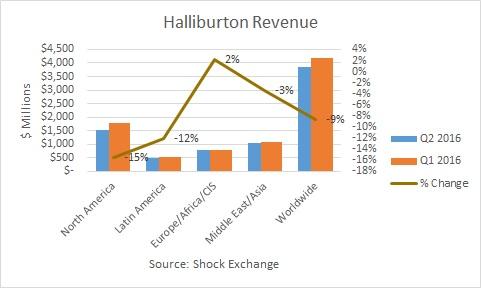 Talks of an oil freeze by major oil producers have sent oil prices near $50. Whether production cuts will actually occur remains to be seen. Nonetheless, shale oil plays have started stilling again and that is good of Halliburton. During the Q2 earnings call, management suggested animal spirits had returned to the region:
I spent a large amount of time with customers late in the quarter taking their pulse and I can tell you there was a growing survivor mentality out there, and you can't underestimate the positive change in attitude that we're seeing in our North American customers ... they are talking about adding rigs, buying assets or doing something value accretive...

The psychological factors are getting better. Oil reaching $50 per barrel, even for a brief time, was a critical emotional milestone for our customers as was being able to buy a strip above $50 per barrel ... To borrow a Keynesian economic term, the animal spirits are back in North America.
Management will likely continue to talk up a rebound in North America. However, Latin America (13% of total revenue) could be dismal again. The company signed a financing agreement with Venezuela's state-owned oil company PDVSA. This came after cutting exposure to the region. If the crisis stricken country continues to pay late, then Halliburton could follow Schlumberger's (NYSE:SLB) lead and cut projects and lay off workers dedicated to Venezuela.
The Balance Sheet
It might sound blasphemous to question the strength of Halliburton's balance sheet. Nearly two years of declines in oil industry capex as taken a toll on the company. Its failed merger with Baker Hughes (BHI) resulted in Halliburton having to cough up a $3.5 billion break-up, which was particularly painful. Cash fell from $9.6 billion in Q1 2016 to $3.1 billion last quarter due to the break-up fee and debt pare downs.
Debt of $12.9 billion is at $4.6x trailing 12-month EBITDA, but EBITDA is in decline. The company is buoyed by the fact that it is the number two player in a large industry. However, if debt-to-EBITDA reaches 5x then rating agencies could downgrade Halliburton's debt to junk status or close to it. The company might have to tap the capital markets some time next year to shore up its balance sheet. That might not sit well with bulls who have supported HAL in spite of the sizeable break-up fee it incurred.
Conclusion
Investors could turn bullish on HAL due to a rebound in North America. The rebound could be head fake, though. Investors should continue to avoid HAL.
Disclosure: I am/we are short HAL, SLB, BHI.
I wrote this article myself, and it expresses my own opinions. I am not receiving compensation for it. I have no business relationship with any company whose stock is mentioned in this article.