Texas Pacific Land Trust (NYSE:TPL) came out of the bankruptcy of the Texas Pacific Railway Company. It's a curious company (TPL website):
Texas Pacific Land Trust was created in 1888 as a result of a reorganization of the Texas and Pacific Railway Company following receivership. Holders of Texas and Pacific Railway Company bonds received 3.5 million acres of land in Texas which had been earned by the railroad and pledged as security against bonds. The bondholders created the Trust and converted bonds to shares of proprietary interest in the Trust. The Trust was created to manage and sell the land. Today, the Trust is one of the largest landowners in Texas with around 909,274 acres located in eighteen different counties. Texas Pacific Land Trust derives revenue from all avenues of managing the land, i.e. oil and gas royalties, grazing leases, easements, sundry and specialty leases, and land sales. The Trust has a perpetual oil and gas royalty interest in some 459,200 acres.
The company is basically liquidating itself as the income from sales and royalties are used to buy back the shares and provide dividends. This seems to be a winning business model.
We'll give you some relevant figures from the year-end report 2015 to illustrate the business model:
Revenues were $79.4M, split out as $22.6M in land sales, $24.9M (-15.3%) in oil and gas royalties and $31.4M in easements and sundry income (+46%).
Total expenses were $29.4M (+43.7%), of which $26.7M in federal and state taxes.
Net income was $50M (+43.9%).
204,335 sub-shares were bought (2.5% of outstanding shares) for a total cost of $28.7M.
A $0.31 cash dividend was paid per sub-share on March 9, 2016 (up from $0.29 in 2015).
Land sales vary a lot (for instance, they were up from just $3.7M in 2014) so this is a bit of an erratic element. For instance, in the first half of 2016, these have come to a virtual halt, generating only $86K.
While energy prices took a hit in 2015 affecting oil and gas royalty income, underneath things are looking pretty well still.
Crude oil production increased 47.2% in 2015 and gas production increased 39.4%. Total production increased by 123,132 oil royalty barrels and 53,652 gas royalty barrels. Below you see the evolution of these: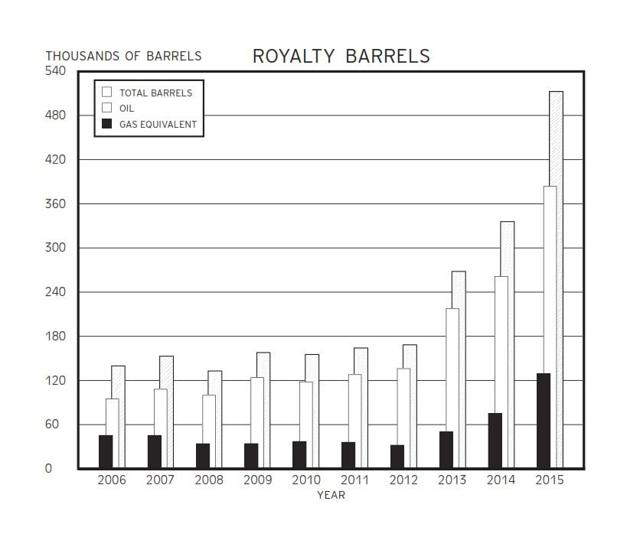 At the end of the year, it had 3,509 royalty wells, 1,167 oil wells and 60 gas wells, each subject to a 1/16 royalty interest, and 2,214 oil wells and 68 gas wells, each subject to a 1/128 royalty interest.
In the first half of 2016, oil and gas royalties were up a fraction (compared to the first six months of 2015) to $12.5M (from $12.2M). However, easement and sundry income rose from $13.6M to $15.3M.
The lack of land sales produced a decline in earnings from $29.6M to $17.4M. EPS declined from $3.58 to $2.16. Yet, the stock price has sort of exploded: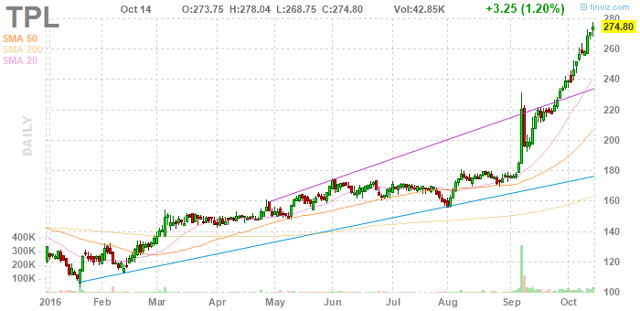 In a way, this isn't surprising. The business model is highly attractive. The company has a large land position, stable and rising easement and sundry income, rising energy production which will translate into rising royalties with the recovery in energy prices, and a solid balance sheet ($46.7M in cash at the end of Q1 2016).
Using earnings to pay dividends and reduce the share count provides further leverage, as the company doesn't really have to invest in production, marketing, R&D or anything, basically. It's main expenses are taxes.
While the shares certainly deserve a high valuation, it's debatable whether they deserve to be quite as high as they are at the moment. Without land sales, EPS will roughly be $4.50, perhaps $5 with a further recovery in energy prices. This makes the shares quite expensive at over 60 times earnings.
This could come down substantially with land sales in the second half though (which is unknown to us at the moment), but that also reduces the balance sheet. We would be buyers if it was cheaper, but we can say the same about a host of stocks.
One more thing though, the shares have risen too fast (see chart above), in our view, with a rarely seen RSI(14) of 88. Even if this could very well be a re-evaluation of the company in the light of recovering energy prices, we think this will cool off pretty soon and the shares are likely to return to the trend growth channel.
One could even short it on the basis of the heavily overbought situation and some valuation concerns, but we would be more interested in buying if and when it returns to the trend channel.
Disclosure: I/we have no positions in any stocks mentioned, but may initiate a short position in TPL over the next 72 hours.
I wrote this article myself, and it expresses my own opinions. I am not receiving compensation for it (other than from Seeking Alpha). I have no business relationship with any company whose stock is mentioned in this article.