Copper miner and oil producer Freeport-McMoRan (NYSE:FCX) has recently announced sale of its onshore energy assets in California, which were producing 28,600 barrels of oil per day, to privately held energy company Sentinel Peak Resources for $592 million in cash. The transaction is expected to close in the fourth quarter of 2016. The company is not expecting any material gain or loss from the transaction.
As per terms of the deal, Freeport-McMoRan will also receive an additional $50 million per year if the price of global benchmark Brent crude averages $70 a barrel or higher during three years ending 2020. Brent is near $52 a barrel at the time of this writing.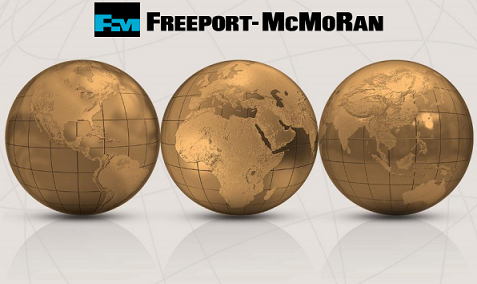 Analysts from BMO Capital Markets and Barclays have said that Freeport-McMoRan is getting a reasonable price for the California properties. Remember, California is a relatively high-cost shale play, compared to some other shale plays, like Eagle Ford and Permian Basin in Texas. Moreover, California is not exactly a business friendly place for energy companies. The Golden State has some of the toughest environmental laws which, in some instances, are stricter than the standards set by the US Environmental Protection Agency. Due to these reasons, it is not easy to find buyers who are willing to pay decent up-front cash for oil producing properties. But Freeport-McMoRan did, which is commendable.
The latest sale comes just weeks after Freeport-McMoRan said that it has agreed to sell its deepwater Gulf of Mexico assets to Anadarko Petroleum (NYSE:APC) for $2 billion cash and up to $150 million in contingent payments. This deal is also expected to close in the fourth quarter of 2016. And these aren't the only sales Freeport-McMoRan will be closing.
So far, including the above-mentioned transactions, Freeport-McMoRan has sold more than $6.6 billion of assets this year, as per my rough estimate. This includes sale of 13% of Freeport-McMoRan's interest in Morenci mine in Arizona, which is one of the company's core assets, to Sumitomo Metal Mining for $1 billion and a major copper and cobalt mine in Democratic Republic of Congo to China Molybdenum for $2.65 billion. The company is going to use a large chunk of the proceeds from asset sales to pay off its debt, which was $19.3 billion at the end of the second quarter.
The asset sales, however, will have a negative impact on Freeport-McMoRan's production. The company does not have any major growth projects in its pipeline that could offset the impact of asset sales and fuel production growth in the coming years. That's due in large part to the fact that the company is managing the downturn by curtailing capital expenditure. Its investment on major mining projects is projected to fall from $2.4 billion last year to just $1.3 billion in 2016. Analysts have warned that Freeport-McMoRan may witness a sharp drop in gold and copper volumes in 2018.
Freeport-McMoRan is also not getting any support from the copper price environment. The company, which sold 1.1 billion pounds of copper in the second quarter, is the world's largest publicly traded copper producer, ahead of Chilean state owned miner CODELCO, Anglo-Swiss commodity trading and mining company Glencore (OTCPK:GLNCY) and Anglo-Australian mining giant BHP Billiton (NYSE:BHP). But unlike crude oil, iron ore or gold, copper prices haven't gone up substantially this year.
Copper price has risen just 3% this year which compares against double-digit gains seen by a number of other commodities. Despite the ongoing construction boom in China, copper has underperformed this year due to concerns related to massive quantities of red metal's stockpiles, increase in supplies from Peru and Indonesia and weak global demand. Analysts at Goldman Sachs believe that the copper markets' fundamentals could exacerbate this year as the global surplus grows by 400,000 tonnes. In this backdrop, copper could continue to perform poorly.
Without any support from volumes or prices, Freeport-McMoRan will likely continue to struggle with shrinking revenues and earnings. But I believe the company's shares could still move higher. That's because Freeport-McMoRan, in addition to copper production and prices, is also a balance sheet play.
Freeport-McMoRan has a highly levered balance sheet. Since Freeport-McMoRan made an ambitious expansion into the energy space, it has been operating under more than $20 billion of debt. That has weighed heavily on its valuation. The company did manage to reduce debt this year, but not significantly (just a 7.6% drop in Q2 2016 as compared to a year earlier). The size of its debt is still 1.6-times, or around $7 billion bigger than its market cap of $12.3 billion. But by selling assets, the company can bring its debt down to $17 billion, or even lower, by the end of this year. That would mark an almost 20% drop in total debt from mid-2015. That's going to have a positive impact on the company's valuation.
Also note that Freeport-McMoRan is now generating positive free cash flows. It reported $41 million of free cash flows in the second quarter, and its guidance has implied that it will continue to generate positive free cash flows. The free cash flows put the company in a better position to manage its debt since it can use excess cash flow on debt reduction.
Conclusion
Freeport-McMoRan is selling its oil producing properties in California for $592 million up-front. The company, however, might continue to struggle with weak copper prices and volumes. But it is well positioned to significantly reduce its debt, thanks to $6.6 billion of asset sales announced this year. The company will likely meaningfully improve its financial health by the end of 2016, which may lift its valuation.
Note from author: Thank you for reading. If you like this article, then please follow me by clicking the " Follow" link at the top of this page.
Disclosure: I/we have no positions in any stocks mentioned, and no plans to initiate any positions within the next 72 hours.
I wrote this article myself, and it expresses my own opinions. I am not receiving compensation for it (other than from Seeking Alpha). I have no business relationship with any company whose stock is mentioned in this article.