By Parke Shall
With every passing day, it seems to be tougher and tougher to make a bull case for an acquisition in the world of Twitter (NYSE:TWTR). However, with the way we look at things, the lower the price goes, the easier it is to make a case to acquire the company. On Friday, the Financial Times came out and released an article not only disclosing that Salesforce.com (NYSE:CRM) was out of the building for the company, but also that other suitors seem to have dropped out of the picture as well.
FT reported on Friday,
The boss of Salesforce.com has ruled out his company as a bidder for Twitter, all but bringing an end to attempts to find a buyer for the struggling internet company. The US cloud software company had been left as the most likely bidder last week, after other potential acquirers, including Google (NASDAQ:GOOG) (NASDAQ:GOOGL) and Disney (NYSE:DIS) decided not to pursue a deal.

"In this case we've walked away. It wasn't the right fit for us," Marc Benioff, chief executive of Salesforce, said in an interview with the Financial Times. Twitter's shares tumbled more than 5 percent on the news. Salesforce shares were up 5.2 per cent to $74.27 at the close of trade in New York.
And as you can see in the chart below, Twitter stock promptly cratered before slightly recovering at the end of the day Friday.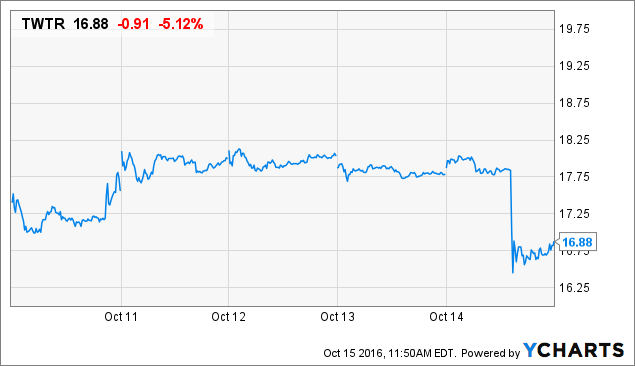 TWTR Price data by YCharts
In this article, we want to explain why Salesforce was an unlikely acquirer from the beginning and we want to talk about the potential avenues of acquisition for the company that have not been explored yet. We also want to again reiterate our bull case here at $16 regardless of whether or not TWTR winds up going the acquisition route.
Forget acquisitions - this whole thesis comes down to whether or not you think Twitter is a valuable company and a crucial social network. While their active user growth has not been anywhere near the clip that Facebook and WhatsApp have been at, let alone Snapchat and Instagram, we still believe there is immense value in Twitter.
We don't want to risk repeating our entire previous bull case on the company, but we will say that our bull case on Twitter is a very common sense case that relies little on financials and fundamentals right now. Though this isn't like us to perform our analysis in this fashion, Twitter is an exception.
Twitter has gotten more free press over the course of this election cycle than any other social network by far and they didn't have to do it by sponsoring a debate, nor did they have to do it by buying advertising time. The candidates have taken to Twitter to exchange barbs over the last six months on a daily basis. All eyes have been on Twitter to see what each candidate is going to say next and Twitter is constantly cited and referenced on news networks to get not only the opinions of the candidates, but reaction from other political figures. It remains the perfect medium for getting news to the public due to its brevity and its conciseness. This is one main reason why we see significant value in the social network. In addition to being able to communicate the news quickly and concisely via text, Twitter now also offers Periscope which actually gives viewers visual insight into events on the ground as they occur all over the globe.
Twitter as is at an inflection point with the service that they offer.
What used to simply be 140 character quips from users has now turned into fantastic streaming content, including live sports as well as an ongoing dialogue by those who are watching these events as they happen. If you have watched streaming content on Twitter with the associated tweets scrolling next to video, you would start to think that it looks suspiciously similar to live YouTube streams that also have comments about the video scrolling right next to it. These lines are starting to gray and if Twitter can start to cannibalize into YouTube's territory a little bit, it could be extremely beneficial for the company, not only from a monetary standpoint but from a user growth standpoint. We've made this argument in past articles.
Salesforce was never really a top candidate to buy the company. Salesforce is simply too small of a company to go out and acquire Twitter, but we don't disagree with CEO Mark Benioff's assertion that Twitter is "an unpolished jewel." We think that if Salesforce was 10 times larger than it is right now, they definitely would have already gone out and acquired Twitter because we think it's clear they see the benefits of the service, regardless of the financial problems that the company has been having. We can honestly say that we weren't surprised when this bid fell through.
As we denoted by the thick orange bar in one of our original spreadsheets, CRM was the least likely to make a bid due to its cash on hand and market cap.

A lot of our bull thesis simply boils down to whether or not you believe there will be a ready, willing and able acquirer out there that sees the value in the social media platform the way that we do.
While we don't tweet often (or at all), we do use the network to deliver news to our office in a timely fashion and we often will check in on Twitter when news breaks around the globe to get reaction from those at or near the scene. We think there is a whole group of acquirers that haven't even been considered here that Twitter would have significant value for.
We think any one of the major news networks that could easily acquire Twitter would benefit significantly from having a social media plug-in to their content. We also think that companies like Amazon and Softbank that haven't really been seriously considered, nor have they been reported to be interested, have a good enough reason to at least try and work out what the benefits would be in a potential acquisition scenario.
Meanwhile, the acquisition narrative continues to be somewhat of a prisoner's dilemma for the company. As more M&A interest is reported, the stock moves higher. When the stock moves higher, the company gets more expensive. When M&A interest seems to fall off the way that it has done here over the last few days, the price of the equity moves lower, making the company more attractive not only to acquirers but those who are also considering investing in Twitter stock. The narrative, the equity price, and the interest in the company all remain on somewhat of a system of checks and balances and we have seen the three of these variables work together over the last two months over and over.
Rather than trying to play the M&A narrative, we have simply stuck to our guns on our internal thesis about Twitter. Yes, the company is burning cash and is not generating significant profit. Yes, the company has seen its user growth stall and it certainly isn't the most popular social network amongst younger generations right now. However, we think the argument for the company and its network as a new service as well as an "on the ground reporting provider" far outweighs the stalled growth problems that the company is having. The company's shift to content is a bet that we are willing to take, as we have written previously. We believe Twitter's focus on streaming video and content is likely helping bring over some organic growth that the company has lacked.
We simply have a relatively clear vision for the company for the future and we see too much value, too much free press, and too much opportunity for an ambitious acquirer to leave Twitter out for dead and simply say that because the M&A narrative may have stalled, that the company is worthless. While it is tough, again, to judge the company from a "sum of its future cash flows" perspective, we look at the company's current market cap around $12 billion on an absolute value and we see a very small price to pay for a larger company that could look for its first dip into social media and take advantage of significant synergies while making an offer for Twitter at a premium to Friday's closing price.
We remain long Twitter and added shares on the dip on Friday.
Disclosure: I am/we are long TWTR.
I wrote this article myself, and it expresses my own opinions. I am not receiving compensation for it (other than from Seeking Alpha). I have no business relationship with any company whose stock is mentioned in this article.