IBM's Revenue Shifts
A significant portion of International Business Machines' (NYSE:IBM) portfolio has been devoted toward growing the company's Strategic Imperatives (cloud, analytics, security and social engagement). While this segment of the company was about 22% of revenue a couple years ago, strategic imperatives have risen to producing $30.7 billion over the past 12 months, 38% of the company's total revenue over the same period. This is quite the increase and nearly brings IBM to matching the company's goal of bringing Strategic Imperative revenue to 40% of company revenue by 2018. At this trajectory, IBM will meet or surpass this goal by the end of 2016.
Past Progress and Some "Cloudy" Improvement
While strategic imperative revenue has been growing as a fast clip, a large portion of that growth has been from cloud offerings. Cloud revenue of $3.4 billion in Q2 increased roughly 30% year over year. Cloud revenue itself over the past year was roughly $11.6 billion, which makes cloud revenue about 37% of IBM's strategic imperatives. Not only did cloud improve Q2 revenue year over year, but the Q2 2016 annual run rate of cloud-as-a-service was $6.7 billion, up nearly 50% from the annual run rate in Q2 2015. Quarter over quarter, cloud revenue from Q1 of $2.6 billion grew 31% to Q2 cloud revenue, while annual run rate also grew 24% to Q2 2016.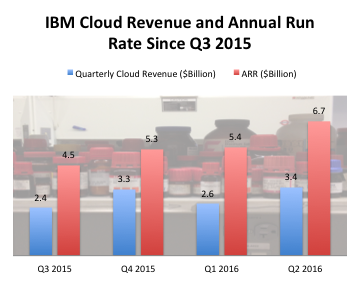 Source: IBM
Although cloud revenues have been growing well year/year, there is less consistent growth quarter over quarter. However the average growth rate over the past four quarters is still positive double digits.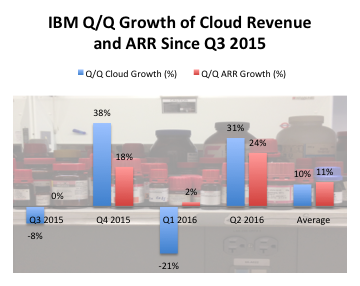 Source: IBM
The growth rate of cloud annual run rate has been consistently positive or non-negative, quarter over quarter. The average growth rates of the sequential quarters since Q3 2015 are both at least 10%. Based on IBM's previous growth rates, it might be reasonable that both ARR and quarterly cloud revenue grow at least 10% into Q3 2016. Were IBM to post these growth rates, Q3 cloud revenue might hit $3.7 billion and ARR reach $7.4 billion. This would be year over year growth of 54% and 40%, which is similar to previous year over year improvements. IBM's achievement of at least 10% growth rate for cloud revenue would be feasible, and as an investor, I'd be pleased with a growth rate that high or better. Since IBM has been building strategic partnerships with other companies to spread and increase its cloud network, IBM's cloud revenue will continue to increase. Recently, IBM has announced partnerships with AT&T (NYSE:T), VMWare (NYSE:VMW) and Workday (NYSE:WDAY).
IBM's revenue has been slowly shrinking over the past several years due to the shift from some legacy business into more Strategic Imperatives like its cloud initiative. But these new sectors have helped IBM improve its profit margins.
IBM's Shifting Revenue During the Turnaround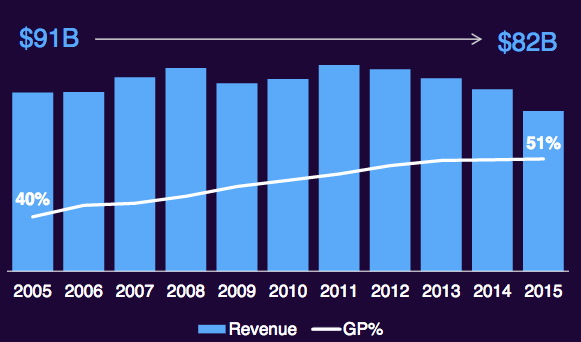 Source: IBM
As IBM continues its shift, revenues should begin improving again. And earnings will continue the net trend of growth.
Final Thoughts
IBM's cloud segment has been a significant driver of the improvement in the company's Strategic Imperative revenue. With past growth rates taken into consideration, I predict that IBM will continue posting cloud revenue growth in Q3 2016, growing by at least 10%. ARR will also improve by at least the same level. The continued shift into strategic imperatives will help IBM keep growing its profit margins, maintain and grow the 3.6% dividend, as well as sustain the strategic buyback program. I'm holding my IBM shares, and if Wall Street dislikes IBM's Q3 report, would consider buying more if shares reached back down under $150.
Author's Note:
I am on the lookout for high yet sustainable dividends or value opportunities with a significant margin of safety. If you're looking for the same, please hit the "Follow" button by my name at the top of the article, and hopefully you'll get some good ideas for value and income stocks.
Disclosure: I am/we are long IBM.
I wrote this article myself, and it expresses my own opinions. I am not receiving compensation for it (other than from Seeking Alpha). I have no business relationship with any company whose stock is mentioned in this article.
Additional disclosure: I am neither a certified investment advisor nor a certified tax professional, and do not claim to be either. The data presented here is for informational purposes only and is not meant to serve as a buy or sell recommendation. Investors and potential investors should do their own research and make their own decisions. In the event that an investor or potential investor does not feel qualified to make such a buy or sell decision on their own, they should consult a certified advisor that they trust or feel comfortable with. Investing may involve losses, including potential loss of principal. The author relies on external links for some information that may have appeared on this perspective. These external links, although believed to be accurate, have not been verified independently. Therefore the author is unable to guarantee their accuracy.