By Parke Shall
We think that Amazon.com (NASDAQ:AMZN) could turn into a short seller massacre heading into the holidays this year. Today, we wanted to give a couple of reasons as to why we are not joining the Amazon.com short seller party and why shorting Amazon.com heading into the holiday season could wind up being a poor investment decision.
We were prompted to write this article when we discovered new short interest data on Amazon.com late last week. While the total number of shares shorted isn't anywhere near a record, the amount of total cash spent shorting Amazon shares has hit a record.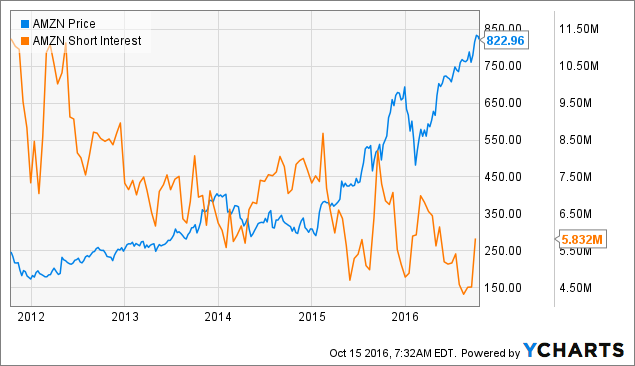 With Amazon nearly tripling over the last few quarters, you would essentially have to take the total number of shares held short now and multiply that by three to get a fair impression as to what the short interest is from an absolute dollar standpoint versus where it was several quarters ago.
CNBC reported on Friday:
"...short sellers are showing a record amount of short interest in the stock, according to a report on Thursday from financial analytics firm S3 Partners.

The amount of investor dollars betting that Amazon shares are headed south jumped to $5.3 billion this week, the first time that number has ever eclipsed $5 billion, according to the report. Short selling averaged $2 billion to $3 billion between 2012 and 2015 and topped $4 billion on three occasions since the middle of last year."
Also late in the week last week, retail sales data was announced and fell in line with expectations. This broadly didn't seem to help retailers too much on Friday, but it did provide us with some rock solid reasoning as to why we would not want to step in front of the freight train that is Amazon.com right now. A breakdown of results shows where the real punch behind retail sales meeting its number came from:
Retail sales increased 2.7% Y/Y and 0.6% M/M in September on broad gains across categories. The sales totals for August were also nudged slightly higher.
Sales from nonstore retailers like Amazon were up 10.6% Y/Y to once again account for a higher percentage of overall sales.
The building material & garden equipment category showed a 1.4% M/M and 5.6% Y/Y gain which bodes well for Home Depot (NYSE:HD) and Lowe's (NYSE:LOW)
Department stores lagged again as sales fell 0.7% M/M and 6.4% Y/Y, while furniture and home furnishing stores outpaced the broad averages in the sector.
As you can see, this data makes it extraordinarily clear that online retailing and specifically Amazon.com continues to grow at significant rates while traditional brick-and-mortar retailers continue to lag on the sector. This gives enough reason from a momentum and common sense perspective as to why we wouldn't want to stop in front of the AMZN freight train heading into the holiday season.
Don't get us wrong, we can certainly understand what the short case is here. We would usually be the first group to point out giant valuation gaps and companies that aren't producing tons of cash as potential short targets. Those that read us know that we are generally bearish on the market heading into 2017. We have been predicting a 10% to 15% pullback in equity markets for the last year. Rather than concede completely on this prognostication, we still believe that the economy is about to turn and that we will see this pull back.
In addition, we have the volatility of the election upcoming. We recently took the time to write an article explaining why we think all investors should have their portfolios hedged, regardless of what political affiliation they are and who they think will win the election. We won't belabour the points of that article, but you can read it at the above link.
The point is that Amazon looks on paper to be a great short candidate. Its multiples and any type of traditional analysis are going to tell you that the company is likely overvalued. It is fighting not only against an economy that we think is about to turn, but it is also fighting the law of large numbers. When companies get as big as Amazon, they no longer become acquisition targets, it is extremely difficult to find exponential upside scenarios, and growth gets more and more difficult with every passing quarter.
For example, here are a few traditional valuation metrics on Amazon:
Amazon trades at a forward P/E of 78x (this actually isn't that high given the company's potential runway for growth in all sectors, to be discussed later)
Amazon trades at 23x book value
Amazon trades at an EV/EBITDA of 38x, which is astronomical for a company that isn't in aggressive growth mode
Amazon's overall market cap is $390 billion
Again, for those that read us, you may suggest that this would make for a perfect short candidate for us. But Amazon is one case where we simply need to pay attention to the intangibles. We are not technical analysis driven investors, but Amazon's breakout to brand new highs leads us to believe that there still may be significant momentum behind the stock.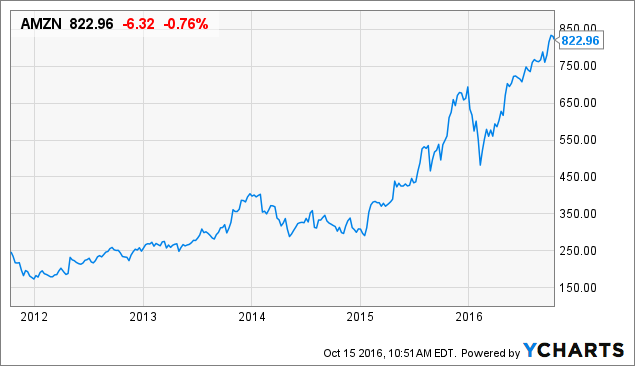 AMZN data by YCharts
Further, it has the buy-in of the sell side as numerous sell-side analysts recently issued positive reports and raised their price targets to a range between $950 and $1100, depending on brokerage house.
On Wednesday of last week, Cantor Fitzgerald came out with a $1,000 price target, joining other sell side analysts like Evercore (NYSE:EVR), JPMorgan (NYSE:JPM) and Guggenheim who recently raised price targets along with heaping praise onto the company. For instance, Morgan Stanley (NYSE:MS) made the following comments just days ago:
"Amazon shares do not appropriately price Amazon's e-commerce business, which we see as the major driver of profit improvement near-term. In the core e-commerce business, Amazon is entering a phase of improving profitability that we believe is sustainable even as it continues to take a larger share of the global e-commerce pie,"
Finally, we have the upcoming issue of the holiday season. Amazon has reportedly prepared itself to bring on 120,000 seasonal workers for the holiday season this year, and the holiday season could, as judging by recent retail sales numbers, be by far and away the best quarter in terms of volume that the company has ever had. When you couple this with the fact that we often have a rally as we head into the holiday season, it becomes increasingly difficult for us to see Amazon as a short opportunity heading into the back end of 2016.
On top of this, you have Amazon spreading out across the board in terms of all of the services and products that it provides. It is no longer simply a retailer. It has dipped its feet into streaming music as well as streaming video. It is competing with Netflix (NASDAQ:NFLX) and will likely once again try its hand in hardware, even though its tablets and phones have failed over the last few years. The company has a loyal relationship with its customers and really has no boundaries in terms of the sectors that it can expand to. When we think about companies that could literally "take over the world" names like Amazon, Apple (NASDAQ:AAPL) and Google (NASDAQ:GOOG) (NASDAQ:GOOGL) are the three that always rise to the top of the list.
From a tangible fundamental basis, the short case makes sense on paper. But if Amazon is breaking out to all-time highs and is set to have its best holiday season in its existence, which side of the record short interest do you want to be on? Do you want to be piled in with over $5 billion in capital very short the stock here at all-time highs or do you want to be betting with the company's momentum heading into the end of the year? For us, we will stay on the sidelines. However, we do not think establishing a new short position heading into the holiday season is a good idea, even with our bearish outlook on the markets in general.
Disclosure: I/we have no positions in any stocks mentioned, and no plans to initiate any positions within the next 72 hours.
I wrote this article myself, and it expresses my own opinions. I am not receiving compensation for it (other than from Seeking Alpha). I have no business relationship with any company whose stock is mentioned in this article.