Activision Blizzard (NASDAQ:ATVI) is the fourth-largest video game publisher. ATVI shareholders should therefore appreciate that Piper Jaffray's Spring 2016 survey revealed that U.S. teens are spending more on video games this year. From less than $195 average annual spending last year, teens surveyed will spend an average of $214 this year on video games.
Piper Jaffray also pointed out that video games are the third-biggest source of U.S. male teen spending. U.S. male teens now spend their money on food (20%), clothing (15%), and video games (13%). This new finding is very important. Jaffray's survey last year showed U.S. teen spending allocation was 23% for food, 20% for clothing, 10% for accessories, and only 8% for video games.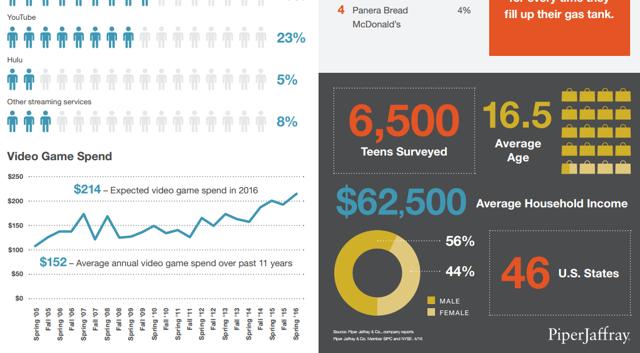 (Source: Piper Jaffray)
Video games now account for a large portion of U.S. teen spending, and Activision is one of the beneficiaries for this new trend. There are almost 23 million teenagers in America. Multiply 23 million by $214, and U.S. teens could contribute $4.9 billion to the video games industry annually.
Inspiring today's teens to spend more money on video games is a long-term relationship-building catalyst for Activision. The kids of today will eventually grow older and get a job. Their video games habit will likely persist in adulthood. A large portion of their future paychecks will likely still be spent on video games.
The video gaming habit that got acquired during the elementary school days and teenage years is really still practiced by most adults. Below is another chart from Statista, which shows the age distribution of U.S. gamers.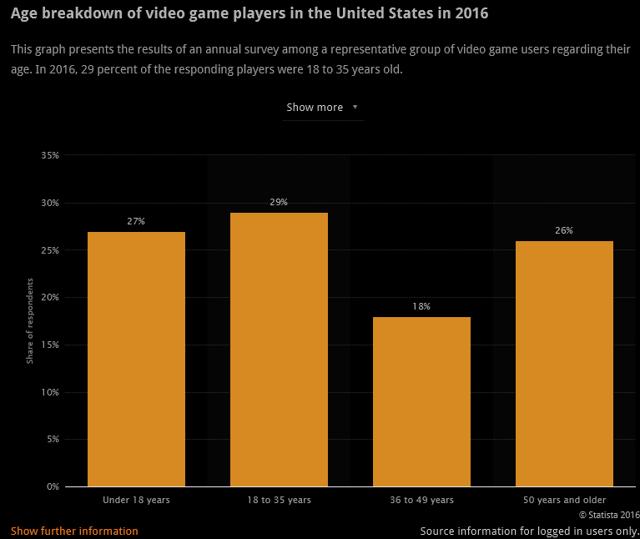 (Source: Statista)
The teens of today (who can only spend an average of $214 every year on video games) will likely have 5x or 10x more budget for games when they get gainful employment.
Activision's future is very promising now that we know 26% of American gamers are 50 years old and above. The 50-64 year age category represents the highest average salary bracket in America.
The chart below is from a 2014 survey, but I believe this also applies for current times.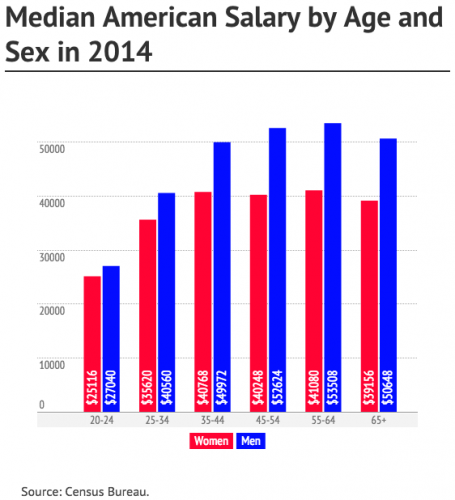 It is my fearless forecast that fifty-something or sixty-something American gamers are also contributing $4 billion or more to the global video games industry. These middle-aged players definitely have more disposable money (than teens) that they can spend on video games.
I am 42 years old. If it weren't for health problems, I would still probably be spending $30-200 every month on video games. Daily maintenance medication for diabetes (and other middle-aged people's ailments) ate up my video games budget. It is bad for people's health, but the core strength of the video games industry is that games are often addictive for kids and adults alike.
Teens Who Plays Mobile Games Are Also Customers of Activision
Going long ATVI now is wise. Thanks to its $5.9 billion acquisition of King Digital, Activision Blizzard can now monetize from the cross-platform gaming habits of U.S. teenagers. Piper Jaffray did not breakdown the device preference of U.S. teen gamers, but I believe almost half of them are now gaming on smartphones and tablets. My assumption is based on Statista's 2015 chart below that illustrates 31% of U.S. teens are now into mobile gaming.
Last year's data showed 43% of 8-12 years old kids in America are using mobile devices to play games. Some of them are now teenagers.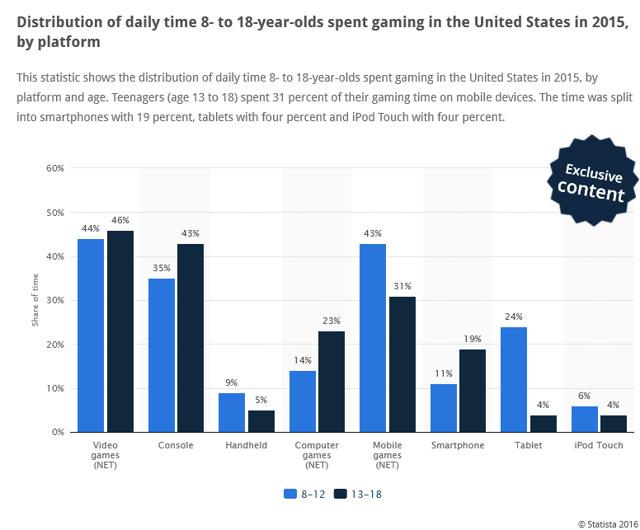 (Source: Statista)
Again, the mobile gaming habits of teens today will carry over to their adulthood. The teenage girls and boys who helped Activision's Candy Crush Saga net $28 million from iOS devices last September (and $17 million from Android devices) will most likely still be playing Candy Crush Saga in their twenties/thirties.
Activision's attractiveness as a long-term investment is easy to appreciate. Let us just be amazed that that a mobile puzzle game could generate an estimated $45 million in monthly net sales (30% commission of Apple (NASDAQ:AAPL) and Google (GOOG, GOOGL) were already deducted). Selling virtual currency so that Candy Crush Saga players can advance faster toward level 2000 is great application of capitalism. Selling virtual goods for real dollars is pretty awesome.
Kids Wants Easy To Enjoy Games Like Overwatch
I would also like to point out that Blizzard's hero-themed Overwatch First-Person Shooter (FPS) game is a massive success. The simple, unoriginal FPS gameplay of Overwatch still appealed to U.S. teens and adults alike. It was estimated that the game grossed $269 million in May from PC and Console gamers.
It is reported that more than 20 million people are now playing Overwatch. It is a notable achievement, as the game was only released last May. Blizzard made a blockbuster game by simply using cartoon heroes to differentiate it from other popular FPS games like CrossFire and CounterStrike. Teens (and some adults) prefer games with simple, easy-to-understand game mechanics like Overwatch.
It is my fearless forecast that the game could also hit the 50 million active player milestone within the next few months. The cartoonish and wacky game world and heroes design of Overwatch were likely intentional on the part of Blizzard, to attract teens and kids.
In the U.S. market, the Shooter and Action genres are the top-selling video games. I therefore expect Activision Blizzard to continue releasing add-ons or new iterations of Overwatch. While Blizzard's Hearthstone requires careful thought due to its strategy-heavy gameplay, Overwatch is all-fun, fast-paced, action-filled game that even 8-year old kids can enjoy and be successful at.
Activision Blizzard's continuing success requires it to cater to all ages of players. More importantly, nurturing the video games habits of young people can eventually lead to converting them as long-term customers.
Conclusion
I remain long ATVI, and I rate the stock a Buy. Video games might be unhealthy for some, but they are still legitimate escapism products for hundreds of millions of people. Video games became a $100 billion/year industry because people need them to reduce the daily stress they usually incur from school and the office. Playing video games is the universal escapist activity of most Chinese, Asians, American, Europeans, and Latinos.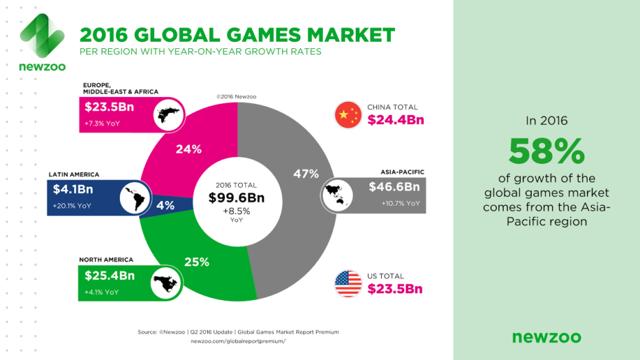 (Source: Newzoo)
In my opinion, Activision Blizzard makes products that steer people away from stupid escapism products like drugs, alcohol, and smoking. I say this based on my almost two decades' experience in the creative/advertising industry. Ask any art director or advertising agency owner, the graphic artists and copywriters who are gamers are the employees who are usually free from drug or alcohol-dependency. That is, video games aficionados spend most of their free time on games and don't bother with other escapism activities.
Disclosure: I am/we are long ATVI, GOOG, AAPL.
I wrote this article myself, and it expresses my own opinions. I am not receiving compensation for it (other than from Seeking Alpha). I have no business relationship with any company whose stock is mentioned in this article.