In our low interest rate world, income is still extremely valuable. High yield stocks returning above 10% annually can sometimes cause unjustifiable risk. Despite this, they can be an effective tool in income generation. Picking selectively and being adequately diversified can allow us to take advantage of these high yield stocks in our portfolio.
KNOT Offshore Partners (NYSE:KNOP) represents one of these stocks. The company is a limited partnership, operating long-term shuttle charters of 5 years or more. Its principal focus has been on the offshore oil production in the North Sea and Brazil. The shuttle charter industry is a small but profitable industry. Of only 72 tankers, 10 are operated by KNOT. The company has been benefiting from this high demand. It currently has a 99.9% rate of utilization on its tankers.
One of the most attractive values about KNOP is its yield. It was just announced that the company will pay out a dividend of 52 cents per share for shareholders holding the stock on October 31st. This corresponds to a cumulative yield of $2.08 annually per share or 10.09%. This has reaffirmed shareholders of the success of the company and helped quantify the stock's recent performance.
From a technical standpoint, the case for KNOP is quite strong. From May to late September, the stock formed an ascending triangle with resistance apparent at $20. The stock hit this resistance level no less than 4 times before finally breaking, though on good volume. It has now formed a further consolidation between $20 and $21. This makes it one of the few stocks that has had a great upward run yet also has significant levels of support. Therefore, we have a bit more security for a yield move.
Daily Chart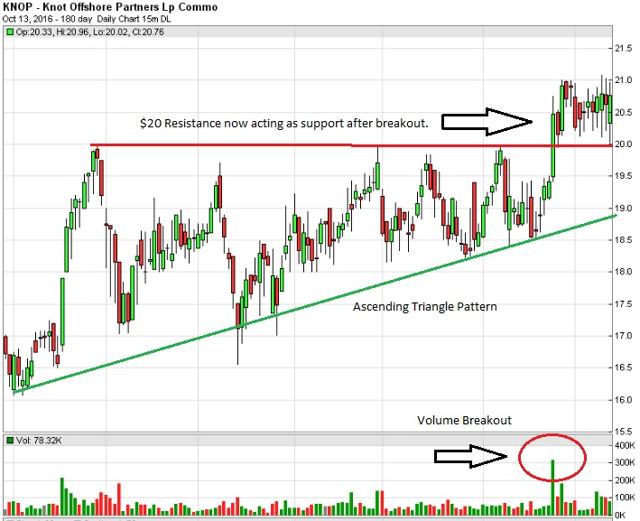 There are a few options, we have to make an entry from here. We can look to pick up shares around the $20 support level or wait for a further breakout past $21. As the trend into this consolidation is up, odds are it will break up. This makes an entry now a reasonably attractive option. We have multiple options for an exit, I have chosen below $18. This is a modest $2 per share of risk.
In the meantime, I can hold this stock in good faith knowing I get a yield over 10%. I would not expect capital gains to be drastic, considering the stock has had a great run through 2016. Yet it could offer some modest capital appreciation. With some significant technical support, KNOP represents a great option for those high yield seekers who seek a little protection.
Nevertheless, with high yield stocks caution should be warranted and now is not the time to be overextended in this sector. This is especially crucial as we expect to see the gradual rise in interest rates, perhaps starting at the December Fed meeting. Despite this, a raise of only a quarter point in December still leaves a low interest world with aging investors seeking income.
Are you a fundamental investor? Check out this great article for a rundown on KNOP.
Disclosure: I am/we are long KNOP, 300 SHARES.
I wrote this article myself, and it expresses my own opinions. I am not receiving compensation for it (other than from Seeking Alpha). I have no business relationship with any company whose stock is mentioned in this article.