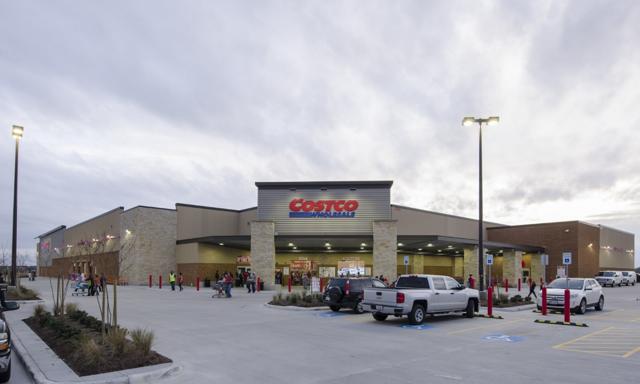 Source: Google Images, Katy, Texas
Costco Wholesale Corporation (NASDAQ:COST) had its worst performance since the Great Recession during its 2016 fiscal year. Net sales grew two percent to $116 billion and membership fees grew slightly above four percent to $2.6 billion. Profit margin declined by 10 basis points and as a result, diluted earnings per share declined nearly one percent. This was not a structural issue as total paid members and cardholders grew above 6.5 percent versus last year.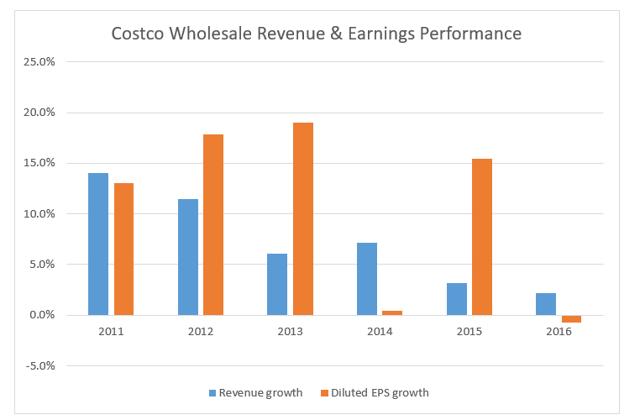 Source: Company financials and personal database
That's a far cry from an annual average of eight and 13 percent revenue and diluted earnings per share growth over the previous five years prior to 2016. Even with the company's recent underperformance, Costco has continued to trade near its historical highs for both P/E and EBITDA ratios. But the competitive landscape has witnessed some changes due to deflationary pressures and the continued shift towards e-commerce, placing Costco's current valuation at question.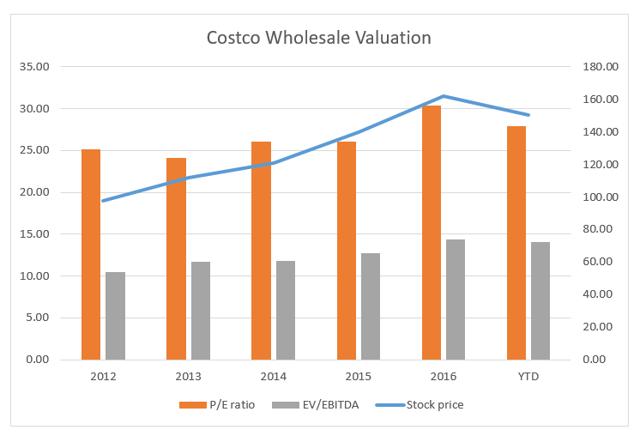 Source: Company financials and personal database
The September 2016 retail and food services report painted a similar picture that has been prevalent throughout the year. Auto business has continued to outperform retail sales totals, while general merchandise store sales have struggled. In particular, warehouse clubs and supercenters have witnessed flat performance of late.
Contrary to declining general merchandise sales trends, e-commerce sales have benefited strongly throughout the year with double-digit gains. Adding to complexity, costs of sales for many manufacturers have lessened due to lower commodity prices for raw material inputs such as metals and plastics, as well as purchased food items. Factoring for lower oil prices, and transportation costs have also come down.
This has led to pricing wars benefiting consumers, but wreaking havoc on general merchandise markets. Costco is a force in the industry, but the list of competitors includes the likes of The Wal-Mart Stores (NYSE:WMT), Target Corporation (NYSE:TGT), Amazon.com, Inc. (NASDAQ:AMZN) and The Kroger Company (NYSE:KR).
Sam's Club has witnessed negative net sales performance the past couple of quarters, but Walmart's United States store net sales have increased by nearly four percent. Compare this with Target's seven percent decline and Kroger's two percent growth. Add in Amazon's 22 percent growth in net product sales and we have a full picture of the core competitors.
Markets and investors have proven that growth is worth paying for, especially at the bottom-line. And this is definitely where stark contrasts exist. But investors need to truly think about how defensible each companies moat is based upon changing dynamics.
Costco is on the higher growth end based upon expectations. These expectations are for the company to grow its earnings by an average of 10 percent over the next two years. Amazon on the other hand is estimated to grow its earnings by an average of 190 percent. Walmart and Target are estimated for flat growth and Kroger is expected to grow its earnings by an average of 5.5 percent.
Not surprisingly, Walmart, Target and Kroger sport much lower P/E and EBITDA ratios versus Costco, while Amazon trades at nearly 80 times 2017 estimated earnings. So should investors buy into Costco's premium today in the midst of pricing wars and e-commerce market share gains?
Having a plan for managing any investment is important. Investors interested in owning Costco at today's price need to be prepared to deal with a deflationary environment in the near-term. Even if interest rates do rise further next year, the economy has not displayed any signs to instill confidence that consumers will be willing to pay substantially higher prices in the near-future.
E-commerce and select retailer products have been immune to the slower pace of GDP growth of late. Consumers have clearly gravitated to a preference of ordering online through the web and mobile devices. Amazon's Prime service has created a tailwind spurring this growth. Costco's management has recently admitted that e-commerce will continue to pose a challenge for its growth prospects.
Nearly 90 percent of retail and food service sales were generated by physical retail, so e-commerce will not be removing any of these retail stalwarts anytime soon. But investors should think about the current low-growth economic environment and impacts from deflation. Additionally, while e-commerce will not eliminate traditional retail, it will continue to have an impact on both revenue and profit growth.
Disclosure: I am/we are long AMZN.
I wrote this article myself, and it expresses my own opinions. I am not receiving compensation for it (other than from Seeking Alpha). I have no business relationship with any company whose stock is mentioned in this article.