Note: Get my articles as soon as they are published by clicking the big orange "follow" button at the top of this page. Make sure you choose "real-time alerts."
Recently, a couple of my subscribers have asked me about biotech stocks. My answer to a biotech stock question usually starts with a disclaimer: Without sufficient scientific knowledge, neither I nor the average investor can perform a decision fundamental analysis on the stock. This makes investing in biotech stocks prohibitive for many investors.
That is not to say that I advise against such investments but the research required for a good biotech pick is much more time-consuming than research for another such pick. Still, I trade biotech stocks, working around the investment issue in three ways:
Using traditional financial analysis, valuation, and company trends in place of product analysis.
Increasing the emphasis on technical analysis.
Trading biotech ETFs instead of individual companies.
The first method limits us to biotech companies that are already profitable. This method also works well with the third method in that such ETFs are generally composed of such companies. The second method works extremely well with the third method in that it smooths out the bumps we often see in biotech companies after earnings or clinical trial reports.
I recently used the latter two methods to pinpoint a short-term position in the SPDR S&P Biotech ETF (NYSEARCA:XBI). We played this in Copy My Trades, and I put some skin in the game as well: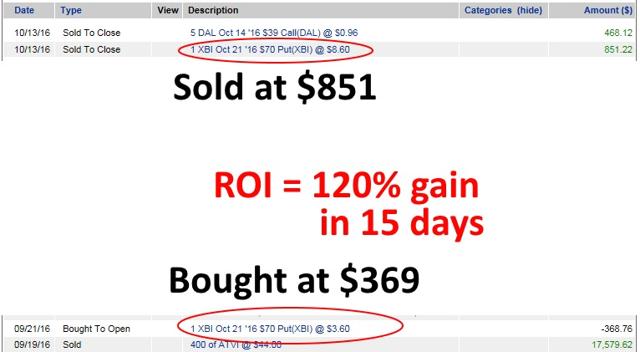 For an in-depth analysis of this trade and for my ideas on when to open a long position for the upswing in the biotech sector, please watch the following video:
If you want to skip the video and get to the main idea, here it is: Biotech seasonality is quite reliable whereas individual biotech stock is quite erratic. The reason investors are drawn to the biotech sector despite its scientific barrier to entry is the large volatility in the sector, a volatility that can bring both large gains and losses. I believe that most successful players in the biotech field - whether they be traders or investors - must address this volatility, whether by hedging against it or by directly playing the volatility. If you simply buy biotech stocks and neglect options as well as short positions, prepare to have some restless nights.
Other professionals in the industry agree that volatility is the backbone of making a killing in this sector:
"Most biotech 'professionals' are synthetic long volatility and hope to catch a bubble to cash out on BS"
-Martin Shkreli, Hedge Fund Manager and Disney Villain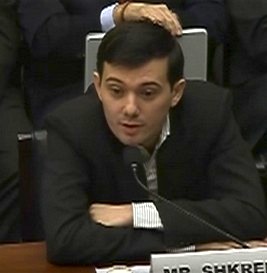 In essence, what Shkreli's quote means is that even the professionals have little idea where a particular biotech stock is headed next and thus result to options strategies that are in essence speculations to profit. A "synthetic long volatility" strategy is a strategy that combines options with stock to create a position that is delta-neutral and long vega. In simpler terms, it's an options strategy that considers your current stock position (long or short) and reduces the directionality of your position to zero while still allowing you profit if the stock makes a large movement in either direction.
An example of a long volatility strategy without stock (and thus not synthetic) follows:
Long 2 OTM put
Short ATM put
Short ATM call
Long 2 OTM call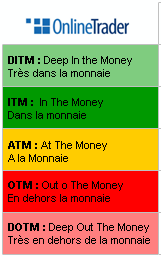 This strategy is opened at a net credit and has the following greeks:
Zero delta: No directional bias
Positive theta: Profits from time decay
Positive vega: Profits from increases in volatility
If we see a large swing in the biotech sector, the long options will increase in value more quickly than the short options. This brings more value to the overall strategy. In addition, the fact that we are long 2 vs. short 1 gives us (nearly/truly) unlimited profit in the (down/up) direction.
Now, how do we make it synthetic? In other words, how can investors holding stock make use of such a strategy? Simply replace one short put and long call with one lot of long stock.
Thus, if you are already long one lot of XBI, you can continue holding the XBI but pivot to a long volatility position in times of uncertainty by adding options. Here's the play:
Long 2 OTM put
Short ATM call
Long OTM call
Long 100 shares XBI
How is this relevant now? The biotech sector has a strong seasonal trend that tends to pick up in mid-late October. Here's the general monthly pattern for XBI: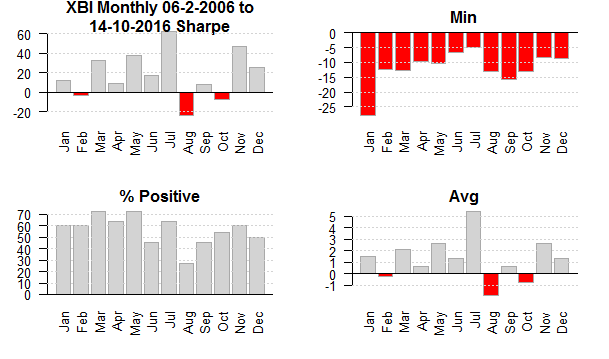 As you can see, XBI typically ends October in the red and picks up the following three months. But with an election that could very well have strong implications for the biotech industry in November, perhaps the seasonality will be broken or delayed this year. This implies a rising volatility.
However, we do have one problem here: Volatility has already begun rising. This is problematic, as taking a long volatility position now is akin to catching a bus that has already left the station:

When implied volatility increases out of sync with statistical volatility, options become too expensive in regard to what they offer. Thus, we missed the boat for going long on volatility. The best bet now is to wait for XBI to bottom out, volatility to decrease, and to get a better grasp over the outcomes of each presidential candidate's effect on the biotech sector before taking a long volatility or pure long position in biotech.
For the moment, I recommend biotech investors to stay out - or at least avoid adding to their positions. The entry time is upon us, but patience is our best investment for the moment. In the meantime, consider playing earnings and read up some of Bret Jensen's articles on investing in biotech.
Note: All unlabeled figures were created by me from data pulled from Yahoo and ADVN through R. Charts with blue backgrounds are from Etrade Pro.
Learn More about Earnings
Exposing Earnings - my earnings prediction newsletter - is now live, here on Seeking Alpha. In this newsletter, we employ both fundamental and pattern analyses to predict price movements of specific companies after specific earnings. I offer specific strategies for playing those earnings reports. To-date, we are 94% accurate on earnings report predictions.
Disclosure: I/we have no positions in any stocks mentioned, and no plans to initiate any positions within the next 72 hours.
I wrote this article myself, and it expresses my own opinions. I am not receiving compensation for it (other than from Seeking Alpha). I have no business relationship with any company whose stock is mentioned in this article.