Priceline Group Inc (PCLN)
With a multitude of platforms under its belt, the leading global travel service provider is the largest holding - 6.47% of the $21.6 billion portfolio - of one of the top pure play hedge funds Lone Pine Capital, which is run by a veteran activist and Harvard-MBA Stephen Mandel. As per the latest filing, the hedge fund increased its stake in the company by more than 40%. Their average purchase price for the entire PCLN-holding is $1,248.41, significantly below the latest close of $1,442.52. In addition to Lone Pine Capital, PCLN, regarded as a secular growth story by the investing community, is easily found in the top-five holdings of several other big-ticket hedge funds.
Two of PCLN's largest platforms are: priceline.com, which facilitates online hotel-bookings, rental car services and air-ticket reservations; and Booking.com, one of largest online accommodation services provider. In addition, PCLN operates Agoda.com, accommodation reservation provider in the Asia-Pacific region and a dedicated platform for rental car services: rentalcar.com. That's not all, the company also provides vacation and cruise packages along with restaurant reservations; and also runs Opentable-a provider of reservation management services to restaurants.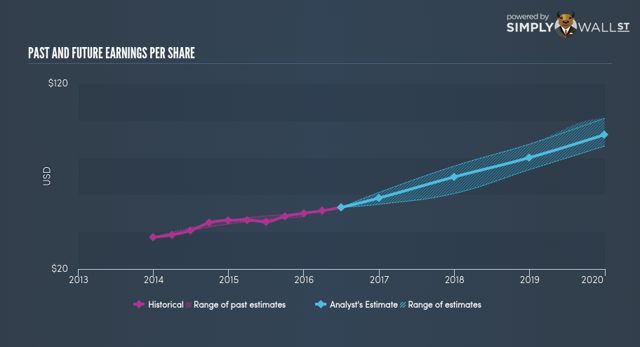 Source: Simplywall.st
PCLN has been an incredible growth story by any standards - projected revenue for 2016 stands at $10.6 billion, almost double of $5.2 billion recorded by the company during 2012. Shares are up nearly 12% year-to-date and more than 200% over the past five years. With last year's earnings growth of 17%, analysts project 20% growth in the year ahead. Tourism industry, despite several setbacks such as terrorism and political turmoil, namely Brexit, is showing no signs of slowing down. A major long-term driver has been China, where PCLN is expected to benefit significantly through its partnership with largest Chinese travel operator Ctrip.com.
Pfizer Inc. (NYSE:PFE)
While Pfizer is one of the most widely held pharma-stocks by the top hedge funds, it's the largest holding of Maverick Capital, a Dallas-based hedge fund headed by Lee Ainslie, a value investor and, like Lone Pine Capital's Mr Mandel, formerly employed by Julian Robertson's legendary hedge fund Tiger Management. This list of stocks could be very long and different; but, we only considered the top holdings of major hedge funds, which also reflected substantial earnings growth potential based on analysts' consensus estimate. And the result was these two companies.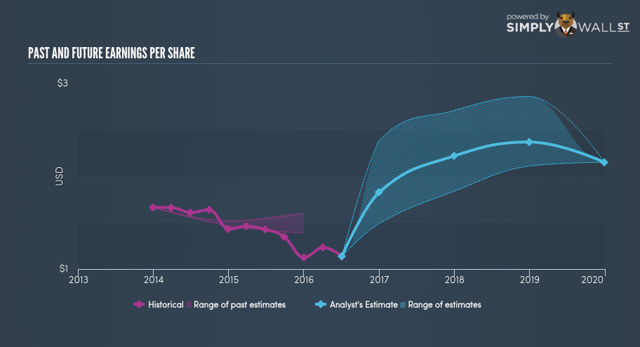 Current analysts-estimates peg Pfizer's earnings growth at 78% over the next year. Maverick reported a $35.21 price per share for its holding, while Pfizer shares last changed hands at $32.76. Additionally, Maverick raised its stake in Pfizer by more than 120%, allocating, in total, a 8.8% capital to the big-pharma out of its $7.4 billion assets under management. However, there have been a few key developments since these transactions were recorded in the second-quarter.
Last month, Pfizer decided against its consideration of splitting it into two separately traded entities, namely Innovative Health and Essential Health businesses. According to the company, it saw no unlocked-value anymore, which had prompted the consideration a few years ago. However, that argument seems to lack any firm-ground as shares have appreciated less than 10% over the past three years. Pfizer, like other big-pharmas, is facing patent expiration of its blockbuster drugs. As a result, tough competition from generics and biosimilars has the top-line under pressure.
Although, this is where its $21 billion cash on balance sheet and still nearly $5 billion in operating cash flows come into the picture. It can grow through acquisitions. After two failed attempts of merger: one with AstraZeneca and another with Allergan to expand its drug-portfolio, the company recently completed a $14 billion acquisition of Medivation, which will inflate Pfizer's top-line with its FDA-approved drug Xtandi to treat prostate cancer.
With a number of patent expiries lined up, the company guidance of biosimilars business to gross over $20 billion by 2020 came as a relief to shareholders. But with slow growth on that front so far, at this point, we expect Pfizer to pursue some big merger and acquisition deals to revive its top-line growth, which appears to be one of the reasons for the hedge fund to size up its bet on the company.
Source: Simplywall.st, S&P Capital IQ, Dataroma
Disclosure: I/we have no positions in any stocks mentioned, but may initiate a long position in PCLN over the next 72 hours.
I wrote this article myself, and it expresses my own opinions. I am not receiving compensation for it. I have no business relationship with any company whose stock is mentioned in this article.