To fully grasp the Canadian investment marketplace, it is important to understand a few key industries - financials, telecoms, utilities and resources. I previously covered the Big Five Canadian Banks. This time I'll take on the telecommunications sector.
While the three top dogs (the "Telecoms") within Canadian telecommunications share some broad characteristics, each of them has unique facets to its respective business which sets it apart from one another. Understanding these differences is imperative to making an informed investment decision.
I will discuss each of these businesses in descending order of current market capitalization.
| | | |
| --- | --- | --- |
| Telecoms | Market Capitalization [USD] | Dividend Yield [%] |
| BCE Inc. (NYSE:BCE) | ~40 Billion | 4.52 |
| Rogers Communications Inc. (NYSE:RCI) | ~21 Billion | 3.61 |
| TELUS Corporation (NYSE:TU) | ~19 Billion | 4.39 |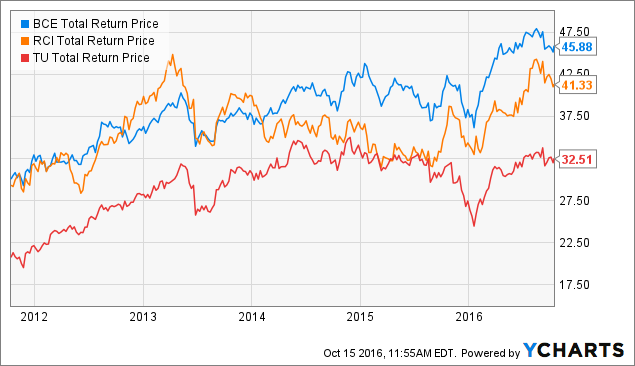 BCE Total Return Price data by YCharts
Before profiling each, we will first take a look at the commonalities.
Similarities
The telecoms benefit from a relative lack of competition. With a population of ~36 million people, Canada boasts a small population relative to other first world nations. As a result, many of the large international competitors have opted against trying to break into Canada to make any waves.
Just a few years ago, for instance, Verizon Communications (NYSE:VZ) was rumored to be considering a foray into Canada. After plenty of speculation, however, the company announced it wasn't interested in doing so. While the reason is anyone's guess, it would be fair to say that for a company with ~140 million subscribers already, fighting over a country the size of Canada with already entrenched players simply wasn't worth the hassle.
This plays into the hands of the Canadian telecoms as they are able to maintain pricing schedules, which are rather similar and certainly higher than might otherwise be the case if additional competition existed.
The telecoms are regulated in Canada by the "Canadian Radio-television and telecommunications Commission" which describes itself on its website as being "Committed to ensuring that Canadians - as citizens, creators and consumers - have access to a world-class communication system." One of its chief mandates is to uphold the Broadcasting Act of Canada which, among other things, is intended to ensure Canadian culture is maintained and promoted through all available media channels. This regulatory framework and the small population of Canada overall are among the reasons so few competitors vie for this otherwise lucrative market.
One definite commonality amongst these companies is their willingness to simply divvy up Canada rather than looking elsewhere for growth. While foreign investment is one way companies seek to ramp up operations, the nature of these businesses would make it very difficult to even attempt cross-border expansion.
Trends currently taking place within the telecoms include:
A shift away from landline telephones to mobile smartphones.
Competition for wireless spectrum; in an effort to increase competition in the market, the government restricts how much additional spectrum can be purchased by the big players.
A drive to diversify holdings by adding entertainment holdings to the mix; sports being the most prominent.
BCE Inc.
The company BCE Inc. as we know it today was founded in 1983. It can, however, trace its roots all the way back to 1880 in Montreal as the first Canadian communications company. From less than $30k in revenue at that time, the company in its present form brings in over $22B in annual revenue. In the process, the company has over 21 million customer connections which represent a significant percentage of the Canadian population.
To achieve its goal of being recognized as the leading Canadian communications company, BCE has six "Strategic Imperatives":
Improve Customer Service
Invest in Broadband Networks & Services
Accelerate Wireless
Leverage Wireline Momentum
Expand Media Leadership
Achieve a Competitive Cost Structure
Of the six, I would consider the desire to improve customer service and the need to operate within a reasonable cost structure to be regular avenues of doing business. They are on the "It Goes Without Saying" list, because a company without them won't be doing business for long.
As for the other four imperatives, actually each ties in together synergistically with the trends of the overall industry and the usage habits of customers who are increasingly snipping their cable and opting to catch their entertainment online - whether through their home internet connection or wirelessly on their smartphone or tablet.
By investing in broadband networks and improving the speed of the LTE offering, BCE further positions itself to build on its wireline momentum which has the company head and shoulders above all competitors as Canada's largest Internet provider. As viewing shifts online for events requiring real-time ease of access and speed, this gels perfectly with Bell Media's strengths. The company has a sports leadership position on television through its TSN and RDS channels, which host a large number of the country's favourite entertainment pastimes which include hockey, basketball and football.
Along with owning the media outlets on which consumers view these sports, BCE also has an ownership stake in Maple Leaf Sports & Entertainment (MLSE) which owns, among other things, the Toronto Maple Leafs (NHL), the Toronto Raptors (NBA) and Toronto FC (MLS). This ownership stake of MLSE is in conjunction with Rogers Communications Inc. which I will be profiling later in this article. This concentration of media assets between the top players in the industry is yet another shining example of how much of a lock these companies have on the country's communications overall.
In my view, BCE's biggest strength is the scale that it has to continue investing in the country's communications infrastructure. This positions it to stay ahead of the curve in terms of Internet speeds, while also investing outside of the bread and butter of the business to actually pick up media businesses as they become available. In this way, BCE is able to be a continuously growing fish in the proverbial small pond. It would be incredibly difficult for any upstart company, even with huge financial backing by a foreign investor, to sweep into the country and challenge the dominant status quo that currently exists.
Beyond the "BCE" and "Bell" branded companies under BCE's wing, it also owns Virgin Mobile Canada which has a good name for itself and is not widely known to be under this umbrella. Smaller carriers tend to get scooped up by the big players once they reach a critical mass.
To summarize, the three defining factors for BCE are, in my view:
Size and scale.
An ecosystem of offerings where each supports the other.
A considerable business moat preventing new companies from joining the party.
Due to the belief I have in the telecom sector broadly speaking and in BCE's relative strength, this has grown to be the largest position in my portfolio. I purchased BCE in two tranches; the latest being August 2013 at $42.00 per share CAD. This position currently churns off nearly $600 CAD annually for my portfolio.
Since missing dividend payouts in 2008 due to a proposed privatization transaction involving the Ontario Teachers' Pension Plan, the company has ambitiously increased dividends on 12 occasions, totalling 87% in dividend increases. Even modest growth of 5% per year as the company continues to invest for the future would satisfy my appetite with BCE, given its already healthy yield.
Rogers Communications Inc.
RCI in its current form was founded in 1960. As with BCE, however, this company has roots tracing much earlier; in this case, to 1925 with the Rogers Vacuum Tube Company.
RCI operates in three business segments - Wireless, Cable and Business Solutions, and Media.
For its strategic priorities, RCI has what it calls Rogers 3.0. Of particular interest from this initiative are the following:
Go to Market as One Rogers
Focus on Innovation and Network Leadership
As far as positioning itself as a single brand, or "One Rogers," this is particularly important for RCI since it has such varied lines of businesses. With its wireline, wireless, business solutions, media and financial interests (discussed below), it is important to recognize the combined effect of presenting itself as one holistic brand as opposed to fragmented businesses.
To the second point, innovation and network leadership will run hand-in-hand for the foreseeable future. As noted above with BCE, the growth in mobile viewing for sports and entertainment is likely to continue surging as consumers snip their cable connections at home and opt to stream through the Internet. Having a top tier network able to handle the load of consumers streaming their Netflix (NASDAQ:NFLX) from home or watch live sporting events on a train or bus is going to be key to retaining customers and gaining new ones along the way.
Through 2015, RCI managed to grow its revenue by 4% and free cash flow by 17%. At the same time, the company expanded its LTE geographic coverage by four times, allowing it to reach 93% of the Canadian population on its network.
Since I have already previously covered my disappointment with RCI's decision to hold its dividend and not provide an increase, I will rather summarize my position here instead. Quite simply, RCI maintained that its leverage ratio of 3.1 was conservative, yet decided not to increase its dividend. In my view, the actions do not fit the words. In my experience, companies committed to dividend growth raise their dividend, not freeze it, if they actually feel confident in their business prospects.
Since 2013, RCI has been operating "Rogers Bank." This financial entity has product offerings from credit cards to insurance. For the "Rogers Platinum MasterCard," for instance, it is possible to redeem the cash back earned to pay for other RCI services such as monthly bills for cellular service. While I do believe in the future prospects of the financial sector, I have concerns around non-financial entities getting involved in this arena. The space is already covered by behemoths which own a huge percentage of the available market share. Issuing credit cards of its own by RCI reminds me of GEICO's foray into this area which ended horribly for Buffett and his shareholders. What happens, oftentimes, is that the creditworthy borrowers go to the banks for their financial needs and those who cannot acquire traditional financing will then search elsewhere for a credit card. In the good times, this can mean additional profits. When times get lean, this can lead to steep losses.
From its January 2, 2007, payment of $0.04, the quarterly dividend has risen to $0.48. While this represents impressive growth, the company has been stuck at $0.48 quarterly since the April 1, 2015, payment. With no current dividend growth, I am hesitant to add to my current holdings.
TELUS Corporation
TU is, relative to its peers, an incredibly young company. It has been around since 1990 when the government of Alberta designed it as a holding company to privatize the Alberta Government Telephones Commission. From its western roots (it is still currently based out of Vancouver, British Columbia) the company has grown to achieve national scale with 12.5 million customer connections and $12.6 billion in annual revenue. Of those customer connections, 8.4 million are wireless subscribers while 55% of the revenue profile comes from wireless, which points to the company's reliance on the growth of the smartphone industry.
Additionally, TU owns another well-regarded telecom with its Koodo Mobile brand. This company offers consumers cellular service without a fixed term contract. While TU promotes itself with cuddly animals, Koodo instead uses a miniature wrestler boasting about product offerings to appeal to young customers.
TU bills itself as "Canada's fastest-growing national telecommunications company," While it does have an enviable position in its key markets, the biggest differentiator here in my view is the "TELUS Health" brand. TU actually has a leadership position in the healthcare information space as it is Canada's largest healthcare IT provider.
Most recently, TU acquired the Canadian Electronic Medical Record [EMR] operations of Nightingale Informatix Corp - a company which trades on the TSX Venture Exchange. With this purchase, TU gains "nearly 5,000 physician customers across Ontario, Western Canada and Atlantic Canada" on top of the 20,000 healthcare practitioners in Canada already making use of TELUS' healthcare infrastructure. The growth in this area over the coming decades will provide plenty of runway for rising profits. The key is to be among the first on the ground to become a leader and TU has certainly positioned itself at the forefront of this market. Integrated health records between hospitals, pharmacies, family practices and other areas are rapidly becoming a reality and TU is able to leverage its already-respected brand to garner further business.
TU has committed to semi-annual dividend increases with annual growth representing 7-10% through 2019, which they are planning should respect their long-term dividend payout ratio range of 65-75% of net earnings. As an investor it is always nice when a company is willing to demonstrate its confidence in future cash flows by stating such a policy outright.
Boiling It Down
Taking a look at a chart of how the companies detail their lines of businesses for shareholders, it is easy to see they are each competing largely in the same markets:
BCE Segments - Wireless, Wireline, Media
RCI Segments - Wireless, Cable and Business Solutions, Media
TU Segments - Wireless, Wireline
Philosophically speaking, I believe BCE and RCI are more aligned in how they believe the future of the industry will continue to form. They have similar media and entertainment interests. TU, per its Strategic Intent, centers its strategy around "unleashing the power" of the Internet to deliver value to shareholders. As such, it has placed its emphasis on the smartphone wireless revolution to continue growing.
If I had to really look at the differentiating factors for these businesses, for BCE I would emphasize its size. There is a definite gap between the scale of operations it has versus our other two competitors. It has its hand in most pots as far as telecommunications and media are concerned in the country. For RCI, the Rogers Bank is a great way for the company to increase customer retention and further build on the footprint of its ecosystem. TU is, in my view, the best-of-breed with how it is developing its wireless brand and has a huge asset with TELUS Health.
Conclusion
The telecoms collectively profit from the vast majority of communication activity across Canada. With the impressive cash flows they manage to churn off of their foundational lines of business they have been able to invest and branch out into other areas such as finance, entertainment and healthcare.
As much as the Canadian government has indicated it would like to increase competition in this market, the fact of the matter is that Canada represents a very small opportunity with huge barriers to entry for anyone with funds enough to take a real stab at it. While it is in my best interest as a consumer that such competition eventually takes place, I will in the meantime reap the benefits of this situation as an investor.
Given my belief that the status quo of healthy profits and rising dividends will persist, this sector holds the largest slice of my invested funds. While for years I owned only BCE, a few years back I added both RCI and TU at the same time just to broaden my base. I'd rather not bet on a single company when it is easy enough to own all three. I am not expecting to hit homeruns with my investments here but rather will take the equivalent of getting on base repeatedly year after year with the occasional double mixed in.
Although it is incredibly difficult to project exactly how the technological landscape will evolve over time, I am reasonably confident that no matter the device, it will be imperative to have robust cellular networks to handle the load and facilitate the changes to come. This industry reminds me of the Klondike Gold Rush; the ones who made the money were not the individuals sifting for gold but those selling the shovels and other gear to make this possible. Likewise, the telecoms are well-positioned to facilitate whichever direction the technology industry heads in Canada.
Thank you for reading.
Full Disclosure: Long BCE, RCI, and TU in CAD on the Toronto Stock Exchange. All financial reporting and dividend figures in this article presented in CAD which is how BCE, RCI and TU report.
Disclosure: I am/we are long BCE, RCI, TU.
I wrote this article myself, and it expresses my own opinions. I am not receiving compensation for it (other than from Seeking Alpha). I have no business relationship with any company whose stock is mentioned in this article.
Additional disclosure: Full Disclosure: Long BCE, RCI, and TU in CAD on the Toronto Stock Exchange. All financial reporting and dividend figures in this article presented in CAD which is how BCE, RCI, and TU report.