Chesapeake Energy (NYSE:CHK) was recently detailed by UBS (NYSE:UBS) in that the company has too much debt. Thus, a sell rating was warranted. Today, we'll take a closer look at this sell rating and why it isn't valid. UBS overstated the current leverage of Chesapeake and is not recognizing the progress the company has made and the progress that natural gas prices have made. While this company is still risky, given the swings in the natural gas environment, the company is slated to meet its obligations should natural gas hold strength above $2.75/MMBtu. With prices well above that level right now, successive quarters of pricing strength will allow the company to pay down its debt and become a stronger company.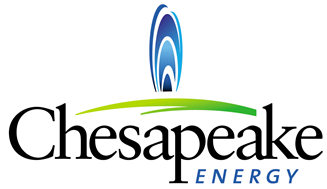 Source: Chesapeake Energy
Debt Distribution
The company currently has $9.7 billion in total debt (not inclusive of principal repayments so far), with the majority of maturity repayments coming due within the next six years. Of concern to investors is the roughly $500 million worth of debt due next year. The debt distribution of the company is seen below.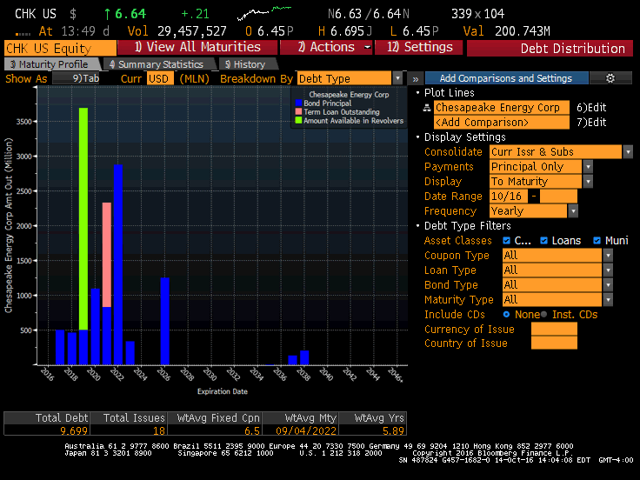 Source: Bloomberg
So, what's actually on the chopping block? The company has a 600 million EUR 6.25% maturity in January 2017, of which a significant portion has already been paid off. This amortization has left the company with a repayment amount of 245.5 million EUR left. Translated to USD at the current market rate, this is about $269.8 million. Nothing really interesting about this maturity other than a poison put at 101 (which is about 120 bps away from where it is currently trading). For the record, a poison put is a provision that allows bond holders to "put" the debt back on the company when the debt trades at a certain threshold. Thus, Chesapeake could be obligated to pay the debt a few weeks ahead of schedule, should it trade above par to 101.
The other maturity is the $1.1 billion 6.5% notes due August 2017. This is a little under a year away and before you have a heart attack, recognize that Chesapeake has been actively paying down this principal as well. The company is clearly well-run, in this sense, as it has avoided massive balloon payments in the low-priced commodity environment. The company has $232.8 million left remaining on this bond. Thus, the total amount of debt due in 2017 is $502.8 million.
Immediately, this number has to tell shareholders something. In the UBS "sell" note released earlier this week, the bank said that CHK has $658 million in debt due in 2017. I could understand a $10 million or even $20 million overstatement, but UBS overshot this amount by $156 million. That's a significant error to make. This is all the more reason why investors have to do their own due diligence.
So, with $502.8 million in debt due next year, we start to turn to the current liquidity profile to see if this is manageable. The company during Q2 had just $4 million in cash, under $100 million in OCF and a highly negative FCF balance. If we were viewing this at a high-level, the conclusion would say that the company will likely default on its debt. Yet, the divestment strategy of the firm has allowed the company to gain substantial liquidity. As a backup to divestment-fueled funds, the company has $3 billion in a revolver remaining, should it need it in the short term. While tapping a revolver is not ideal and comes at a higher cost of capital, it's still an option in favor of the company surviving.
Additionally, the company has about $100 million drawn on its revolver, but this isn't due until 2019. Thus, we come to the $1.65 billion May 2037 2.5% puttable notes; however, CHK has carefully paid this down using divestment funds to just $130.2 million that is puttable come May 2017. It is my belief the company will further direct divestment funds towards this issuance as to avoid being struck by this poison put. Actually, these aren't puttable unless the company's equity passes a certain threshold, which starts around $44/share. This is a level that won't be seen for quite a few quarters so the puttable debt isn't a concern.
UBS Says Sell, I Say Buy
Chesapeake is a risky company to be invested in; however, I think it is grossly overstating the position that the company is currently in. Additionally, UBS completely missed the run-up in natural gas (108% gain since March). While its equity research shop may send out a newsletter to its HNWIs soon saying that natural gas is the smart trade, probably through the United States Natural Gas ETF (NYSEARCA:UNG). Too little, too late is the old adage applicable here. To provide more perspective, the analyst who made this call also missed Devon Energy's (NYSE:DVN) massive run-up this year, now up nearly 35% YTD, and over 100% from its February lows.
Source: Bloomberg
Natural gas is a bit overbought right now, but rightly so considering the triple-digit gain since Q1. It has been the best performing commodity in that time frame. Why? Inventories are coming down more towards the 5-year average, there's a greater push for renewable fuel usage as it comprises a greater percentage of global electricity generation now and weather reports are indicating this winter will be brutally cold. That works well in favor of natural gas prices and could really allow them to reach the $4/MMBtu level by the end of winter.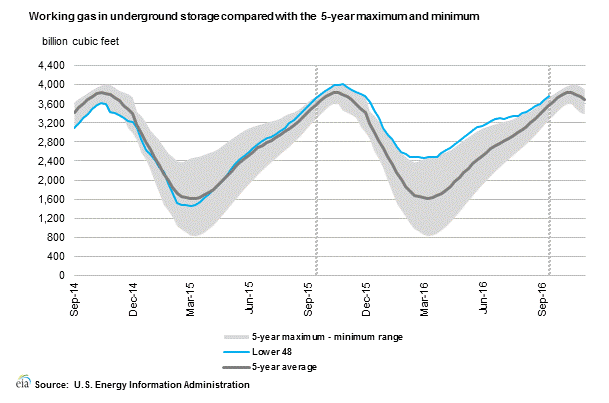 Source: EIA
I've talked before about the company having certain natural gas price thresholds that indicate various levels of operational success or failure. The $2.75/MMBtu, which needs to be an average over the course of a quarter, indicates survival and breaking even on free cash flow. The average since late June has been above this level, so I fully expect the company to show positive cash flow results, come the Q3 earnings report on November 1. At an average realized MMBtu of $2.75, the company should be generating at least $90 million in FCF, before factoring in the increase that divestments will provide. Operating cash flow, realistically, could be about $340 million, which would be an increase of about $250 million from Q2. Successive quarters with $2.75/MMBtu as the average priced receive will allow the company to survive through the NTM, especially with additional asset sales.
Conclusion
It blows my mind that S&P rated this company "selective default." The liquidity situation seems rather clear and the market is even pricing in that this company is going to make all of its principal repayments. It's thin and it's not ideal, but survival is more than likely, so I'm not sure how ratings agencies or equity research teams rate this a sell when the company is going to be able to pay its obligations, go through a period where it leans out and becomes a stronger player with a wiser management team at the end of the downturn. I believe CHK will show strength over the NTM, provided nothing materially changes to the operating environment to the downside.
Disclosure: I am/we are long CHK.
I wrote this article myself, and it expresses my own opinions. I am not receiving compensation for it (other than from Seeking Alpha). I have no business relationship with any company whose stock is mentioned in this article.