Back on June 14th I wrote an article recommending London-based, global telecom Vodafone Group Plc (NASDAQ:VOD). At the time, the Brexit vote was approaching and most polls were showing 'remain' slightly in the lead. I recommended buying Vodafone because of its solid track-record, 5.5% dividend yield and modest growth ahead of it. While Europe's economy was not looking very good (about 2/3rds of company revenue comes from there), it seemed like the Eurozone could stumble along so long as things remained as they did. Besides, Vodafone had turned around revenue declines in some key European markets like Spain, Italy and Germany.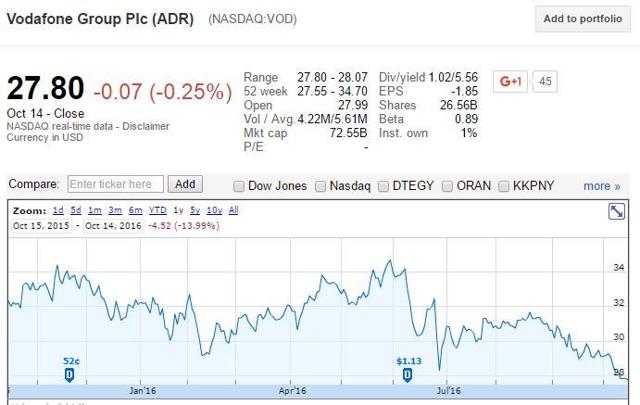 Courtesy of Google Finance.
At the time of my recommendation, shares were around $30. Today that price is further down to $27.80. Since my June 14th recommendation, however, Britain actually voted to exit from the European Union. Since then, the leading parties in France, the Netherlands and Austria have each promised a referendum vote if they become the government.
In my previous article I noted that, in regards to any 'crisis' of the EU itself, I would "cross that bridge when we get there." While I still see the possibilities of further exits from the European Union as unlikely, the cracks are definitely showing right now, and I think that means it's time to take another look at Vodafone. This article takes a look at Vodafone's latest quarterly results, its valuation and finally what investors might expect going forward.
Growth continues regardless
Although macroeconomic conditions in Europe remain fairly stagnant, Vodafone has continued to eke out some revenue growth. Have a look at the chart below.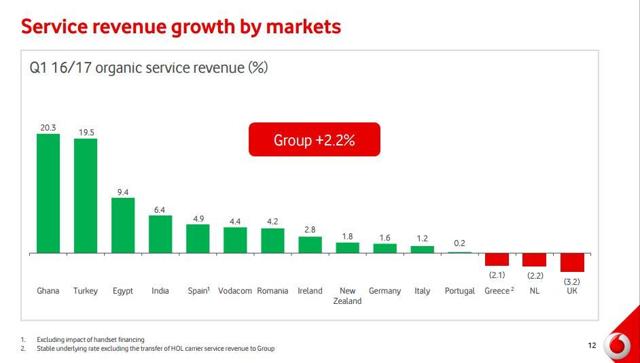 Courtesy of Vodafone Group Investor Relations.
As you can see, most of Vodafone's businesses in Europe are doing alright, including even Italy and Spain. In general, emerging markets continue to drive high net adds and data growth. 'AMAP' revenue, in fact, grew by 7.7%. In Europe, revenue increased a very modest 0.3%. Lower roaming charges there were more than offset by greater average revenue per user and growth in the fixed line business.
In Germany, Kabel Deutschland (OTCPK:KBDHY) drove overall results. Mobile net contract adds were close to zero, but fixed net adds were over 100,000, reflecting Kabel Deutschland's strong brand name in Germany. Spain's numbers were good too, but results in the above chart are a bit misleading because they exclude handset financing. With that included, revenue was up only 1.6%. Given the state of Spain's economy, I'd say that was fairly good. Italy has had similar performance to Spain.
Vodafone's key to higher ARPU numbers over the last couple quarters has been offering customers "a lot more" services for "a little more" price. This centers around the company's 'CARE' philosophy: Connectivity guarantee, real-time monitoring of network access ('Always in control'), Rewards for loyalty (tailored offers for customers in 16 markets) and Easy access to help at any time. Management continues to expect revenue growth through this full year.
Data usage continues to be the growth engine that propels Vodafone's results.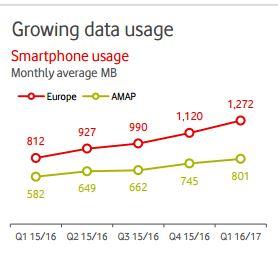 Courtesy of Vodafone Investor Relations
Even in a somewhat developed market like Europe, people are using more and more mobile data and that keeps them coming to the telecoms.
Rock and a hard place
As good as Vodafone's performance has been over the last few quarters, I think macroeconomic conditions could possibly get bad to the point where even Vodafone will have difficulty navigating through it. Consider what has happened since I wrote my last favorable article: Britain is exiting the Eurozone, additional referendums have been proposed by leading parties in Austria, France and the Netherlands, and the position of Deutsche Bank (NYSE:DB) has become shaky, not least because of a big fine from the US.
I continue to be very unimpressed by GDP growth numbers in continental Europe. Growth in Italy and Greece is practically non-existent. Spain is doing slightly better, squeaking by with 0.8% growth over the last few quarters. To me, it couldn't be more clear that austerity policies are not working and yet EU authorities are forcing these countries, as well as France, to continue on. It appears that leaving the EU is perhaps the only way to get out of this stagnation, but that also comes with a lot of potential systemic risks, and those are risks I'd rather not have much exposure to.
So, my aversion to Vodafone right now is purely macro-related. I think this is a great company, but I also think that investors would be better served looking elsewhere; British Telecom (NYSE:BT), for example. The British economy is muddling along like much of the rest of "rich Europe," but the difference is that it can move from austerity policies if it needs to and it has its own currency. A lower British pound will be good for manufacturing, tourism and exports, in general. I think Britain is a safer place to be on the whole, compared to the European continent. Yes, Vodafone does have about a 6% yield (info on dividend payments can be found here), but I believe that it is best to play it safe at this point.
I believe that economic difficulty in Europe could lead to shrinking revenue at some point. I'm also not particularly bullish on the euro, given the economic difficulty of many of its member states. The possibilities of further exits from the eurozone present a plethora of further uncertainties, and investors don't much care for uncertainties.
It will be interesting to see Vodafone's calendar 2017 guidance. I do expect guidance for modest revenue growth, certainly not above the low single-digits.
If you're interested in Vodafone, feel free to "Follow" me here on Seeking Alpha. I will continue to provide update-articles on this company when doing so is material and relevant.
Disclosure: I am/we are long BT.
I wrote this article myself, and it expresses my own opinions. I am not receiving compensation for it (other than from Seeking Alpha). I have no business relationship with any company whose stock is mentioned in this article.