Healthcare is one of my favorite sectors to invest in. Roughly 20% of my portfolio is made up of positions within this sector, with the majority of them being of the biotech/pharma varieties, though I also have exposure to medical devices and healthcare REITs. Over the last year or so, many of these companies have been largely out of favor, primarily due to potential political headwinds. This weakness has pushed stock prices down and dividend yields higher. Investors simply aren't willing to pay the same premiums for these very innovative companies as they once were because of fears of outside intervention. Ultimately, I think this weakness will prove to be a gift for long-term investors, and I've been slowly increasing my exposure to the space.
Innovation is one of the primary reasons why I'm so bullish on healthcare looking out over the long term. Medical advances that we've seen thus far throughout the 21st century have been nothing short of amazing, and I don't expect for this trend to stop. As a young dividend growth investor, the growth aspect of that label is the most important part. I hope my portfolio generates a respectable yield in the present, but more than anything, I want this income to compound at a near-double digit rate over the long term. Sustainable dividend growth isn't possible without an expanding top and bottom line; the expected innovation should fuel this growth. And even with fierce competition within the biotech industry and potential political overhangs, I believe blue-chip companies in this space will enable me to meet this goal.
Speaking of political headwinds, in recent days, the levels of fear surrounding the drug makers has increased as certain prognosticators highlight the rising probability that the Democrats could not only win the White House, but also sweep the House and Senate as well - enabling Hilary Clinton, who has been outspoken against rising costs in the healthcare sector, to be more than a bully pulpit - but a very realistic threat to future drug-related profits. I don't necessarily think this is likely, and although it's political season and I know individuals love to discuss these matters, I don't want this piece to be a political one. However, I do think it's important to consider all risks associated companies one is considering investing in, and it wouldn't be responsible to simply ignore political risks associated with this space in the present. The surprise Brexit vote showed us that polling numbers are speculative at best, but all in all, I think the divisions that seem to be widening within the Republican party are noteworthy events for healthcare investors to consider.
I should also mention that while much of the headlines surrounding healthcare companies in the news are negative, focusing on rising prices and greed, I enjoy investing in the sector because I believe the companies I own are making a positive difference in the world. They are solving real problems for real people, vastly improving or even saving lives. Sure, there appear to be some bad apples in the bunch whose actions are hard to justify; however, overall, I think there is much more good being done here than bad, and the market has put an unfair bull's eye of negative sentiment on this space.
I say all of this because it may be prudent for investors to simply wait until the election is over to get a better sense of the risks that the industry faces. However, I'm in a unique situation where I'm sitting on an outsized cash position due to some financial management changes I made earlier in the year, and I'm trying to slowly put this cash to work to get its weighting within my portfolio to target levels in the present: roughly 25% cash instead of 45%. Because of this, I'm still buying shares; though if you're already fully invested, a more cautious approach may be the best one to take.
So this leads me to the focus ticker of this piece: Bristol-Myers Squibb (NYSE:BMY). I've been building a position in this company since the steep plunge the shares took in early August. When I saw shares of what I consider to be a blue-chip company taking a 15%+ haircut in a single session, I got interested. I tend to believe these types of moves are overreactions, and therefore, I like to buy into them. More often than not, this strategy has led to respectable returns and an enviable cost basis 6 months to a year down the road. However, thus far at least, in BMY's case, I'm down significantly as the stock continues to fall.
I bought lots of shares at $63.45, $60.02, $55.86, and $50.06 for an overall cost average of $57.45. I'm down nearly 13% on the total position as of right now. It's never fun to buy shares only to see them continue to fall. However, when buying into weakness, this is a risk investors run. I don't have a crystal ball, and I'm willing to take the risk because I'd rather buy shares at a discount than when the market is paying top dollar for them. I don't mind lowering my cost basis when buying shares of high-quality companies, especially when they pay a dividend, which means my yield on cost is increasing as well.
BMY's recent weakness was inspired largely by negative results in a couple of drug trials centered around the company's most exciting growth vehicle, oncology drug Opdivo. Now, I'm no oncologist, nor am I any sort of healthcare professional, just an average guy who is willing to risk his capital on expected continued growth in this sector moving forward. It's important for readers to recognize this. I'm certain there are others out there with a much deeper understanding of the implications that the recent trial misses. Speaking of admittedly more knowledgeable contributors, especially when it comes to the science involved in these investment decisions, I'd like to refer readers here to DoctoRx's recent piece focused on BMY and the Opdivo "fiasco" as he puts it. I should note that in this piece, DoctoRx also highlights the fact that he is not an oncologist, but rather, a retired clinical cardiologist. Either way, he is probably my favorite healthcare analyst here on SA, and I think you'll find his in-depth coverage of the matter interesting.
For those interested in an average Joe's take on the matter, here is my basic understanding of the issues that BMY now faces with the new Opdivo data at hand. It looks like the company has lost the battle for monotherapy in the NSCLC (non-small cell lung cancer) arena. It still has combination trials in the works, which could help turn the tides back in BMY's favor, but those are unlikely to make a difference in the very short term, allowing Merck's (NYSE:MRK) drug, which outperformed Opdivo in the recent trials, to potentially establish itself as the go-to treatment for those with NSCLC. I wouldn't be surprised to see success in the combination therapy trials, because this seems to be the direction that healthcare is headed. Though I can't help but wonder how much ground BMY will have lost in terms of both Opdivo and the company's overall immunology and oncology programs in the mean time. Opdivo is widely viewed as the cornerstone of BMY's oncology program, which is where analysts expect to see significant growth. Any cracks appearing in the drug's armor leads to this growth being doubted, which results in a lower premium put on the shares. I believe this is why the market has reacted so sharply to the original trial miss and then the recent data update regarding the more minute details of the studies.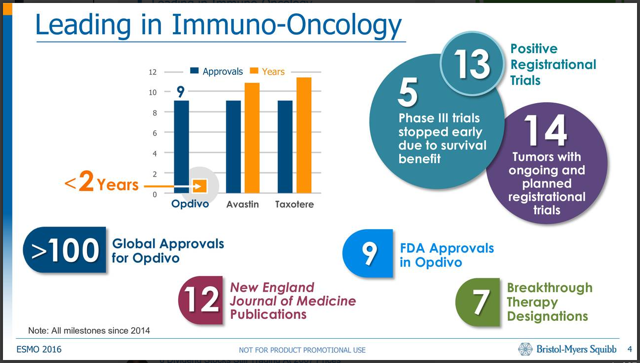 (Source: ESMO 2016 Investor Meeting Slideshow)
My reasoning for buying shares isn't an overly bullish outlook on the recent trial misses. I don't think these were positives for the company, and I'm not making excuses for management. What I did notice when doing my due diligence was a well-diversified, mega-cap specialty pharma company losing tens of billions of dollars (in a single trading session) off of the market cap because of a drug that accounted for roughly 6% of its revenues in 2015. Like I said before, BMY was trading at a lofty valuation because of expected growth from its oncology/immunology program, and Opdivo's failures have put a damper on this optimism. Analysts were looking at the $942 million of sales that Opdivo produced in 2015, but were hoping for this drug to achieve mega-blockbuster status down the road. But even with different analysts reducing their estimates of Opdivo's peak sales by $1-3 billion, I can't reasonably justify the 35% sell-off that shares have experienced. Even if Opdivo isn't the first line treatment for NSCLC, it is still a widely prescribed drug for a variety of cancers. I still expect this drug to be a mainstay for BMY in the coming years, but more importantly, investors should consider the fact that this isn't a one-drug and/or one-platform company we're talking about. BMY has over $16 billion in sales during 2015, with eight $1 billion+ franchises on top of its mature products category which generated $2.5 billion last year.
As a side note, I will highlight the fact that BMY spent roughly $4 billion of its $16 billion revenues in 2016 on R&D, meaning that this company is not likely to be viewed with the same sort of lens as Valeant (NYSE:VRX), Mylan (NASDAQ:MYL), or Turing - all companies that have been criticized for buying the rights to drugs and then raising their prices without having done any of the prerequisite R&D. This detail could be important for those worried about legislative oversight.

(Source: BMY 2015 Annual Financial Report)
In all fairness, it's worth noting that of these eight billion-dollar franchises, four of them posted negative growth in 2015. Obviously, as a shareholder, this isn't what I want to see. However, it's the nature of the beast in this industry, where innovation is constant and competition is fierce (not to mention currency headwinds aren't favorable either).
When investing in Big Pharma/Biotech, it's not about what you've done for me lately, but what you'll do for me in the future. Investors are typically looking for growth in this space, and companies that can't provide that are punished severely. However, although the NSCLC fears are real surrounding Opdivo, so are its tremendous results thus far throughout 2016. In BMY's most recent quarter, the drug posted 588% y/y growth with $840 million of sales (89% of 2015's total). Other drugs posted solid gains as well, which enabled the company to post 17% y/y gains in total revenues.
And it wasn't just the top line that was expanding. Non-GAAP EPS grew by 30%. I'm using the non-GAAP figure here because the y/y GAAP EPS increase was from -$0.08 to $0.69. This sort of massive increase is a one-time type result, so in this case, I think the non-GAAP growth figure makes more sense for investors to pay attention to. In the Q2 report, management gave updated guidance for GAAP and non-GAAP EPS: $2.43-2.53 and $2.55-2.65 respectively.
This guidance would comfortably cover the company's $1.52 annual dividend, which yields more than 3% after the stock's recent sell-off. The average analyst estimate for 2017 EPS is $2.93, with a range from $2.60 to $3.29, meaning the dividend, at least in the short term, seems to be more than safe. As previously stated, I'm an income-oriented investor. I also like to focus on value and total return, probably more so than many of my DGI brethren do. I think that at these $50 prices, BMY offers investors willing to tolerate the risks associated with a biotech company like this a solid income play with long-term capital appreciation potential.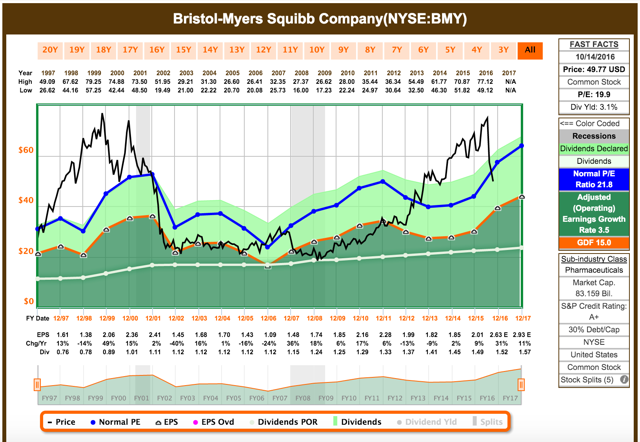 (Source: F.A.S.T. Graphs)
Trading at roughly 20x this year's earnings guidance, BMY isn't exactly cheap. Though, all things considered, I think it now offers long-term investors a nice entry point into a blue-chip company in the industry. As you can see in the F.A.S.T. Graph above, BMY hasn't traded below its long-term historical norm with regard to P/E ratio since early 2012.
I will buy more shares if the price continues to slip. Right now, my BMY stake represents a little less than 2% of my overall portfolio. It is now a top 10 position for me, though I would feel comfortable potentially doubling my exposure on an overall weighting basis to 4%. I will say that this isn't the same sort of sleep well at night (S.W.A.N.) type company that Johnson & Johnson (NYSE:JNJ) is for me in this space, but I am happy to hold and collect the company's dividends until a turnaround ensues. I'm not going to attempt to call a bottom for the shares; I obviously wouldn't be averaging down like I did if I thought I could do this, but what I will say is that I wouldn't be surprised to see M&A chatter start to perk up a bit if the stock continues its slide into the $40s. Right now the company's market cap sits at $83 billion, so it would be a big target, but not an impossibly large one (the Pfizer (NYSE:PFE)/Allergan (NYSE:AGN) deal would have been larger). BMY has growth assets that many of the Big Pharma firms would be interested in, and I can think of several situations where a merger would be great for the company and shareholders alike.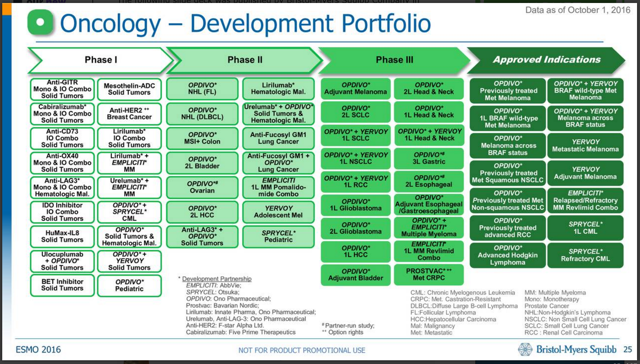 (Source: ESMO 2016 Investor Meeting Slideshow)
Disclosure: I am/we are long BMY, JNJ.
I wrote this article myself, and it expresses my own opinions. I am not receiving compensation for it (other than from Seeking Alpha). I have no business relationship with any company whose stock is mentioned in this article.